Arts
Holidays on Stage
Silicon Valley's theater and dance companies roll out their seasonal offerings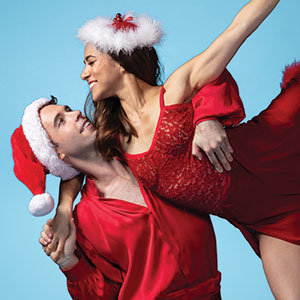 The Wickhams: Christmas at Pemberley
Thru Dec 15 | City Lights Theater Company, San Jose
Lauren Gunderson may be the most-produced playwright in the Western hemisphere, barring the Bard of Avon, by elevating the art of fanfiction. She and Margot Melcon share co-writer status in this sequel to the sequel, Miss Bennett: Christmas at Pemberley. If anyone can fast-track Austenmania into a national Christmas tradition a la The Nutcracker, Gunderson will be the one to do it.
The San Jose Nutcracker
Dec 13-24 | Hammer Theatre Center, San Jose
True to its name, The San Jose Nutcracker adapts the iconic Tchaikovsky-scored ballet for local audiences—bringing the Sugar Plum Fairy, the Mouse King and all those marching toy soldiers into the orchards of the Valley of Heart's Delight. Performed by the New Ballet School, the production also features plenty of South Bay twists. Call it the "California roll" of Nutcracker productions.
Miracle on 34th Street
Thru Dec 22 | Los Altos Stage Company
With live, on-stage sound effects, old-timey radio advertisements and a mix of holiday standards and original music, the Los Altos Stage Company tells the story of a man named Kris Kringle who takes a job working as Santa Claus for the Macy's in midtown Manhattan. Is he the genuine article or just a kook?
A Christmas Carol
Dec 5-24 | Northside Theatre Company, San Jose
It's a Christmas tradition. The Northside Theatre Company is once again taking on Charles Dickens' iconic 1843 tale of selfishness, regret, time and reconciliation. Northside's telling is an adaptation by the theater group's founder and former managing artistic director, the late Richard T. Orlando.
The Christmas Ballet
Nov 29 - Dec 1 | Mountain View Center for the Performing Arts
Much like The Nutcracker, Smuin Ballet's annual production of The Christmas Ballet has become a favorite of the Bay Area Christmas season. Unlike The Nutcracker, however, The Christmas Ballet isn't constrained by centuries of tradition, animated toy soldiers and dancing rodents. Instead, the local dance company will present a medley of holiday musical favorites, with the company's talented dancers pirouetting through jazz, ballet, tap and other dance styles.