Arts
Front & Center
Jordan Casteel upends centuries of erasure with 'Returning the Gaze'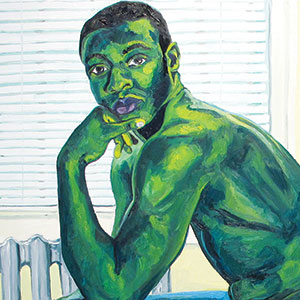 The history of portraiture—in my experience of it—is a whole bunch of dead white people."
That's an excerpt from a video interview with the artist Jordan Casteel. It plays at the tail end of her Cantor Arts Center exhibit "Returning the Gaze." In nearly every one of the paintings on display, the subjects of her portraits, mostly male, train their eyes on the viewer. Her response to the history of white portraiture includes a series of intense stares from black men who are very much alive and well.
Casteel also believes that black men and their bodies have been, and continue to be, explicitly "criminalized, villainized and sexualized" throughout history and in the media. By showing men who command the space they're inhabiting, "Returning the Gaze" is her way of creating a counter-narrative. Her first subjects were her classmates in school (Casteel graduated with an MFA from the Yale School of Art). But after moving to Harlem, she found new subjects in the people she encountered every day.
"Usually it's someone who's standing off to the side. I've had an inclination toward seeing people who might easily be unseen," she says. The large canvases (up to 90-by-78 inches) are meant to rival the "Old Master" style. Where black men and women have been omitted from those narratives, Casteel poses them front and center. Not only are they visible, but each subject carries the emotional impact of a short story or poem. In her paintings, the dead white people may or may not even exist. If they do, they live well beyond the borders of her frames and perspectives.
Her approach to skin color can, on occasion, also depart from classical approaches to an oil's approximation of real flesh tones. Galen 2 (2014) is the deepest shade of emerald green. He sits, naked, on a white folding chair in his kitchen. His body faces sideways, against a radiator and toward a refrigerator. His head though is turned outward to meet the painter. He stares at her with a faint question mark in his eyes. Galen trusts her but wonders what the end result will look like. Will he recognize himself on the checkerboard floor and its distorted reflection that gleams against the oven door behind him?
Miles and Jojo (2015) are literally blue. On the right, Jojo's face is turning a brighter shade of teal, while Miles, to his left, is the color of a deep Atlantic wave. Their backs are against the foot of a bed. Jojo's socks match his face, but the monster muppet in his hands is a contrasting green. Without any factual information, you can infer that they're brothers. Casteel captures their characters but then goes on to fill the canvas in with telling details about their home. Jojo sits on a round patterned cushion as his head drifts toward his older brother's. A painting also rests against a wall. Its presence suggests that there's another narrative nestled somewhere inside the main plot of blues.
In a series of bold works, Casteel paints several nudes, but of men in their own skin colors. Ato, Yahya and Elijah's bodies (all from 2014) are young, fit and appear in various shades of brown. They're not chaste paintings. You can make out the muscular curvature of buttocks, biceps and pectorals. But they're sensual rather than sexual. She admires their bodies but doesn't forsake their souls. The men aren't simply her muses; they look at her as if to a sister, aunt or mother. Physically and psychically vulnerable, they still let her in. She's disarming, and as familiar as someone in the family. They allow her to see their sweetness, strength and charm.
During the video interview from 2018, Casteel asks, "What does it mean to put a living brown body out into the world in this context?" Venturing outside on the streets of New York, where she lives, the artist finds clever ways to include political messages inside of her portraiture without making them heavy-handed or merely didactic. Her paintings may feature slogans, but the propaganda emanates from body language or a facial expression. Timothy (2017) wears a black T-shirt with white lettering that reads, "Black is Beautiful." He's sitting against a red wall that reads, in part, "a site for the dynamic exchange of ideas about art and society." The message is, perhaps, redundant. One look at the smile on his face communicates her purpose and her beautiful intent.
Jordan Casteel: Returning the Gaze
Thru Feb 2, 2020, Free
Cantor Arts Center, Stanford
museum.stanford.edu