Arts
KCI Makerspace Opens at Foothill
The Krause Center for Innovation gives local makers the tools to create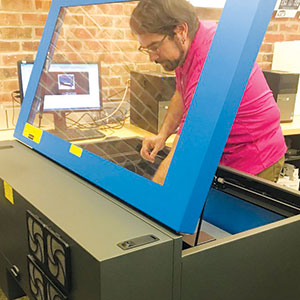 Parked high atop the Foothill College campus, in the back lot behind the school's Krause Center of Innovation is a one-of-a kind vehicle.
"This is it right here," says Jonathan Armer. Revealed, as he pulls away the tarp, is a small metal two-seater go-kart.
"We had it out in the Grand Canyon a few weeks ago," Armer continues. "Took it out in the desert just so we'd have an open and safe space to have fun with it. Got it up to 52 miles an hour."
Armer's creation was constructed entirely at the Krause Center's new Makerspace, where he works part time. The pedals and components were fabricated using the workshop's eight 3D printers; its (admittedly modest) frame was sized and welded using on-site metalworking tools.
While it's far from the norm, the kart is a dramatic example of the kind of work that can be done at the Makerspace, which was conceived as a communal hub where local builders and tinkerers might use the college's industrial strength tools to create their own custom projects—or at least build proofs of concept.
"We try to explain to people that we are a prototyping space," says Kas Pereira, the director of the Makerspace.
The result of a $500,000 grant from the California Community Colleges "Makerspace Initiative," Foothill's workshop aims to teach students, community members and aspiring Makerspace operators how to use the tools that are increasingly defining America's manufacturing sector.
But before they could do that, they first had to teach themselves.
"When we started we were pretty naive," admits Gay Krause, executive director of the KCI. She and her husband, former 3Com CEO Bill Krause, put up $1 million to establish the center in 2000 and contributed another $3.5 million to Foothill's foundation in 2013.. "The first year was pretty much a building year. It took us six months to order all the machines, figure out which ones we wanted, how we might use them, how we would place them in the room."
Now that they are fully up and running, the KCI Makerspace is hoping to fill the hole left in the South Bay Maker community by the closure of The TechShop chain in 2017. The Makerspace's $125 monthly membership ($150 for the first month) gives community members access to, and training on, an impressive array of cutting-edge machines—including 3D printers, laser cutters, plotter printers, circuit makers and more. There's even a certification program for those interested in opening their own Makerspace.
"We're the only place in the state that has a certificate approved by the state," Krause says, "so it's a big deal to get one. A lot of teachers and librarians who want to start Makerspaces are particularly interested in that program."
Already, the program has been useful for the community. In an effort to combat the lack of diversity in the Bay Area's maker community—which is largely white and male—the KCI held two certification courses specifically for women of color.
"The idea being if you have more people who look like you making, then you are more likely to make," Pereira says.
Between the two courses, 80 Bay Area women of color now have the ability to open their own Makerspaces. In addition to introducing a more diverse set of people to the world of making as a hobby, Krause hopes this Makerspace and others will have a real economic impact, as locals seek new forms of employment in a rapidly changing economy.
"Makerspaces are growing in influence everywhere," Krause says. "General Motors is looking at closing up their warehouses and going to 3D printing. When you need a new battery, just tell me what year and we'll print it up for you. So it's a new career for people to go into, not just a makerette thing."
In other words, not everyone will be using the new Makerspace to fabricate futuristic, desert-crawling go-karts, but it is an example of the space's possibility. Whether people get into it for a career, for personal development, for art or for love of technology, the Krause Center is hoping to become the go-to spot for people interested in maker culture throughout the Bay Area.
"This is not just for the geeky tinkerer," says local Maker Doris Mourad. "There is no restriction on having to be a certain type of person to come here and do good work."
KCI Makerspace
650.949.7680
12345 El Monte Road, Los Altos Hills
krauseinnovationcenter.org/makerspace