Arts
Kyle Pellet's 'Attitude' Adjustment
San Jose artist aims to change the art-viewing experiences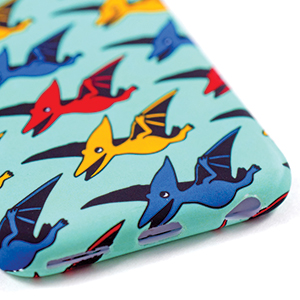 When asked about his upcoming show, "New Attitudes," San Jose artist Kyle Pellet is cagey. "I want it to be a surprise," he says of his forthcoming exhibition at Empire Seven Studios. But when pushed for a little more detail, he gives a hint: "It's going to be a dream-like experience."
Dream-like states have long been a theme in Pellet's work. Strange, half-formed and brightly colored characters traverse anonymous mallscapes, parking lots and waiting rooms—roaming like zombies in a suburban, consumerist fugue—always moving but rarely interacting. Many of his paintings recall the work of Keith Haring, if Haring had been from San Jose instead of New York, and had whiled away his days at Oakridge Mall instead of the subway.
"I think that's just my past, how I navigate the past maybe," Pellet says contemplating the preponderance of malls in his work. "Somehow I just latched onto that language, or those feelings. Most of what I want to communicate can be communicated through these strange spaces and textures. Suburban San Jose in like 1992 or whatever."
For a 2013 exhibit at Empire Seven, Pellet created over 60 individual paintings, all made according to the same eight-step process. This use of repetition gave the entire show a sense of totality, with images and themes recurring like reflections—or refractions—of one another. The series was aimed to explore "memory, energy, and the construction and destruction of relationships."
There is the sense that Pellet has something entirely different in mind with "New Attitudes."
"I guess I've been bored with art shows," he says. "Some art shows move me, or some art pieces move me, but I'm tired of the same format. I feel like we should be exploring different avenues or different models of how to display art. Especially since on Instagram or whatever we could just look at really cool stuff all day."
So what does that mean for this forthcoming exhibit? Well, curation and collaboration will be central to "New Attitudes." Pellet has selected a number of other San Jose artists whose work will contribute elements to the show's whole. According to Pellet, there was one phrase that he kept returning to while he conceptualized the project: "Ambient Theater Production."
"This is me pretending that I'm in a band," Pellet explains. "I told a few people that I wanted to make something like Dr. Dre's The Chronic, like an art exploration that is analogous to that."
Though he doesn't play music himself, musicians have long used Pellet's art for merchandise and album designs, including ex-San Jose rapper Antwon, locals The Albert Square and Epitaph records' Joyce Manor, who just used their second Pellet design for the recent 2/15/09 Demo 7". The latter was released as a supplement to the band's new record, which was recently selected as SPIN's "Album of the Week."
His currency among musicians makes Pellet one of a select few San Jose artists to be reaching an audience outside of Silicon Valley, getting into the hands of a wide swath of young people who are interested in current cultural movements. It also means Pellet is currently San Jose's version of an artist who inspired him at a young age: Raymond Pettibon.
"That art is still so strange," Pellet says of Pettibon, who is known largely for designing album covers for Black Flag and Sonic Youth, including the former's iconic logo. "I can't imagine what he was thinking when he decided to do this stuff. It makes no goddamned sense. It's wonderful."
Along with Pettibon, Pellet lists a number of other punk musicians and artists as influences. Pushead (a.k.a. Bryan Schroeder), The Damned, The Misfits and The X-Ray Spex are all name-checked, along with hip-hop game-changers Dr. Dre and Kanye West.
If that makes for a strange looking list, it is appropriately reflective of Pellet's strange, rebellious images. "Ever since I was a kid I've always been resentful and distrustful of dumb rules," he says.
"New Attitudes" might mark a directional shift in Pellet's work, but you can still leave your dumb rules at the door.
New Attitudes
Thru Nov 4, Free
Empire Seven Studios, San Jose