Arts
Review: 'Marie and Rosetta'
TheatreWorks Silicon Valley's latest production tells of
overlooked and influential blueswoman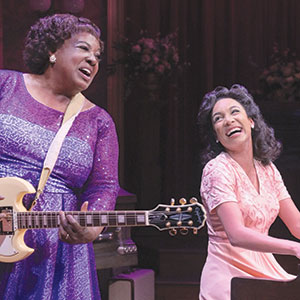 The sequins on Rosetta's purple dress sparkled more intensely every time the actress playing her began to sing. That may have been a trick of the light, but Michelle E. Jordan inhabited the character with verve the minute she opened her eyes.
In the opening scene of Marie and Rosetta, Marie Knight (Marissa Rudd) is applying rouge to Rosetta's cheeks. They're in a funeral parlor getting ready to rehearse their first performance together. The two women will also be staying there for the night, coffins and all, because they're on tour in the South, where white hotel owners won't allow African American guests. Rosetta has just hired Marie after hearing her perform backing vocals for her contemporary, Mahalia Jackson.
Set in 1946 when Sister Rosetta Tharpe (1915-1973) was already established as a gospel and R&B artist, the play recounts the beginning of her partnership with Marie. Like Jewelle Gomez's play, Leaving the Blues, about jazz singer Alberta Hunter, Marie and Rosetta also reminds audiences of two commanding voices they might have neglected, never heard of or overlooked. Playwright George Brant creates a conflict between the two women, but instead of truly dramatizing it, they work their differences out in song. And that's just fine, because both Jordan and Rudd have voices that the angels, and even the devil, would covet.
Rosetta started out as a gospel singer, but when she found mainstream success with raunchy, secular songs like "Tall Skinny Papa" and "Four Five Times" the more devout part of her audience turned to Mahalia, her rival in the gospel market. When Rosetta asks Marie whose records she prefers, Marie says she's divided. Her mother listens to Mahalia, but her father prefers Rosetta. As they rehearse, that musical divide between the secular and the spiritual is bridged by how moving the songs are for a soul in need of salvation. When Jordan and Rudd harmonize, atheists and agnostics should find their musical evangelism convincing and hard to resist.
Brant brings biographical details in smoothly—you can see the outline for a biopic like Ray (2004) in the making—weaving their backgrounds into the script as the actors segue into the song list. Rosetta starts with "This Train" and Marie follows with "Were You There." Neither singer is imitating the original vocalist, but that introduction indicates how their styles are meaningfully contrasted. Jordan's voice is lower, and she adds grit to her inflections. Rudd purifies every note, so that each syllable sounds like the embodiment of innocence. Rosetta's not having it. She stands behind Marie and starts moving her hips so that they sway back and forth. Rosetta explains that despite bringing her sexuality into the music, she's still all right with God. The audience comes to hear her for the spiritual and the sensual uplift combined.
Rosetta and Marie have husbands, but the play casually implies that their relationship might have been sexual, too. Rosetta compliments Marie on her beauty several times. Marie isn't offended by the flirtation, but she doesn't reciprocate. Brant asks the question on stage but leaves it open and unanswered. When they sing "Didn't It Rain" and "Strange Things Happening Every Day" together, they achieve a fusion that feels real, carnal and sacred. Rosetta is also portrayed as a generous mentor. She tells Marie that, unlike working for Mahalia, she hasn't been hired to be her backup singer. They're sharing the stage. And she willingly admits that the younger singer is the better piano player.
Rosetta was also a rock & roll pioneer in that she played the electric guitar. Jordan breaks a yellow guitar out of its case and we hear her influence in the music of Bob Dylan, Elvis Presley and Jimi Hendrix. Despite the success that Sister Rosetta Tharpe achieved, she was largely forgotten at the time of her death. Marie and Rosetta tells us that she was ahead of her time. Jordan and Rudd make sure we won't forget either woman any time soon.
Marie and Rosetta
Thru Mar 31, $40+
Lucie Stern Theatre
theatreworks.org