Arts
Senseless Adaptation
A new 'Pride and Prejudice' musical fails to capture Jane Austen's nuance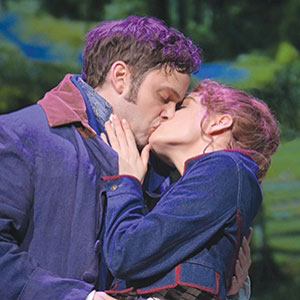 With his musical adaptation of Pride and Prejudice, Paul Gordon has finally exhausted Jane Austen's 200-year-old novel of its verve, wit and originality.
Gordon, who's responsible for the book, music and lyrics, superficially fulfills the audience's expectations of the era by providing the usual set of easily recognizable visual clues. Women wear empire waist dresses and coiled updos. Men's hats, trousers and sideburns are tertiary characters in their own right.
He primes us with famous set pieces from the plot, arranging the cribbed bits of intermittent dialogue like punchlines we've all heard before. Gordon understands that even if we're not Austen scholars or acolytes, nearly everyone is at least acquainted with the outline of Elizabeth Bennett's blistering beauty-and-the-beast romance with Mr. Darcy.
But there was only one aspect of the musical that I found surprising: how monotonous the songs turned out to be. Each pop-inflected anthem sounds just like the one that came before it. And they're all more or less related to the faddish Disney wish-fulfillment and self-empowering ballads like Frozen's "Let It Go." Gordon doesn't cut nearly as deep as those artificial aches expressed by cartoon princesses. The songs also feel too long (the bland wording) and too short (the emotional resonance) to have any lasting impact.
When Lizzie (Mary Mattison) sings "Headstrong"—an introductory paean to herself—she defines, for a few bars, the qualities that differentiate her from other women before quickly closing the song out with a melismatic climax. Gordon eschews verse-chorus-verse song structure in favor of a rushed chorus-verse-crescendo. As the heroine of the evening, Mattison is as sweet-voiced as she is sweet-tempered, and therefore miscast.Lizzie Bennett is a great match for Darcy (Justin Mortelliti) because, as Austen describes her, "She had a lively, playful disposition, which delighted in anything ridiculous." In other words, she's the very definition of a 19th century riot grrrl.
The villains in Pride and Prejudice fare better with the material. Mortelliti's Darcy hits his notes the way that Ted Neeley does in Jesus Christ Superstar. He delivers a convincing mixture of disdain and plaintive confusion. I liked the way he ended phrases by carrying them in his throat for a second longer than he should have, as if the words both pained and pleased him. However, when he and Mattison sang a duet, imaginatively entitled "Duet," their voices didn't synch up or make us wonder at their newfound love-hate for each other.
If he was going to harmonize with anyone, it should have been Caroline Bingley. As the snobbish Miss Bingley, Monique Hafen Adams added the right amount of mischief to her vocal performance and line readings. Even though Caroline is a supporting role, Hafen Adams breathes so much life into the character's soul that I wished the story had been about her. If Wicked could make us sympathize with a green-faced witch—and not that goody two-shoes Dorothy—why not follow Miss Bingley down her own disappointed path?
We all know that no matter what obstacles stand between them, Lizzie and Darcy will live happily ever after. Instead of revisiting them, we ought to unearth the imperious Lady Catherine de Bourgh's (Lucinda Hitchcock Cone) backstory. Hitchcock Cone has a marvelous, loping, nearly psychedelic number (Mama Cass might have sung something like it as a solo artist). And though she delivered the right amount of brio, menace and hauteur, the song also highlighted other, more disconcerting aspects of the production.
The choice of contemporary instruments for the orchestra suggests that the producers want this show to be big, boisterous and Broadway bound. If Gordon had modified music from the 1800s, something charming, thoughtful and intimate might have emerged. Trying to make a neo-feminist Hamilton out of Pride and Prejudice doesn't work. The music isn't compatible or companionable enough to hang out with these beloved characters. It also distances us from the period setting, as does the giant video screen backdrop. When the scenes change, so do the photographs, which look like impersonal and generic stock images.
Austen is lauded for depicting characters, and the societal rules they're bound by, with an acute and gracious specificity. But the details of her novel get lost on this particular stage. Like Mr. Collins, the fatuous clergyman who Lizzie rejects, the production remains puffed up and hollow.
Pride and Prejudice
Thru Jan 4, $30+
Lucie Stern Theatre, Palo Alto
theatreworks.org