Arts
Review: 'The Humans'
A struggling family confronts fear, failure at Thanksgiving in SJ Stage production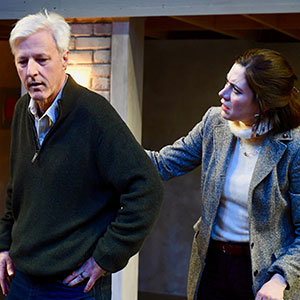 The protagonists of Quasar are green creatures with razor sharp teeth, but they aren't the most terrifying creatures in the universe. We are. "On their planet, the scary stories they tell each other are all about us," says Richard (George Psarras), explaining his favorite comic book around the Thanksgiving table.
This is the lens through which we watch the Blake family celebrate their holiday. This inversion of the idea of what a monster is also doubles as playwright Stephen Karam's thesis statement for The Humans, which plays at San Jose Stage Company through Dec. 15.
In his presentation of the American family, Karam damns everyone at the table with an affliction. Dramatically speaking, the Blakes are related to troubled families like the Pollitts from Cat on a Hot Tin Roof and the Tyrones in Long Day's Journey into Night. As we get to know them, they seem like an affectionate family, bantering and bickering with one another—until they start to tell the truth.
Richard and his girlfriend Brigid (Madeline Rouverol) are hosting her family at the apartment they've just moved into together. Their relationship appears solid. He's a graduate student. She's applying to graduate school while also working a couple of part-time jobs. Their noisy building is located in New York City's Chinatown. Loud, crashing sounds regularly interrupt the gathering. They're portents of the difficulties the family has yet to confess.
Brigid's father Erik (Tim Kniffin) has worked as a maintenance man at a private high school for 30 years. His wife Deirdre (Marie Shell) is an office manager. Both are acting cagey and withholding crucial bits of information from their daughters. Aimee (Lyndsy Kail), Brigid's sister, has become a successful corporate lawyer. But she's heartbroken about a recent breakup with her girlfriend Carol. And, as if that weren't enough to draw our sympathies, the colitis she's suffering from is endangering that job. To round out this series of distressing backstories, grandmother Momo (Jessica Powell) is wheelchair-bound with dementia.
Unlike the characters in Tennessee Williams' and Eugene O'Neill's plays, the problems they're faced with aren't psychological or based on their unexamined neuroses. The Blakes also aren't from the same economic class as the Pollitts and Tyrones. They're struggling with obstacles that are preventing them from making a living. Shortly after her family arrives, Brigid wonders aloud why her parents didn't send her a check to help with the move. Erik is immediately evasive. When he and Deirdre share a couple of tense, private exchanges, it becomes clear that money has become an insoluble problem for them.
Karam is chronicling the financial decline of the Blakes, in particular, as well as what they represent: the American middle class. While their dilemma (and the resulting outcome) isn't new, the witty dialogue summons up the convincing and endearing rapport of an actual family. The instant the cast members are all standing in the same room, they move across the stage in natural pairings of sister to sister or father and daughter. Then they'll break out of formation to recover from a vexing emotion or to take a timeout from the group dynamics.
And it turns out that the comic book premise is just a starting point for Karam. He does more than simply create one-dimensional monsters. The Blakes aren't a mean-spirited crew. When there are digs and barbs, they're dished out not in the spirit of causing harm, but because this is the way they speak, in their own private language. They use inside jokes as a shorthand to communicate intimacy and to make sense of each other's flaws and personal excesses.
However, Karam does punish the father for making a mistake. And, by extension, he punishes the entire family for it. If The Humans had been written by a contemporary French playwright, that mistake would not have cost his family their livelihood and their inheritance. It is a Puritanical—which is to say, a uniquely American—take on one man's failure to live a perfectly moral or virtuous life. I'm not taking the role of an apologist for Erik's behavior, but what he does seems out of proportion with the punishment meted out to the Blakes. The playwright links his spiritual and financial bankruptcy together. The Humans means to account for and define the new American way. For the godless citizens of this country, there's no such thing as a safety net.
The Humans
Thru Dec 15, $32+
San Jose Stage Company
thestage.org