Arts
Return to Form
The New Ballet launches subscription season, Hammer Theatre partnership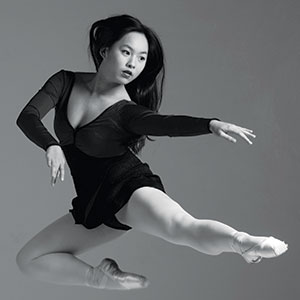 Ballet is officially back in San Jose, as the New Ballet begins its residency the Hammer Theatre Center in downtown. The city has not had a full-subscription ballet company since Silicon Valley Ballet—previously known as Ballet San Jose—folded in 2016.
Lauded for their popular annual production, The San Jose Nutcracker—an original take on the classic Tchaikovsky ballet, set in early 20th-century San Jose—the New Ballet consists of a dance school and studio company comprising 14 full-time dancers ages 17 to 24.
Dalia Rawson, who performed and worked for Ballet San Jose, founded the New Ballet in 2016. She says the new partnership with the Hammer represents a milestone for the troupe.
"The return of a full dance season to downtown San Jose fills a longtime void in our cultural landscape," Rawson says, adding that the New Ballet represents a new model for a ballet company—one that differs significantly from older and more established groups.
New Ballet's studio company is structured as a two- or three-year incubator for young dancers. "Part of the program is providing a lot of career setting and counseling," Rawson says. Unlike major ballet companies, where dancers must work for years as part of the corps before even getting a chance to audition for a leading role, Rawson's company aims to launch dancers' careers by moving its performers to leading roles quickly.
That means that talented dancers will inevitably leave the company for larger organizations—which Rawson is OK with. It also means that audiences see iconic roles performed differently.
"Our dancers are young, they're hungry and they take a lot of risks on stage," Rawson says. "It's really exciting to see young performers testing their wings like that right off the bat."
Rawson is also the choreographer and creative visionary behind The San Jose Nutcracker, which has sold out every year it's been staged. In the upcoming season, The San Jose Nutcracker will be accompanied by the New Ballet Orchestra, conducted by Thomas Shoebotham, alongside contemporary ballet bill Fast Forward (a collection of contemporary works), and a production of the classic Swan Lake.
A variety of subscription options for the company's upcoming season are available. One is geared toward families with young children, featuring abbreviated, hourlong versions of performances.
New Ballet kicks off its debut season at the Hammer this winter with its production of The San Jose Nutcracker on Dec. 13. Subscriptions can be purchased on the company's website, newballet.com.