Arts
TheatreWorks Silicon Valley's
New Director
Tim Bond will take over the storied theater company after Robert Kelley's departure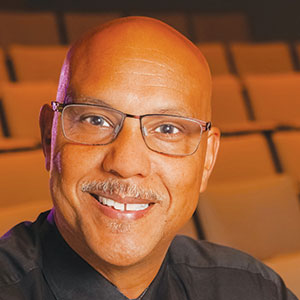 Long before he was in the running to take over the storied TheatreWorks Silicon Valley, Tim Bond was an aspiring actor, studying theater in Southern California.
After starring in productions of Fantastic and Oklahoma! in high school for a Sacramento-based theater, Bond returned the next summer to audition for The Boyfriend.
The show's director quit out of the blue, and the producer scrambled to find a replacement. She ultimately turned to Bond—who was then just a 19-year-old theater major at UCLA—to direct the play.
"It was an incredible moment of opportunity," Bond says, recalling his first foray into directing. "It was joyful and incredibly hard. I was so lucky to have the chance to work with choreographers, music directors and a young cast that was hungry and excited."
Soon, he'll take the helm as the artistic director of TheatreWorks, as Robert Kelley is retiring after his 50-year tenure.
After earning his MFA in Directing from the University of Washington, Bond started his career at the Seattle Group Theatre in 1984. There, he curated the MultiCultural Playwrights festival. He has worked in seven theater companies nationally, directing more than 80 productions including seven of the 10 plays that comprise of August Wilson's Century Cycle.
Bond knows he has big shoes to fill. Kelley founded TheatreWorks in 1970, directing more than 175 productions and growing the company from a small youth troupe to one of the Bay Area's most respected professional regional theater companies and launching the New Works Festival, which draws theater lovers and professionals from around the country every year. Building on Kelley's legacy, Bond has set his sights on producing works by contemporary playwrights that reflect the diverse cultures of the world and get to the pith of some of our society's most intractable modern dilemmas.
"I'm really interested in plays and musicals that would deal with climate change, the effects of technology and social media on our future social structures, and to look at how we can better coexist in a society that seems incredibly polarized," Bond says.
He recalls watching plays in the Bay Area when he was a teenager, in particular A Raisin in the Sun—the first time he had seen a fellow African American on stage. "I just got enamored by the power of theater to change the human heart and to bring up major themes about the human condition," Bond says. "I loved the joy of music, the joy of dancing and the joy of people's emotions being fully accessible."