Arts
Big Wow! ComicFest
Sergio Aragones, longtime contributor to 'Mad' magazine, is one of many guests slated to appear at the Big Wow! ComicFest in San Jose, May 21-22 at the San Jose Convention Center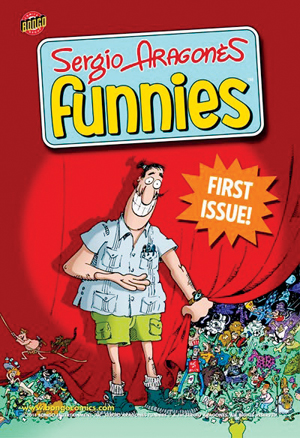 SERGIO ARAGONES, one of the guest stars at this weekend's Big Wow! ComicFest in San Jose, has had a startlingly long career—a career that proves that it's sometimes easier for great talents to flourish in the margins. Countless thousands of his insect-size drawings are hidden at the edges of Mad magazine. Aragones debuted in Mad No. 76, and Mad is now at No. 509, a 48-year run. (This month the cover is a suitable-for-framing picture of an alarmed Mark Zuckerberg being friended by Alfred E. Neuman.)
Previous to his arrival at Mad, Aragones was a student of mime with the avant-garde film director Alejandro Jodorowsky (El Topo most notably). This time must have helped his gift. In the 1960s, comics became more wordy—"The Doonesbury Syndrome," Robert Crumb called it. The Mexico-born Aragones was more of a pure cartoonist, letting facial expressions and silhouettes tell his stories. Shadows could do it, too; a favorite Aragones gambit was to do his own version of the Eugene O'Neill Strange Interlude. Liberated from their well-mannered masters, their shadows mocked decent behavior, kicked babies, leered at women, scowled at bores.
Aragones' work is still in demand; his primordial warrior Groo, star of a few decades' worth of comic books, still delightfully mocks the Robert E. Howard world of over-muscled barbarians. The Groo comics also pioneered creator-owned comics. Kim Thompson of Comics Journal claims that Aragones was actually the first creator to own his own character in newsstand-distributed comics. The surpassingly prolific Aragones is now working on Bongo's comic book Bart Simpson. With all of these projects, the Ojai-based artist still makes time for the comics convention. One goes to these conventions, and one sees hard-working, once well-known talents neglected by a crowd swarming around today's flash in the pan. Happily, Aragones' fans were lined up around his table at the recent Wonder-Con.
San Jose's own comics convention has some regulars. Denise Crosby, the formidable Lt. Tasha Yar from Star Trek: The Next Generation will be on hand. Jane Wiedlin, on the verge of a Go-Gos reunion tour, will appear as the co-creator of a comic called Lady Robotika. On Saturday night, there will be a screening The Rocky Horror Picture Show (with Plan 69 From Outer Space doing the live accompaniment). An alley of underground cartoonists, including Mario Hernandez, Spain, Dan O'Neill and Ted Richards (Dopin' Dan, The Air Pirates) are also scheduled.
That recent Michael Chabon piece in The New Yorker about the hopeless limitations of cosplay might be a subject for debate while at the convention. One ends up charmed by folk-art naivete more than shocked by very, very heavy slave Leias, the noble livery of sacred Oa stretched over hefty bellies, and the Adventures of Fatman and Rubbin'. Where else will you see it? I mean, it's like complaining about coarseness at the county fair.
Big Wow! ComicFest
Saturday-Sunday
San Jose Convention Center
www.super-con.com