Arts
Literary Gifts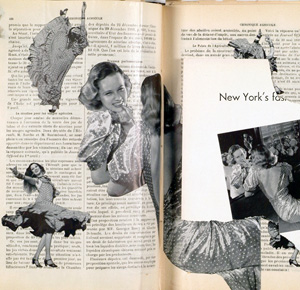 E Books are fine for bestsellers and various shades of grey prose, but they still fall short when it comes to more substantive fare and illustrated books. Besides, a real book won't get lost in the shuffle of the gift pile. With that small dose of Luddism in mind, here are some prime and substantial choices for last-minute winter's gifts.
Faking It: Manipulated Photography Before Photoshop
Perhaps stung by the idea that a bit of software trickery can seamlessly alter visual reality, Adobe, maker of Photoshop, sponsored the touring show detailed in this marvelous coffee-table catalog. NYMOMA assistant curator Mia Fineman provides copious examples of how photographs—supposedly the perfect mirrors of nature—have been altered from the time of Daguerre and Talbot down to the present.
Some of the manipulations cited are harmless improvements: an awkward figure painted out of an 1846 paper negative and dramatic clouds added to landscape shots. Others are aesthetic choices, such as double exposures and retouching to make people's portraits a bit more flattering. Other examples are more troubling: the fraudulent "spirit photographs" that were a craze in the late 19th century and the deliberate falsification of history by excising disgraced officials from Soviet and Nazi photographs. (Metropolitan Museum of Art/Yale University Press; $60)
Joseph Cornell's Manual of Marvels
Artist Joseph Cornell's boxes—mysterious collections of ephemera brought together with an exquisite eye for juxtaposition—are justifiably famous. Less well known, because so hard to display, is his Untitled Book Object. An inveterate collector and "upcycler" before the term became commonplace, Cornell made use of his extensive horde of found images from magazines, playbills and advertisements by carefully collaging them onto the pages of a 1911 French agricultural journal.
Playing against the stately printed columns of dry text, Cornell added pictures and words of his own—overwriting in ink, tipping in reproductions of famous paintings, cutting away sections so that one page acts like a peephole into another. The result is a pageant of surrealistic visual puns and a precursor to an entire movement of altered artists' books. Manual of Marvels comes, appropriately, in a display box with a book of essays, a book of sample pages and a CD containing a scanned image of every page of the project, which until now has been seen only by a handful of lucky scholars. (Edited by Dickran Tashjian and Analisa Leppanen-Guerra; Thames & Hudson; $80)
Hallucinations
Not only is Oliver Sacks a distinguished neurologist and prolific author, he also dabbled in drugs with the best of them in the 1960s. In his new book, Sacks recalls some heady times as a young doctor in California (naturally) when he experimented with marijuana, LSD, morning glory seeds and morphine, carefully noting their effects on his consciousness and the conjuring up of supremely convincing illusions, including the witnessing of a "huge, trembling, pear-shaped blob of the purest indigo" that filled him with rapture.
This insightful, elegantly written study of how the mind can trick the body describes fascinating cases in which a lost sense (sight, hearing, etc.) gets replaced by a hallucination that the person can see or hear again. The effect is noticeably present in amputees, when so-called "phantom limbs" still appear to exist and function. Particularly intriguing, because it has happened to most people, is sleep paralysis: that terrifying sense of a malignant presence hovering over one's helpless body, perhaps pressing on the chest, which seems to happen in an uncanny zone between nightmare and wakefulness. (Knopf; $26.95)
Zombie Movies: The Ultimate Guide
The second edition of Glenn Kay's compendious exploration of the typologies of the undead is crammed with detailed blurbs on more than 80 years of zombie movies, TV shows and even music videos (Michael Jackson's Thriller most notably). The book serves primarily as a hunting guide for dedicated fans—who wouldn't want to see 1971's Psychomania, a "bizarrely entertaining ... cross between Night of the Living Dead and A Clockwork Orange or 1981's Zombie Lake about Nazi soldiers rising from a "lake of the damned" in a French village.
The book also contains behind-the-scenes interviews with zombie filmmakers, lots of great stills and posters, and plenty of lists to argue over. There is even a helpful rundown of zombie movies that have no actual zombies in them. A film critic by trade, Kay once shuffled and moaned as a zombie extra for Land of the Dead, which solidifies his brain-eating bona fides. (Chicago Review Press; $24.95)