10.15.08
home | north bay bohemian index | features | north bay | feature story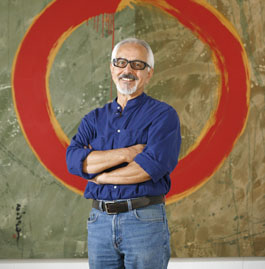 Photograph by Michael Amsler
PRAYER: For Uribe, the circle represents sanctity.
Art of Solutions
Mario Uribe uses craft to create civilization
By Gretchen Giles

Before the Persian Gulf War began in 1990, artist Mario Uribe and a group of colleagues rented a billboard in San Diego, where Uribe then lived. Blowing up an abstract brush image by Japanese master Kazuaki Tanahashi, they inscribed the advertisement with the question, 'What If We Go to War?" On the day that the war started, Uribe climbed the billboard and threw blood-red paint over every word except 'War." For their part, the billboard's owners swapped out the image that very same day.
Almost two decades later, Uribe, now 66, is in the seemingly curious position of having recently completed a war memorial for the city of Santa Rosa. Except that, from Uribe's standpoint, it's not curious at all. It's yet another chance to publicly protest the unholy carnage that results when diplomacy is too quickly exhausted. And it's emphatically not a memorial to war. It's a monument to those who served.
'Every art challenge that comes my way requires an art solution, and for me, designing a veterans memorial, I approach it from a perspective of not having any more wars," Uribe says, seated in the industrial space that houses his studio and those he rents to other artists in Santa Rosa's eclectic South A Street area. 'We acknowledge that wars are terrible. We don't want to glorify war, but we acknowledge that people have given their lives. So coming up with a design that was all circles, that was all positive . . . The main theme behind the design was that it was a prayer. To me, circles are prayers, that's how I use them all the time."
The subject of much initial controversy, Uribe's veterans memorial, placed adjacent to Santa Rosa's City Hall at Sonoma and Santa Rosa avenues, was unveiled this summer to near universal approval. Rather than the original proposal—a bronze statue of two soldiers that Uribe gently describes as 'old-fashioned"—his vision includes a group of columns representing different 20th- and 21st-century conflicts inscribed with the names of residents who died in them. One column was purposefully left blank.
'The circular configuration, the descending size of the column has to do with fewer names, less wars, less death," Uribe explains. 'We are moving to a point where we are not going to need to put more names on columns. The last column is left blank for that reason. That's part of this whole prayer, this hope that we never put names on that column."
Known as a painter, Uribe has, since he moved to Santa Rosa in 1995, been increasingly active in the civic art placements of his adopted town. He is involved in so many public projects that it's almost hard to keep track. A former owner, with his wife Liz Uribe, of the American School of Japanese Arts, Uribe's Zen-influenced circle paintings are his signature. Having just resigned as the creative director of ArtStart, the innovative program for high school artists cofounded by Liz and Eleanor Butchart in 1999 (and itself a 2006 Boho Award winner), Uribe remains deeply involved in the program.
For the past four years, he and the ArtStart kids have labored on the sculpture almost directly across the street from his veterans memorial at Gateway Park, a lead-in to the Prince Memorial Greenway, the trail alongside Santa Rosa Creek that ArtStart has adopted and hugely embellished. A massive rainbow trout encased in mosaic leaps from the Gateway Park's cement floor, sparkling in the sun and promising a day when fish may again be plentiful in local creeks. Uribe hired sculptor Daniel Oberti to design the steel and concrete structure even though Oberti initially objected that he didn't like working with teens. 'Since then, he's done two other projects with ArtStart," Uribe reports with a chuckle, 'because he loved working with the kids." With this completed, Uribe next returns to work on a farmworkers mural some three years already in the making and to placing site-specific artworks at the Sonoma Mountain Village.
Having collaborated on civic art for over 30 years, Uribe is now firmly known as a problem-solver by city officials. It's a designation he savors.
'There should be an artist involved in every civic project," he pronounces, 'because art creates civilization."
Send a letter to the editor about this story.