Features & Columns
Special 25th Anniversary Issue:
Some people to watch in Silicon Valley's next generation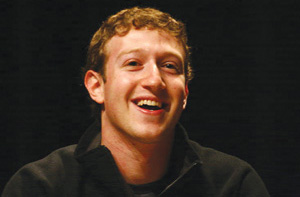 Mark Zuckerberg
25
Mark Zuckerberg is having a good month. Last week Facebook accounted for 7 percent of U.S. Internet traffic, according to Hitwise, overtaking Google as America's most popular website. And the Palo Altan returned to Fortune's list as the world's youngest billionaire ("Hey Mom, guess what?"), and a self-made one at that, edging out German Prince Albert von Thurn und Taxis for the honor. If Facebook were a country it would be the world's fourth largest. We expect to hear a lot more from King Mark and Facebook nation.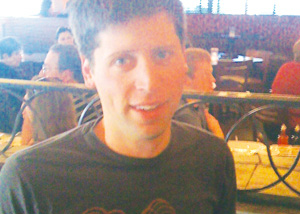 Sam Altman
22
Sam Altman started Loopt while he was a sophomore at Stanford. In the years since, he has become a champion of the location-based social networking services that are making it harder, day by day, for us to cheat on our significant others. Loopt allows its users to share their location with friends by their phones. The software can also point out restaurants frequented by friends, suggest nearby events and prep the user for a dive in the bushes should an ex come within a 1-mile perimeter. "You are your location," the one-time Charlie Rose guest wrote recently on All Things Digital. "It'd be easy to learn about me from the neighborhood I live in, the block that I work on, the kinds of restaurants I eat lunch at." Since his location is in our own Mountain View backyard, we look forward to years of stalking to come.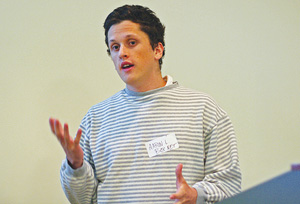 Aaron Levie
25
Levie was but a tender 20 when he and his friend Dylan Smith started Box.net in their dorm room. Today, it's a business cloud-computing setup based in Palo Alto that serves about 3 million users. "Cloud-based services are about to tip, and quickly," he wrote recently for TechCrunch. "Over the next two years, enterprise IT will follow in the footsteps of today's early adopters and visionaries, finally embracing the Cloud and moving content, applications and processes to the web." Levie saw cloud computing coming when the cloud was just a floating water droplet, so it'll be fun to watch his tornado-chasing enterprises in the future.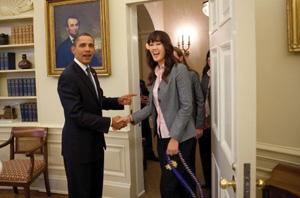 Michelle Wie
20
Wie on Wie, via her Facebook page: "I am a professional golfer just doing my thing—playing in LPGA events around the world and attending classes at Stanford University in my spare time." And meeting President Obama and posing in Korean Vogue in her spare time. You know, whatevs. Although she's shouldered the weight of thermospheric expectations from the golf world and the media since she was a preteen (plus total bullshit scrutiny of her clothes, might we add), the statuesque Wie just won her first LPGA tournament and still aims to break the gender barrier in the PGA. Despite all that, according to her Twitter, this week she's just a mere mortal—taking her finals in Palo Alto.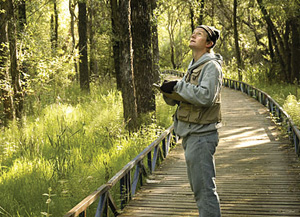 Bill Anderegg
24
When asked who the next generation of big thinkers will be in climate-change science, the noted author, climatologist and Intergovernmental Panel on Climate Change member Dr. Stephen Schneider doesn't bat an eye in naming Anderegg, a current Stanford Ph.D. student. Not only is Anderegg currently studying the causes of aspen forest death in the western United States and the benefits of early action to mitigate climate change on ecosystems, he's also going after the climate-change naysayers with the biggest mouths, to find out how much they really know about climate science.
Arjun Mehta
14
There hasn't been much written about Mehta since it became public that his videogame micropayment and virtual-goods storefront company PlaySpan drummed up $6.5 million in venture capital three years ago, probably owing to the fact that its founder was, oh, you know, in sixth grade at Challenger School in San Jose. (After Venture Beat reported on the wunderkind, his father wrote in, "Arjun does not work full-time on PlaySpan business. As a gamer he has a great deal of input in PlaySpan's product and technology, but his primary focus is on his academics—and his mom doesn't want much media attention for him.") Nevertheless, once the young lad has grown some chest hair we're sure to be hearing more about him.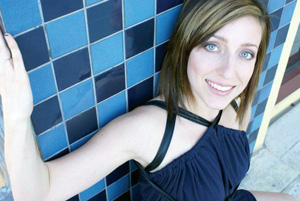 Tawnya Kuzia
26
This San Jose State alum's blend of ballet, modern and jazz dance with hip-hop and contemporary influence earned her a spot as one of 10 finalists for the Capezio Award for Choreographic Excellence. The owner of Nor Cal Dance Arts took her troupe, Rugged, to compete in New York City for the top prize. They didn't win, but they continue to perform regularly in the San Jose area, making it a cinch to see some very innovative dance up close and personal, before they blow up.
Andrae G. Macapinlac
23
When he was in the seventh grade, the young Mr. Macapinlac decided he wanted to get into politics, and he hasn't looked back. He founded his first young Democrats club in high school, and went on to became president of the Democratic Caucus at San Jose State University. He made a name for himself on the campus political scene, organizing rallies and lobbying for the California Faculty Association. His efforts did not go unnoticed: he's currently working in the Office of Assemblymember Alberto Torrico as a senior field representative. When asked if he plans to run for office in the future, Macapinlac says: "If I say yes, you'll say, 'He's an ambitious politician.' If I say no, you'll say, 'He's political, and he's sneaky.' So, at this point, I'm staying behind the scenes." A very political answer.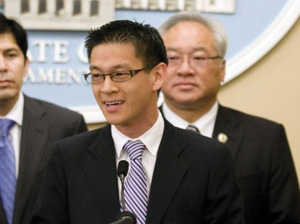 Evan Low
26
He's young, he's handsome, he's gay, he's Asian, he's Harvard educated—and for all of those reasons, he gained nationwide attention when he became the mayor of Campbell last November. The San Jose State University graduate has been trailblazing ever since he was first elected to the Campbell City Council in 2006—San Francisco Mayor Gavin Newsom even proclaimed June 5, 2006, "Evan Low Day" when he visited the city to march in the Gay Pride parade. And, at only age 26, we expect to see much more from this new South Bay leader.
Mark Anthony Medeiros
24
Amie Frisch
26
Who would have thought it was possible to start a farm under a freeway on the East Side? Mark Anthony Medeiros and Amie Frisch, that's who. The former San Jose State University students are the co-founders of the urban farming project Veggielution. Aiming to empower San Jose by creating a sustainable local food system, the duo have been growing arugula, beets, broccoli, chard and radishes on a little one-acre parcel at Emma Prusch Park. Selling the fresh produce to the public at their adjacent produce stand, Veggielution has been so successful that it was even honored by San Jose Councilmember Nora Campos at Mayor Chuck Reed's recent State of the City Address.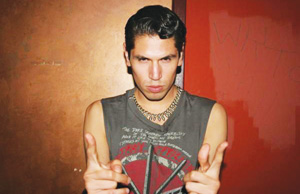 Eric Belladonna
23
When 23-year-old Eric Belladonna founded the Workout last year, he just wanted a cool place for him and his DJ friends to get dressed up and dance like crazy. Little did they know that their little monthly electro dance party at The Cellar would become one of the hippest scenes in downtown San Jose's nightlife right now. Having expanded the Workout to the first and third Fridays of every month because of demand, Belladonna recently launched another party at the Back Bar on South Market Street. Titled "Wasteland," it's the only 18-and-over electro dance event in the South Bay right now. We see this one getting even hotter than the Workout.
Eric "Venom" Ventimiglia
25
As the lead singer and guitarist of local pop-punk trio 5606, Eric "Venom" Ventimiglia has got the punk rock star shtick down: Hardcore alias? Check. Skintight skinny jeans and leather jacket? Check. Bleached, spiked, skunked-out hair? Check. But the buzz that 25-year-old Ventimiglia and his band mates Kevin Kash and Andy Warpath have been generating around the small but tight-knit local circuit is about more than his good looks, and seems to be spreading. 5606 is currently on a statewide tour playing the likes of the Hollywood Roxy and 2010 Warped Tour. Still, their many Bay Area fans will be glad to hear they'll be making it back to Saratoga Rec Center on March 27 for one of their signature, mosh-heavy all-ages shows. Rock on.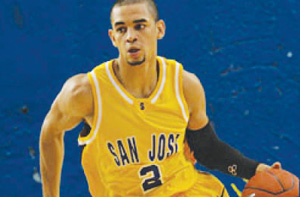 Adrian Oliver
22
The undisputed star of the San Jose State men's basketball team, Adrian Oliver is an explosive scoring threat—the first one of those at SJSU in some time. At 6-foot-4 and 210 pounds, Oliver looks boyish compared to some of the giants in college basketball, but don't be fooled. At Modesto Christian High School, he played on the varsity team during his freshman year. By his senior year, Oliver became one of the most sought-after high school recruits for 2006, ranked No. 11 in California. The talented 22-year-old guard was selected for the All-Western Athletic Conference first team this month, after leading the WAC in scoring with a 22.5 points per game average this season. He scored a career-high 39 points in SJSU's Jan. 21 win against Louisiana Tech. With all the buzz this young man is generating, and the fact that he's pretty much carried the University's lagging basketball team since he transferred to State from the University of Washington two years ago, Oliver has a crack at being the first player from San Jose to get into the NBA.
Richard Aberman
25
Bill Clerico
24
Ever had a laggard roommate stiff you on his or her share of the utility bill? Social payments may just be the answer. Bill Clerico and Richard Aberman started a web-based service that can be deployed for anything from chipping in on a pizza to planning a bachelorette party in Playa del Carmen. If that doesn't sound like much of a business, talk to the venture capitalists who've thrown $2 million at WePay.com while it's still in a one-room office (once occupied by Facebook) with a 10-speed, a boxer dog purchased on Craigslist and a Foosball game. One of the investors is Max Levchin, of Paypal fame, who knows something about electronic payment systems. Aberman, who just turned 25, is a Boston College grad who dropped out of law school to team up with Clerico, 24, who was doing M&A work. "We were sharing a lot of purchases," Bill says. "We had a ski house. Rich was planning a party It just seemed to make sense."