Features & Columns
Critical Inking
Palo Alto native Bryan Ida connects the internment of Japanese Americans to Trump's Muslim Ban and other examples of American intolerance in new portrait exhibit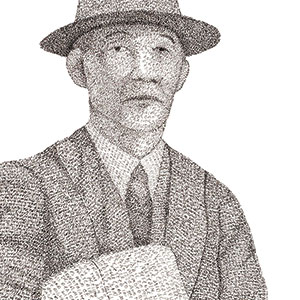 As John Ida waited for a bus in San Francisco in 1942, he stood amongst a sea of luggage, hands clasped together, with a paper-wrapped package in his arms. His eyebrows were raised ever so slightly, as if from surprise at being photographed, or perhaps curious observation—or the onset of grief.
Bryan Ida, a Los Angeles-based artist who grew up Palo Alto and graduated from San Jose State University, will never know the exact emotions his grandfather was feeling in that moment, but he knows where he was headed: nearly 700 miles inland to Topaz Internment Camp in Utah, as one of 112,000 Japanese Americans – both first-generation and American-born – who were relocated from their homes on the West Coast and imprisoned within internment camps for no reason other than their heritage.
Recreating this moment 76 years later in 2018, Ida's ink on panel portrait wasn't pulled from family photos or oral histories; rather, the image was originally captured by renowned photographer Dorothea Lange, who was commissioned by the federal government's War Relocation Authority to document the internment.
"It's pretty amazing, because she's the best documentary photographer in the world," Ida says. "Certainly, these photos really tell a story."
In one of more than a dozen portraits within "con.Text," Ida's latest exhibition on display at the Japanese American Museum of San Jose, he recreated his grandfather's story in a nearly life-sized 5-foot portrait, composed of thousands of words layered on top of one another, blending together to create depth, shape, shadow, and texture.
Those words weren't chosen without intention; Ida inked his grandfather's likeness with the text of Executive Order 9066. Signed by then-President Franklin Roosevelt on February 19, 1942 after the attack on Pearl Harbor, the five-paragraph document authorized relocating citizens of Japanese descent out of fear they were threats to national security and plotting against the United States.
Juxtaposed against a stark, isolating white background, Ida repeatedly used the 546-word document as his palette to write a new narrative for a tragic moment in the history of this country and his own family: individuals are greater than any words used against them.
"That's the whole point of the story: we stand in defiance of those words," Ida says, adding he worked to portray each portrait as an embodiment of strength and pride. "I want to dig deep and build a relationship between history and current affairs, and point out the historical events as examples of lessons once learned, but are being forgotten today."
A four-year undertaking, Ida's now 15-piece series began after former President Donald Trump signed Executive Order 13769 during his first week in office, barring citizens of Muslim-majority countries from entering the United States. Reminded of the treatment his family and community endured during World War II, Ida was one of scores of Japanese Americans who immediately opposed the Muslim Ban in 2017, intimately understanding the United States' history of using immigration as a weapon for "othering" whole races, religions or nationalities.
Rather than joining in protests or chiming in on social media, Ida spoke out in the best way he knew: creating art.
Over the course of three months—and 30 depleted .15 millimeter Micron pens—he created the inaugural portrait of "con.Text:" his apartment building neighbor, a Muslim woman wearing a Niqab, on her way to her mosque for worship – a freedom threatened by xenophobic policies and politics.
Ida painstakingly detailed the folds across the woman's garment and shadows of her raised fist using 1,550 tweets – the 45th president's preferred method of communication – posted during the first eight months of the Trump administration's term.
But the focus is less on ruminating over the words that he believes have harmed communities for decades – the Chinese Exclusion Act of 1882, Indian Removal Act of 1830, Nuremberg Race Laws of 1935 or the NRA Bylaws – and more about taking power away from hateful language.
"That's the whole idea: to transform the words and create these beautiful objects," Ida says. "What you're creating is more important than the document … I am examining historical events in the context of the contemporary climate."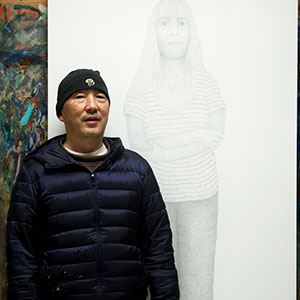 Drawing Connections
Adena Ishii, a Santa Clara University law student and moderator for Ida's virtual exhibit, said that contemporary framing is vital to remembering – and not repeating – history, especially when older generations may avoid revisiting painful memories and younger folks don't otherwise have access to these perspectives and stories.
"Unfortunately, we've seen time and time again that history keeps repeating itself. We keep seeing how different laws are impacting and discriminating against different groups of people, from the Muslim ban to Japanese American incarceration and [the Holocaust] in Germany," Ishii said. "Bryan's art is so important because it draws the connections between all these different oppressive laws. Especially as a future attorney [alongside] all my classmates, I hope that we are better than that."
Beyond history and the law, Ishii also has an intimate understanding of the value that art such as Ida's has in countering and criticizing oppression. Her grandfather, Chris Ishii, was an animator who was interned at the Granada Internment Camp in Colorado. He created "Lil' Neebo," a cartoon of a young Japanese-American boy who is also interned, to help them through that time in the camps.
"I think art in some ways does a better job of communicating the emotion behind what's happened," Ishii says. "You can see people's belongings in trunks and try to imagine yourself having to carry all of your stuff in something you can bring with you, but I think it's different with art; I think that you can see the human emotion behind it. Thinking about how the language of these documents impacted these individuals and their families, seeing those words imposed upon this image is really striking."
Finding Con.Text
Inked portraits weren't a part of Ida's portfolio prior to 2017. He has excelled in expressionism and fields of color for decades, specializing in glazing techniques with oil paints and layered, isolated depths of epoxy.
Growing up in Palo Alto, Ida's artistic career began in music, playing in the El Camino Youth Symphony and studying electronic music composition at San Jose State University. His natural inclination for layering and manipulating audio tracks transitioned to canvases in 1988, when he returned home to Palo Alto to work as a studio assistant for world renowned painter Sam Francis, a Bay Area native.
After moving into Francis' studio in Los Angeles, Ida fully dedicated himself to painting, ultimately amassing a colorful collection of disjointed cityscapes, environmental landscapes and natural geometric structures, which trick the eye beyond the dimensions of paint on canvas.
While Ida departed from those colorful traditions during the past four years creating "con.Text," he honed new ways to explore the techniques of layering, depth and shading over the course of 15 portraits. "You can see through these portraits my progression as a technician in black and white, because I came from super colorful stuff," he explains. "I really wanted to challenge myself, learn and make my weakness my strength. I completely embedded myself in it."
Since Covid restrictions delayed the original November opening and continue to bar audiences from seeing the exhibit in the foreseeable future, the program's tenure has been extended through July. Ida still hopes the museum will be allowed to open and show the works in person before then, allowing viewers to grasp the detail and scale of the drawings hanging up on the wall – down to individual letters on the panels.
"If I wanted to do a straight mark but had an "s" coming up in the text, I pretty much stayed true to it. It kind of blurs the definition of the portrait, which is pretty neat – it's got its own look," Ida says. "I started out writing super tiny – crazy, crazy small. For how much writing is done, I think my hand's permanently messed up." Until folks are able to see the works in person, Ida has brought the entire collection online. While the collection of narrated videos were an afterthought, they allowed him to directly embed an artist statement and emotional soundtrack — which he composed himself — allowing viewers to more deeply connect the layers of meaning within the series.
Finding stories amongst friends, family and neighbors next door – literally and figuratively – illustrated the pain of modern day discrimination. "History is an interpretation. Art's the same way," Ida says. "I'm not telling history, but I'm visiting these historical moments and relating it to people walking around today. I just want the pieces to remind other people of that history. These portraits are all relevant and speaking of the time."
The Japanese American Museum of San Jose, 535 N. Fifth St., San Jose, is currently closed due to Covid, but the exhibit can be viewed virtually. Go to jamsj.org or bryanida.com.