Features & Columns
Child Abuse Cases Ignored
in Santa Clara County
Scathing audit finds countless number of child abuse cases
in Santa Clara County have been ignored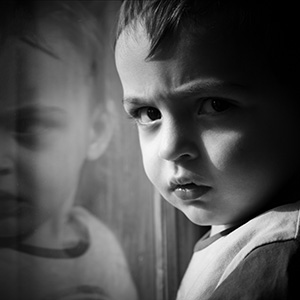 For years, a county hotline that fields reports of child abuse has frequently gone unanswered, leaving an untold number of youth in danger. Under the same agency's watch, last Christmas a boy committed to a 24-hour emergency shelter was confined to a room for nearly a month because social workers failed to promptly place him in a safe, stable home.
This and a litany of other dysfunctions have been commonplace at Santa Clara County's Department of Family and Children's Services (DFCS), the authority tasked with caring for the county's most vulnerable children.
The department's call center, a hotline that people dial to report child abuse and neglect, consistently fails to answer calls, according to a scathing county audit released last month. Between July 2012 and September this year, operators only answered 62 percent of calls, with some months dipping below a 50-percent answer rate. Eighteen percent went to voicemail, of which only 35 percent were returned. Twenty percent were neither recorded nor answered. And one of every five people who called hung up because of the wait times that exceeded an hour. It's impossible to say how many children did not get the help they needed.
"Since about one of every 53 calls actually answered or returned from voicemail ultimately results in removal of an abused or neglected child from a dangerous situation by the court, failure to answer more than 7,000 calls annually results in abused and neglected children remaining in dangerous homes," the audit says.The problem has persisted for years, steadily growing worse. Between 2008-09, the percentage of calls answered dropped from 81 percent to 71 percent. Between 2010-13, it fell from 79 percent to just 65 percent. Meanwhile, call volume dropped.
All of these findings are not only disturbing; they're also routine violations of state law.
"The call response inadequacy is completely unacceptable," says county Supervisor Dave Cortese. "If they're not handling 100 percent of those calls compassionately and in a timely manner, it's inadequate. It's hard to imagine anything less being acceptable."
The shelter at the MediPlex, a cramped office with 11 beds and a kitchen on East Santa Clara Street, was never meant to house children longer than 23 hours and 59 minutes. Yet from January 2012 to May this year, 32 kids stayed longer than a day.
"[T]his is occurring on a distressingly routine basis," the Juvenile Justice Commission, a watchdog group appointed by a superior court judge, reported in another audit earlier this year. "This repurposed old medical building does not lend itself to a homelike environment for minors."
As one staffer told the commission: "The children don't even get to see the world outside, not even a tree, nothing."
The local DFCS risks potential lawsuits every time it violates that 24-hour deadline, but since it's a governmental agency there's no fine from the state.
Lori Medina, who's been head of the DFCS for four years, blames a lack of funding and staffing for the lapses in service. The problem predates her, she says, and stems from a full decade of staffing cuts and funding shortfalls. Since she was promoted to director, Medina says, the office has lost 170 workers.
Bruce Wagstaff, head of the county's Social Services Agency, which includes Medina's department, echoes her reasoning. He's been at the agency for about a year, around the time the county-ordered investigation started, and he says the audit shouldn't be seen as an indictment of staff.
"I really think they did the best they could with the resources they had," says Wagstaff, who replaced William Lightbourne—now the state director of social services—as head of the Social Services agency. "You could look backwards in retrospect and say something should have been done better. That's what this audit is about. You just don't know at the time."
Roger Mialocq, who oversaw the audit through county-contracted firm Harvey M. Rose Associates, says budget cuts are no excuse.
"Those kinds of circumstance will come up," he says. "But this was clearly an ongoing problem. If you look at it, you can see that even in 2006-07 that [the call center was] operating at 77 percent (response rate). So this is not something that's happened all of a sudden."
Sparky Harlan, head of the foster family agency Bill Wilson Center, says her employees rely on the county hotline to report abuse. They often have to leave a message because no one answers.
"I am in shock that so many calls are lost," she says.
Mialocq says the county can learn from the Bill Wilson Center. The county-funded nonprofit received about 34,000 calls last year, Harlan says. That's 8,000 more than the county line received in the 2012-13 fiscal year. But somehow Bill Wilson's smaller staff has no problem handling its workload.
"We answer all of them," Harlan says. "One-hundred percent."
Harlan staffs her hotline with about three people who field five calls an hour. Every voicemail is answered before the end of the shift. After hours, the calls get re-routed to San Mateo County's hotline, where operators pick up 24/7. The county posts four times as many operators during the week.
County Executive Jeff Smith says bureaucracy has hindered the Social Services and DFCS, and it isn't going away anytime soon.
"The structure of having too many deputies and layers of administration has made it difficult for the department to be responsive," Smith says. "These individuals are in classified positions and moving these people around is difficult, to say the least."
The agency charged with protecting kids also wastes close to a million dollars each year mostly through staffing redundancies, according to the county audit. On top of all this, social workers in Santa Clara County maintain a low caseload compared to other counties. A labor agreement dropped the per-worker caseload from 21 to 14 in anticipation of a department merger that never happened, creating "artificial staffing shortfalls and higher overtime costs."
The county also unnecessarily pays for the care of some children who may qualify for state and federal benefits, the report notes. Social workers, by law, have to screen foster youth aged 16 to 17 for supplemental income eligibility. They were out of compliance with 152 children in the past year—15 percent of whom would have qualified for outside benefits.
"We come in as the outside auditor, not experts in social welfare," Mialocq says. "We are, however, experts in management principles. And the responsibilities of the departments we audit, we study them very carefully. Our recommendations are all founded in local, state and federal law. This isn't our opinion, it's the law."
Since the audit, Medina says, the department has taken steps to make the call center more responsive. She shifted schedules to keep more social workers on hand during peak hours, and Wagstaff says other changes are in the pipeline. Numbers provided by the county, however, do not yet reflect improvement.
The DFCS audit will go in front of the county's Finance and Government Operations Committee on Nov. 12, and Cortese says he expects the full Board of Supervisors to take direct action on implementing changes within the department.
"Why did it take an audit to uncover this?" he asks. "It's rare for policymakers to come in and say 'this specifically has to change.' I suspect that the board is going to ask a lot of questions about management failures and provide specific direction."