Features & Columns
Cinequest Returns
The 2018 film festival features more virtual reality, more than 200 films and Nicolas Cage
Intro | Nic Cage | William H. Macy | Flin Flon | Christopher Coppola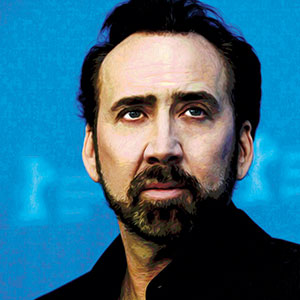 Last year, in the wake of downtown San Jose losing its first-run movie multiplex, the Camera 12, it looked like the Cinequest was in trouble. In official programs and publicity materials, the shift to screening films at Santana Row and in Redwood City was billed as something akin to an expansion—an opportunity for festivalgoers to experience more of Silicon Valley.
If film lovers who had shelled out hundreds of dollars for all-access festival passes viewed all this as marketing spin, they would be forgiven. It's not exactly convenient to schlep from downtown San Jose to Santana Row and then over to the Century 20 in Redwood City—especially when all the movies in the festival used to screen within just a few city blocks of one another.
Still, Halfdan Hussey, director and co-founder of Cinequest, remains staunchly optimistic about the challenges the festival endured last year, framing the issue as just another one of life's curveballs.
"Every year, something has happened," he says, observing that running a film festival that screens hundreds of marquee, independent, foreign and virtual reality films will never go off without a hitch. And he's fine with that. After all, the best movies are always about conflict and resolution.
In the case of Cinequest, that resolution came during the latter half of the 2017 festival. "We had our best second week of Cinequest ever," Hussey says, citing record box office numbers.
With Cinequest 2018 right around the corner—beginning on Feb. 27 and running through March 11—Hussey and the rest of his organization are gearing up for what he believes will be another successful year.
As usual, a number of big-name celebrities will be on hand to receive awards and promote their films. William H. Macy helps kick off the festival with Krystal. The quirky romantic comedy stars Rosario Dawson and marks Macy's third time directing a feature film.
Nicolas Cage will also be stopping by to accept his Maverick Spirit award. An often polarizing actor, Cage will be recognized for the many achievements of his long career, which include starring roles in cult comedies, such as Raising Arizona, to his Oscar-winning performance in Leaving Las Vegas.
Andie MacDowell, Tatiana Maslany and Tom Cullen will also be honored with Maverick Spirit awards.
In keeping with last year's emphasis on VR filmmaking, this year's Cinequest will again focus on developments in virtual reality and augmented reality storytelling—however, Hussey says, this portion of the festival will be scaled back a bit. "Last year we tried to do a bit too much," he says, explaining that the technology is still very new and that both storytellers and the general public are still learning how to create and engage with fully immersive movies.
This year's festival will feature 229 movies across multiple genres—including comedies, dramas, thrillers and documentaries, plus a large selection of foreign films. Of the 229 films at the festival, 130 are world or U.S. premieres. Many of these films would be hard to catch on the big screen outside of the art houses of Los Angeles and New York, Hussey notes.
"It's not going to be the same experience you have watching Netflix or Amazon Prime at home," he says, explaining that Cinequest is about discovery and interaction. "This is something you can't get in a typical night of film-going."
The festival's nightly meet-ups and cocktail hours are meant to foster conversation among film fans and provide networking opportunities for those in the industry at all levels. All told, counting screenings, mixers and award ceremonies, there are a total of 510 events, so stock up on popcorn. It's time to go to the movies.
Cinequest
Feb 27-Mar 11
San Jose & Redwood City