Features & Columns
Locally Raised Director Scores
with Hockey Doc
Dustin Cohen's 'Flin Flon: A Hockey Town' is a heartwarming
exploration of a very cold place
Intro | Nic Cage | William H. Macy | Flin Flon | Christopher Coppola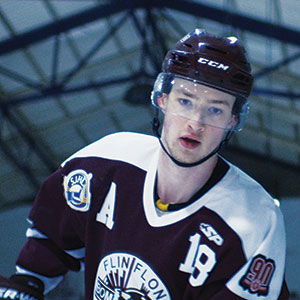 Even if you don't give a flying puck about hockey, Flin Flon: A Hockey Town is a winner. The documentary—director Dustin Cohen's feature-length debut—profiles an oddly named mining town on the line between Saskatchewan and Manitoba, some 620 miles north of the U.S. border. Here, the locals live and breathe hockey, and they "bleed maroon"—the color of the team's jerseys.
Cohen and his small crew take, as their centerpiece, the place in town where everyone in Flin Flon comes together. That's the Whitney Forum home to the Flin Flon Bombers—a minor-league team that's lasted 90 years, longer than many NHL franchises. The Bombers have matriculated some major league luminaries, including Bobby Clarke and Reggie "The Riverton Rifle" Leach.
Dustin is the son of David Cohen, who many years ago was co-owner of Metro Newspapers.
The younger Cohen has worked as a photojournalist for Metro and Silicon Valley Community Newspapers. He now works as a professional photographer for corporate clients and New York magazines alike. He's had short films at Cinequest: Conrad and the Steam Plant and The Shoemaker. He started Flin Flon more than a year ago, while trying to learn a little more about Canadian junior hockey.
"I was a fan," he says via phone from Brooklyn, where he lives and works today. "My dad took me to Sharks games, and that started it. I was thinking about making a documentary about a year and a half ago, to take a road trip with a remote Canadian junior hockey team. We chose between a handful of teams in interesting places, all off the beaten path."
Hence the copper- and zinc-mining town Flin Flon (population 5,185). It's a company town owned and operated by the Canadian mining conglomerate HudBay. Flin Flon takes its distinctive name from a now-forgotten book. In J.E.P. Mudduck's 1905 The Sunless City, the explorer Josiah Flintabbatey Flonatin descends via submarine to a golden civilization in the depths of a bottomless lake. The miners passed around the book; they got to calling their hamlet "Flin Flon" in honor of both the intrepid submariner and a deep nearby lake that reminded them of his harrowing journey. It's said that here is the only town in the world named after a science fiction character.
Flin Flon may not be famous, even in the roster of hamlets of the prairie provinces, but hockey fans know it. "I got a Bombers jersey while I was there," Cohen said. "When I'm wearing it, it surprises me to find out how many people who have a relative or a cousin or a friend who played with that team."
Flin Flon follows the Bombers during their relatively tough tour schedule, particularly during a road trip to La Ronge, Saskatchewan. The players ride the bus with the team's three-legged toy moose mascot, or moosescot, if you will, dangling from the rearview mirror. The local ritual has it that when the Bombers win, someone throws a severed moose leg onto the ice.
"It doesn't matter how many people you asked about the moose leg, you get a different answer," Cohen says. "I think it's become a legend. Athletes being superstitious, the custom caught on. It's been going on for decades—many of the people who live there have had the honor of throwing the frozen moose leg."
Cohen and his crew of two photographers and his producer couldn't afford scouts, so they arrived early and spent some extra time in the town. The camera people—"my amazingly talented cinematographer friends," Christine Ng and Soren Nielsen—sometimes worked in tandem, sometimes separated as A and B units. "Time was limited. Working without hierarchy, we shot a ton more footage than with a single camera."
They shot in severe cold. In Flin Flon, 20 degrees Celsius below zero temperatures are a matter of frequent fact, not a matter of comment. When the filmmakers arrived in Flin Flon last February, it was 30 below (-22F).
"One lesson we had to learn was how to transition the camera equipment from warm to cold," Cohen says, explaining that the machines react poorly to chilly conditions. "We got used to the cold fairly quickly, but the days we were filming near the lake it was particularly bad. The wind cut through all 10 layers of what I was wearing."
The reverse problem, transitioning from cold to warm, was a matter of worry for Cohen. Canadians—particularly small-town Canadians—are a reticent people.
"In the documentary world, your biggest fear is not warming up the subjects," Cohen says. "You have great conversations when they're off the record—but turn on the cameras, and the conversations stop. Hockey was a window into this cool community. We told them, 'When you're ready to talk, let us know'—that way, we didn't start off filming the younger hockey players right on the first day, lining them up for an interview. The way we proceeded, things were more fluid, organic."
The story of the Bombers' 2016-17 hockey season seemed a natural frame for the documentary. Cohen said, "You can make a comparison of a season of hockey to the choices an 18-year-old has to make. These players are figuring out what they're going to do next season. It's a life-changing decision, whether they're going to stay with the team or go up to Division 1. And for some players it's the last hurrah."
There is a certain sadness that goes beyond the winter light here—such is the essential problem of sports: many are called, so few end up as pros. But Flin Flon captures the salty side of these players, who explain to us the reasons for the brawling endemic to ice hockey... as per what has been called the Official National Joke of Canada—"We went to a fight and a hockey game broke out."
Cohen is coming to Cinequest and will be on hand for all three screenings of Flin Flon: "This is like coming full circle for me." His film gives an endearing look at a faraway place, slightly forlorn, but peaceable and special. Cohen has a natural grasp of the poetry of remoteness; his documentary is less like Hoop Dreams and more like director Bill Forsyth films Local Hero and Housekeeping.
Flin Flon: A Hockey Town
Mar 2, 7:15pm
3Below, San Jose
Mar 7, 7:15pm
Hammer Theatre Center, San Jose
Mar 4, 5:40pm | Mar 9, 5:15pm
Century 20, Redwood City