Features & Columns
Macy Makes A Movie
William H. Macy returns to the directing chair with 'Krystal,' starring Rosario Dawson
Intro | Nic Cage | William H. Macy | Flin Flon | Christopher Coppola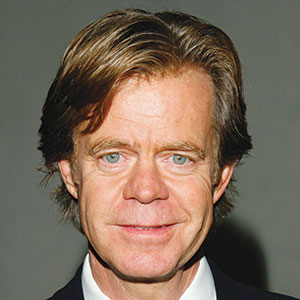 Imagine a sort of Baptist farce, with a yellow-eyed devil clearly visible to both hero and villain. That's the new film by William H. Macy—Cinequest Maverick Spirit award winner and star of Showtime's acclaimed series Shameless.
Krystal is a thoroughly likable opener for Cinequest. In McDonough, Georgia, young Taylor (the Johnny Depp-like Nick Robinson) is suffering the pangs of first love with Krystal, a mature woman (Rosario Dawson) with a kid about his age. She's unconvinced by Taylor's protestation that "I have a very old soul." Krystal has a great deal of baggage from her wilder days in Savannah, and moreover Taylor has severe tachycardia, which gives him fainting spells. To win her over, Taylor starts posing as a bad boy. He attends twelve-step meetings so he can plagiarize the drunkalogues—as the most arresting of the talkers Rick Fox brings Idris Elba-level gravity to this role.
The film starts as a rom-com but then gets zanier, as composer Dan Romer brings out the accordions and banjos. We never get enough of Dawson in the movies, and she's a bewitching love interest—you can see why Taylor is obsessed, trying to appear tough even though he looks more, in his own words, like "a small jar of Miracle Whip in penny loafers."
To use the tailor's parlance, Krystal is summerweight. Will Aldis' script is closer to John Patrick Shanley than Macy's frequent collaborator David Mamet. The supporting cast keeps it crisp and diverting; Kathy Bates turns in one of her Southern ladle-of-honey roles, and William Fichtner is hilarious as a stoned, useless emergency room doctor. Macy and his wife, Felicity Huffman, play Taylor's parents. Casting himself as a beloved theologian with a secret life, Macy amps up his milk-of-human-kindness side by wearing long hair and a beard.
After studying to become a veterinarian, Macy transferred to Goddard College in Vermont, where he met Mamet and studied acting. He soon became invaluable for directors looking for a man breaking under pressure. The poet E.E. Cummings described a "stink of excuse' emanating from an unsuccessful salesman. Macy had that reek in his best-known film, 1996's Fargo, starring as a sales manager whose embezzlement snowballs into a string of murders. That scent of shame and compromise informed other standout parts, such as Macy's heartbroken Little Billy in Boogie Nights (1997).
Macy exemplifies the rule that character actors are generally more interesting than leading men and women, though he's been first-billed in several worthy films. In Henry Bromell's Panic (2000) Macy played an assassin in therapy; analogous to The Sopranos, this offbeat film was on its own wavelength, and it was enlivened with Neve Campbell at her best. He also starred against Laura Dern in Focus (2001) and Maria Bello in The Cooler (2003), demonstrating the unusual dynamic that occurs when you match a strong woman with a crumbling man. Macy can go manic and jazzy: he's terrific playing fast-talking announcers in Seabiscuit, Radio Days and David Lynch's Inland Empire. Gene Hackman said that his goal was "to play common men, uncommonly"—this is Macy's particular genius, too.
Krystal
Feb 27, 7:15pm
California Theatre, San Jose