Feature
Home Movies
'Parachute' centers around pan-Pacific high school students in Silicon Valley
The 30-Year 'Quest | Parachute | 2001: A Space Odyssey | The Mark of Zorro | Fest Bets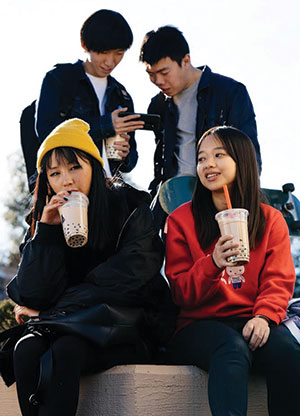 South Bay filmmaker Kath Tolentino's short Parachute is about a pan-Pacific phenomena: Chinese and Taiwanese parents staying in their home country while shipping their children to California to attend school, in order to increase their chances of getting into American universities.
The piece contrasts Wei-Zhang (Nicky Zou), nicknamed Wendy, and Zoe Lau as Mei-Ling, as two different types: Wendy has heavy makeup and a crooked part to her hair, and is not adapting well to the life or the food—"My girls always love mac and cheese," says the landlady taking care of them. She's acting up with boredom and anger, and Mei-Ling—the greenhorn Miss Perfect—is going to be her target.
The film features music by SF band LoveLikeFire, and locations in San Jose, such as Notre Dame High School, as well as a stripmall in Sunnyvale near where Tolentino grew up.
"Setting it in the Silicon Valley, where I'm from, and where we're building the technologies that have made us more isolated than ever, felt like really fertile ground for a film," she says.
RICHARD VON BUSACK: How did Parachute come to be?
KATH TOLENTINO: I read a story about a group of "parachute kids" in L.A. who brutally attacked their classmate a few years ago, and the story really stuck with me. The young woman who led the attack wrote this heartfelt apology letter in the L.A. Times where she described how lost and isolated she felt as a teenage immigrant living alone in the U.S. It doesn't excuse her actions, but it got my wheels turning. I've been thinking a lot about isolation, and how dangerous it is, not just for our mental health but for our relationships with each other, and the social fabric of our communities.
I'm also always interested in stories about migration. About individuals who leave their families in search of better economic opportunity, and the impact that that has on their psychology. Wendy, the main character in this film, not only leaves her family at a young age, but she also faces incredible pressure to succeed in a very particular way, with no one around to guide her through her journey. As a daughter and granddaughter of immigrants, these themes resonated with me.
RVB: I'm hoping this isn't a stupid question, but of the two main characters, did you have a favorite?
KT: Wendy is definitely my favorite. She's flawed, but in a way that I can completely empathize with.
RVB: What's the market for a short film like this?
KT: We're submitting it to lots of festivals, but the competition is tough. It's not a very commercial film, and the slow pace can be challenging in a market that's inundated with content. But the most important thing, I think, is finding our audience and building organically from there. Many folks who have seen it have told me that it really resonates with them, and they want to do what they can to help get it seen. I'm very grateful for that support, because navigating the festival circuit is difficult to do without some buzz. My hope is that Parachute will have a long life on the festival circuit, and then live online somewhere like HBO or Kanopy.
RVB: Are you tempted much to leave the area for L.A., where the industry is? Is it tough for an independent filmmaker working in the Bay Area?
KT: I did spend one summer in L.A., working in the writers' room for a show called Looking. After that job, I immediately moved back because I found L.A.'s vibe to be isolating and toxic.
Many of my Bay Area film friends have moved down there and are getting steady work. It's definitely smart if you have a role in a specific department, like Art or Wardrobe. But I think as a writer and director, you have to live where your stories are. We've seen enough stories about L.A. and New York. I want to make stories about the Bay Area, about the people I know and the issues we're seeing play out on our streets.
That said, living in the Bay Area does make it difficult to meet industry contacts like agents, managers and development executives. I'm lucky to have made some connections—through grad school and my freelance commercial work—who will hopefully continue to support my films in the future. Without them, I think I would have a harder time.
RVB: Can you tell me about your family background?
KT: My mom was born in Chinatown in San Francisco and then her family moved to Los Altos. She and her siblings were the only Chinese students in their elementary school back in the 1960s and '70s. It was very different from how South Bay looks today. My dad emigrated from El Salvador when he was 19 and has lived here since. The two of them met at church.
RVB: During your time as a reporter, what stories were you particularly proud to have done?
KT: I freelanced as a radio reporter for KQED back in college. During that time, the San Jose Police Department was partnering with ICE agents to "crack down on gang violence," a well-intentioned, but loaded phrase that naturally had Latino residents concerned about increased deportations.
So for a couple months, I went to a lot of juntas, or town halls, with local community leaders, nonprofits, police and politicians, where residents were able to voice their concerns and leaders listened. It was really interesting seeing how these opposing groups were able to hear each other out, find respect for each other and find common ground.
Mar 4, 8:20pm, Redwood City
Mar 5, 4:30pm, Hammer Theatre
Mar 9, 1:45 pm, Redwood City