Features & Columns
Lens Craft
Rock & roll photographer Jay Blakesberg has spent a his life
capturing the light shed by stars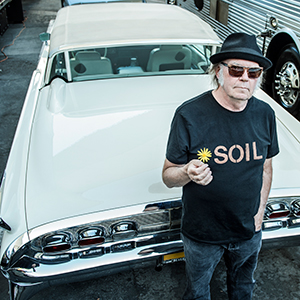 Jay Blakesberg is part of the generation of photographers who have neatly straddled the line between two radically different eras of photography. That cohort—primarily the youngest of the baby boomers and the oldest Gen-Xers—are old enough to have established themselves in the analog era, but young enough to have successfully adapted to the demands of digital.
Blakesberg, 56, is one of the most prominent names among the Bay Area's contributions to the list of the world's greatest rock & roll photographers. In the last decade or more, he estimates he has shot about 2.5 million photos, of which he has kept and archived about 1.5 million as digital files.
But to hear him tell the Almost Famous-like story of his earliest years as a rock-loving aspiring photographer is to experience a world that, in today's Instagram-ized iPhony environment, sounds positively antique.
Blakesberg was a teenager in the late 1970s in New Jersey. He would regularly sneak cameras into concerts and take performance shots of the rock gods that he idolized, just because he wanted memorabilia for his bedroom. "I had a darkroom built in the basement of my mother's house," he says, "and I would make these 8-by-10s to thumbtack on the wall of my bedroom."
The first time he was published, he had followed the limo of Jefferson Airplane and Hot Tuna Guitarist guitarist Jorma Kaukonen into Manhattan after a show and got a photo, which he then submitted to a magazine as a letter to the editor. He was just 16. A few months later, at 17, he struck up a conversation with a writer at a Grateful Dead show at Madison Square Garden. Afterward, he contacted the writer's newspaper to offer up his photos. They used two of them. He was paid $15.
"Today, people are published every five minutes on Instagram, Facebook, Snapchat, whatever," he says in a FaceTime interview from Barcelona, Spain. "But back then, being published in print, for a 17-year-old kid? That was a huge deal."
From those promising beginnings, Blakesberg built an impressive career shooting such rock icons as Jerry Garcia, Neil Young, Carlos Santana, Joni Mitchell, Green Day, Fugazi, Dr. Dre and Snoop Dogg for such publications as Rolling Stone, BAM, Pulse, Guitar Player, Relix, The Source and more. He's been one of the Dead's go-to photographers for more than 40 years, as well as the official photographer for San Francisco's epic annual free concert, Hardly Strictly Bluegrass. He's shot album covers and publicity photos, and he's published more than a dozen coffee table books of his images. When Tom Petty died a year ago, Rolling Stone used one of Blakesberg's shots on its tribute cover.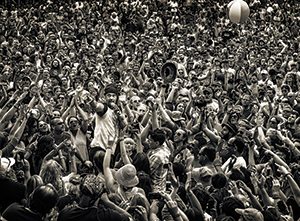 It's been an amazing career, and it's all fodder for Chasing the Light, an evening of photos and stories hosted by Blakesberg on Thu., Oct. 25, at the Mountain Winery in Saratoga. The event, which will also include dinner and wine, will feature the photography narrating his journey through four decades of rock & roll history, with plenty of behind-the-scenes photos of iconic names.
It helps that Blakesberg is a naturally gregarious storyteller. When we spoke, it was after midnight in Spain, and he still took the time to masterfully unspool several name-dropping stories, including hanging out with Robert Plant backstage at Hardly Strictly (when Plant wasn't even performing) and others peopled with larger-than-life rock icons.
The analog world in which Blakesberg first emerged as a photographer was characterized not only by old technology but by a fundamentally changed attitude toward access. "When I first started going to shows, you just brought your camera and shot the show," he recounts. "Then all of a sudden, you needed photo passes. Then, it was only you could shoot the first three songs from the pit down front, and I did that. But I was lucky in that I've gone from being in the pit to being on stage to backstage to the dressing room."
A would-be Jay Blakesberg starting out today would have to negotiate a phalanx of publicists and abide by restrictive rules, a far cry from the wide-open access of the past. "That world's gone forever," he says. "Now, I really won't go out to shoot something if someone says you can only shoot three songs from the soundboard. I'm not interested in shooting from the back of the room with a long lens in hopes I'll get something good."
Blakesberg was originally inspired by the work of the godfather of rock photographers, Jim Marshall. "I saw Jim's photos and I just said to myself, 'I want to do that,'" he says. "But I really didn't know how you could get to the point where you could actually shoot rock stars. It took me a number of years to learn how to get photo passes, but little by little, I started getting assignments."
He first came across Marshall's photos in Relix, a magazine devoted to the music and culture of the Grateful Dead. He was also inspired by the environment at Dead shows, which exposed to him not only great music but a rich subculture to record with his camera. The Dead rank as the first among equals in Blakesberg's universe of subjects. In fact, he has two slide show presentations that he usually presents to audiences: the one he'll be bringing to the Mountain Winery and one devoted solely to the Dead. Among his many books is Hippie Chick: A Tale of Love, Devotion and Surrender, featuring shots of women at Dead concerts and other events.
He likes to use the term "visual anthropology," especially in connection with his work on the Dead. He got to shoot Jerry Garcia in several one-on-one photo assignments, but since Garcia's death in 1995, Blakesberg has continued to cover the various permutations that the surviving members of the band have presented to audiences, including the fabled 50th anniversary shows in Chicago and Santa Clara in 2015.
"I've been shooting those guys for 40 years, and I see no need to stop now," he says. "There is such rich pop-cultural history there. What I'm doing is the visual study of a tribe, not only with the band but this whole scene that surrounds it."
Blakesberg moved from his home in New Jersey to the Bay Area in the early '80s, and he got his first big break when Rolling Stone asked him to shoot a free U2 concert in downtown San Francisco in 1987. It was the first of about 300 assignments he shot for the world's most famous rock-culture magazine. He learned early on that he had to augment his live performance shots with candid portraits. So he bought himself a large-format Hasselbad camera that he found in the classified ads in the San Francisco Chronicle—again, it was a different world—and taught himself the principles of portraiture. "It was the only way I was going to compete and make a living as a photographer."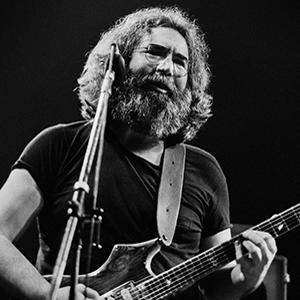 Then also came the development of his bedside manner. Most of the artists that he shot were people "who had been photographed hundreds of times. They were pretty much over it. But every time I do a portrait, I still have to make the most brilliant, unique photograph that I can. If I don't, why would the magazine paying the bills ever hire me again?"
So, he became the master of the fast photo shoot. Artists appreciated his speed and his sensitivity. Neil Young is one of Blakesberg's subjects with little patience for photos. Once, when he found himself with Young, he asked the great singer-songwriter for a picture beside one of his classic cars. Young agreed but disappeared for a distressingly long period.
"I finally saw him sitting in the sun," remembers Blakesberg. "I watched him for a while, then walked over and picked a flower off the tree that was next to him. I handed it to him and just walked away." Eventually, old Neil stood up and Blakesberg got his shot.
These days, Blakesberg is as busy as ever, and he's purely a digital guy. He says he has become a Photoshop wizard in order to make the digital image look as much like film as possible. Such retro digital manipulation has given him a kind of signature look. It's not enough in today's world to have a pocketful of Jerry Garcia photos. You still have to compete, and you still have to stand up for the integrity of your profession.
"The biggest problem with being a professional photographer today is that everybody has a camera in their pocket," he says, "and that has changed the dynamic across the board. Literally, there are people who will take a cell phone photo and say, 'OK, here's my band's new publicity photo.' Wait, that's something a record company used to pay me $5,000 to do, and now your girlfriend takes one shot on portrait mode and you're good?"
Chasing the Light: The Rock & Roll Photography of Jay Blakesberg
Oct 25, 6:30pm, $175
Mountain Winery, Saratoga
mountainwinery.com