Features & Columns
'The Jinx' Renews Focus on Disappearance of California Girl
Robert Durst documentary sparks renewed focus on disappearance
of Northern California girl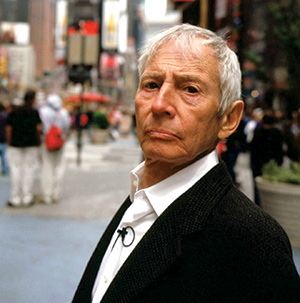 Eccentric millionaire and accused murderer Robert Durst awaits extradition from Louisiana to California for the alleged killing of his confidante Susan Berman in December 2000.
Meanwhile, sources with knowledge of the case indicate that federal investigators continue to focus on Durst as a "person of interest" in the unsolved disappearance of Northern California teenager Karen Mitchell in 1997.
Durst, the subject of the six-part HBO documentary series The Jinx, and whose wife, Kathie Durst, first went missing in 1982 in a case that remains unsolved, was arrested in Louisiana last month just before the climactic final episode. He was charged by Louisiana officials on drug and weapons charges, which were dropped late last month, and by federal prosecutors for possession of a firearm following a felony conviction.
Metro's sister newspaper, North Bay Bohemian, obtained a previously unreleased report from the Mendocino County Sheriff's Office detailing Durst's arrest in May of 1995 (first reported March 25) for "driving under the influence" and possession of marijuana just outside of Mendocino.
Durst's presence in—and familiarity with—Northern California plays a critical role in the current murder charges he is facing in Los Angeles.
According to the seven-page report, on May 10, 1995, Durst was spotted by a member of the Mendocino County Sheriff's Office on Lansing Street standing outside his light blue Ford Taurus. According to the report, he "staggered to the rear of the vehicle" and was "swaying side to side." He got back into the Taurus, headed north, and then "crossed over the yellow line three times."
The sheriff's officer had trouble getting Durst to pull over, as he seemed "confused as to my demands." Once stopped, Durst, reeking of alcohol, according to the report, "staggered" toward the officer. He had difficulty finding his wallet and, in "a slurred speech," asked the officer why he had been stopped. Durst acknowledged that he had consumed "a bottle of wine" at Cafe Beaujolais, a popular restaurant in Mendocino.
Durst then failed a series of field sobriety tests administered at the scene: he couldn't keep his balance on one leg; he had trouble counting; he couldn't stand without swaying; he couldn't touch the tip of his nose. The officer had to stop him from walking into traffic. Durst was subsequently taken to the sheriff's substation in Fort Bragg, where he was administered a urine test.
An envelope containing $3,700 in cash and a baggie with less than an ounce of marijuana was found in Durst's trunk—a combination that would repeat itself in Durst's encounters with the law for the next two decades. Then, in classic Durst fashion, with phrasing familiar to anyone who watched The Jinx, Durst uttered that "the money and marijuana is mine and that I have always smoked it, even as a kid. ... So what's the big deal?"
Durst was released the following morning on $9,500 bail. The result of the urine test showed he was below the legal blood alcohol limit. The next day, Durst's father Seymour suffered a debilitating stroke. Within a matter of a few days, Durst appeared in New York City at the hospital bed of his stricken father, who died shortly after his eldest son's visit.
Only months prior to his arrest in Mendocino, Durst had purchased an ocean-view home in the rural outpost of Trinidad on the Humboldt coast. His move west came immediately after leaving his position with the Durst Corporation and losing a contentious internal battle with his younger brother, Douglas Durst, for control of the family's billion-dollar Manhattan real estate empire. Durst lived in his coastal retreat off and on until the killing of Berman in the winter of 2000.
In November 1997, 16-year-old Karen Mitchell disappeared after getting into a car with an older male when she left her aunt's store at a mall in Eureka. According to Matt Birkbeck, author of the bestselling profile, A Deadly Secret: The Bizarre and Chilling Story of Robert Durst (just re-released by Berkeley/Penguin), Durst—often dressed as a woman—frequented a shoe store owned by Mitchell's aunt and a homeless shelter at which Mitchell volunteered.
Birkbeck also noted that a composite drawing of the suspect last seen with Mitchell bears a striking resemblance to Durst, in particular, the broad wire-rimmed glasses that Durst wore at the time of Mitchell's disappearance.
While officials in Humboldt County have refused to acknowledge the whereabouts of Durst at the time of Mitchell's disappearance, Birkbeck told me in an interview that he has seen credit card records of Durst's indicating that "Durst arrived in Eureka on the morning of Mitchell's disappearance."
When Durst was arrested in New Orleans last month, authorities found two copies of Birkbeck's book in his possession. According to Birkbeck, during Durst's trial for murder, Durst—based on his reading of Birkbeck's book—expressed concern to a member of his defense team that he would soon be indicted for the murder of Mitchell.
Real estate records obtained for this story indicate that Durst also owned a pair of properties in San Francisco during the late 1990s and early 2000s. He used dozens of different aliases as he zigzagged across the country, living what Birkbeck characterizes as a "strange vagabond life, using false identities for reasons unknown to anybody."
In 2001, Durst relocated to Galveston, Texas, where in September his neighbor and so-called best friend, Morris Black, was found dismembered in garbage bags that had been dumped into Galveston Bay. Durst, who had also dressed as a woman in Galveston and used the name Dorothy Ciner, was acquitted on first-degree murder charges based on self-defense.
Prosecutors believe that Durst flew into the Arcata-Eureka Airport around Dec. 19, 2000, and then drove to Los Angeles to kill Berman. Phone records place Durst in Garberville the following morning, heading south on Highway 101. A letter, alleged in The Jinx to have been written by Durst, appears to directly link him to Berman's murder. Police in Beverly Hills received a note on Dec. 23, the day before Berman's body was discovered, that has a similar handwriting style and misspellings that were consistent with a separate letter Durst sent to Berman.
In The Jinx, an irritated Durst says that he arrived in Trinidad "long before December 23rd, long before Christmas." It couldn't have been that long. According to numerous news sources, Durst was married to his current wife, Debrah Lee Charatan, in Manhattan on December 11.