Features & Columns
Cinequest Top Picks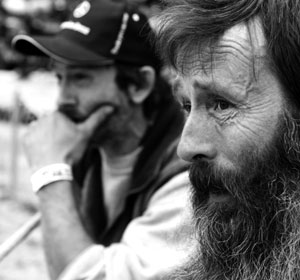 Bel Borba Aqui
(Brazil; 90 min.)
Salvador da Bahia in Brazil is decorated by the animals, chimeras and human figures of the hard-working Bel Borba, creator of numerous mosaics, murals and junk sculptures. This artist (a jovial party with a waxed mustache, a number of dogs and his own swimming pool) is profiled in this occasionally wandering documentary by Burt Sun and Andre Constantini. Sometimes Borba quotes Brazil's artistic pasts in blue and white tiles, sometimes he works from a cherry-pickers' crane while slapping designs of tile on a huge cement retaining wall. And time-lapse photography (as in Clouzot's The Mystery of Picasso) show us the sureness of an artist at work (although a survey of a couple of other artists working this way, such as the staircase-decorating, one-named Chilean artist Selaron) might have given this film an even broader scope on Brazil. Still: Bel Borba makes an interesting subject, you get an eyeful of that nation and this is a pleasing picture of a well-spent life. (RvB) March 4, 6:3opm; March 6, 9:15pm; March 8, 1:30pm; all at Camera 12.
Best Intentions
(Hungary/Romania; 105 min.)
Art imitates life in Romanian New Wave writer/director Adrian Sitaru's second feature film, in which a medical scare tests the relationship between a mother and her thirtysomething son. In a matter of days following a panicked phone call from his father saying that his mother has just suffered a stroke, the neurotic Alex (Bogdan Dumitrache) finds his life turned upside down. Despite his best intentions, his increasingly overbearing and protective behavior leads to clashes with his mother, her friends and even her doctors. And if he isn't careful, he might just lose himself within the walls of the hospital. The semiautobiographical story is alternately poignant and funny. The chemistry between Dumitrache and Natasa Raab, who plays the mother, is touchingly sincere, sure to resonate with anyone who has ever suddenly been thrust into the role of parent on behalf of a loved one. (MS) March 2, 5pm; March 7, 4pm; March 10, 11:15am; all at Camera 12.
Close to Heaven
(Germany/Romania; 93 min.)
Like Sweetgrass if it had been filmed by Bela Tarr. Director Titus Faschina ascends the Carpathians to watch a year in the life of the Stancius, a family of Romanian sheep ranchers (50ish Dumitru, his wife, Maria, and coming-of-age son, Radu). They're the last holdouts on the mountain, since their neighbors have sold out or given up. This ravishing black-and-white film, shot by photographer Bernd Fischer, shows not just the austerity but the celebrations, including church dinners and the nearby town's New Year's Eve in the rain. Some concessions to modern life, such as a propane torch to scald a pig's hide, contrast with mostly pre-modern equipment. They cut the alfalfa with Grim Reaper scythes; the men wear the massive Igor-style sheepskin coats that make them look like ambulatory haystacks. Close to Heaven is a constant revelation of hidden resourcefulness. As the seasons change, we see Dumitru's tricks for getting a sickly lamb to nurse, his blacksmithing and his cheese making. He shows a deft hand on the Romanian shepherd's flute—the music calling a response from the wolves in the distance. Son Radu becomes an enigma: no words about him or from him, for most of the film. Eventually, we see how he straddles the old world as well as his plans to continue this way of life. The Balanescu Quartet's music tends to overplay the mournfulness, even for the sadness of a sheep being slaughtered (be warned). (RvB) Mar 1, 4:30pm; March 3, noon; March 8, 4pm. All at Camera 12.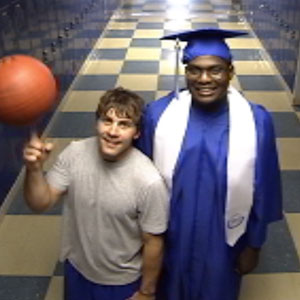 Dave
(U.S.; 94 min.)
Writer/director Eric A. Geadelmann knows about the power of a coach. He produced The Dance, a documentary about Billy Roth, the former prizefighting champion who volunteered as a boxing coach in Louisiana's roughest prisons. His follow-up as producer and now director doesn't stray far in either geography or subject matter. It's a powerful documentary about a real-life basketball coach and his mentoring of a special-needs student (the Dave of the title) in small-town Missouri. In that way, it should really be called Adam & Dave, because the coach's story is every bit as important here—without it, one can't understand why he would take such an interest and why he feels every victory and setback in Dave's life so deeply. The version I screened was only a rough cut, and in some ways, it is truly a diamond in the rough. It's too long and unwieldy at the beginning—we don't see Dave and Adam meet for an entire half hour. That's too bad, because the film's emotional power comes from the interactions we witness between the two of them, and the second half of the movie is a riveting emotional rollercoaster. A lot of the talking heads are extraneous—what we really need to get to is the heart of the matter, as Adam basically devotes his life to seeing that Dave gets even the slimmest chance of a future that seems available to him. How the two of them take that thin slice of opportunity and blow it up beyond anyone's wildest imagination is an unforgettable story. (SP) March 2, 7pm; March 4, 11am; March 9, 3:45pm; all at Camera 12.
Forgetting the Girl
(U.S.; 85 min.)
Director Nate Taylor got his training as an editor on the romantic comedy Kissing Jessica Stein a decade ago. Who could have known he'd take what he learned there and turn it into something as twisted and brilliant as his debut feature, Forgetting the Girl? What he's done is subvert all of the romantic-misfit clich–s that Hollywood films have been piling on the fire of pop-culture emptiness for years, with this story of Kevin Wolfe, a photographer obsessed with dating his models and then trying to forget them, usually after they break up with him. Christopher Denham is fantastic in the enigmatic lead role, alternating between a painful awkwardness and a certain boyish charm, as writer Peter Moore Smith refuses to let us make up our minds about whether Kevin is a true ladies' man or a total buffoon. The thriller elements come in with the creepy note of menace introduced in the secondary character of Kevin's friend Tanner (Paul Sparks of Boardwalk Empire), and a subplot involving one of Kevin's models (Anna Camp from The Good Wife). Lindsay Beamish is also excellent as Kevin's long-suffering assistant Jamie. Don't let anyone tell you anything else. The ending is one of the most disturbing of any film in recent memory. (SP) March 2, 7:15pm; March 4, 9pm, March 6, 2:30pm; all at Camera 12.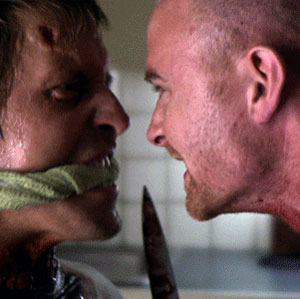 The Harsh Light of Day
(U.K.; 90 min.)
In an intriguing twist on the vampire genre, Daniel (Dan Richardson), the victim of a horrific home invasion, is left widowed and confined to a wheelchair. A sinister stranger (Giles Alderson) shows up offering the distraught Daniel a chance at some quality payback—sort of Straw Dogs with fangs. The moral choice to accept the gift/curse of eternal life, leaves Daniel genuinely tortured, especially when he realizes the cost of his new powers—collateral damage is a very real possibility once he starts down a path from which there is no retreat. The storytelling is crisp and jangly in director/writer Oliver S. Milburn's feature-film debut, with some intense encounters between all-too-earthly thugs and their new-found otherwordly foe. (MSG) March 3, 6:45pm; March 6, 9:45pm; March 9, 3pm; all at Camera 12.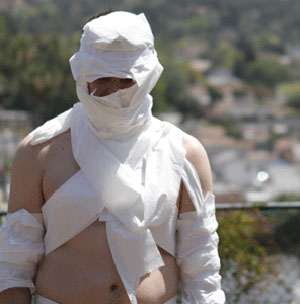 How to Cheat
(U.S.; 87 min.)
If her film is finally overresolved, director/actress Amber Sealey (A Plus D) brings an alternative perspective to alternative film. As a black-suited chauffeur named Mark, squidgy titan of mumblecore Kent Osborne (Hannah Takes the Stairs, Uncle Kent) frolics naked in his Eagle Rock backyard. This conniption fit is caused by the aggravations of Mark's sex life, which is strictly for procreation with his baby-craving partner, Beth (Sealey). Their reason for sticking it out, according to him: "There are so many pictures of us together." Mark decides to look for some on the side via websites and encounters the hard-drinking Louise (Amanda Street), who may be willing to sleep with a married man, although her idea of foreplay involves a lot of acting out; she's nuttier than Kristin Schaal (The Flight of the Conchords), frankly. The petite, brown-eyed Street has serious charisma, and Mark's arguably low-life behavior is sold by his resemblance to Charles Grodin's furtive, easily moraled character parts in 1970s films. My problem, as with all mumblecore, and post-mumblecore and its derivatives and variations, is the Cassavetes strain: the sense of actors horsing around, playing tactility/identity games becoming as little children as they evolve scenes and characters: fun for them, exasperating for us. (RvB) Feb. 29, 6:45pm; March 5, 2:45pm; March 7, 9:45pm; all at Camera 12.
Love, Wrinkle-Free
(India; 106 min.)
A ribald family farce, at least by Indian standards, in which 40-something Savio (Ash Chandler) hopes to provide for his family by designing a line of edible underwear. Noel Coward it ain't, but writer/director Sandeep Mohan gently mocks much of midlife in general and Goa in particular, from hippie stoner jokes to Hindi/Catholicism, a residue from Portuguese colonization. Most of the broad humor concerns the vanity of Savio, his wife and a local businessman with a hair fetish. Director Mohan attempts to juggle one subplot too many, and some gags fall flat. The film is silly but good-natured. (DH) March 4, 7pm, California Theatre; March 7, 7:15pm, Camera 12; March 9, 9:15pm, Camera 12.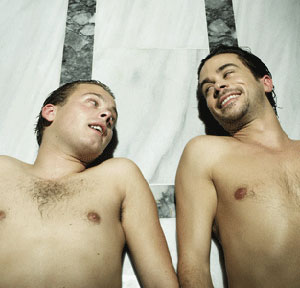 Mixed Kebab
(Belgium; 98 min.)
In the opening shot, Ibriham (Cern Akkanat) faces the camera and blithely introduces himself as Turkish, Belgian, Muslim and gay—as well as betrothed to his pretty and materialistic cousin in Turkey. His indifference allows the gravity of his family situation to emerge slowly. If he doesn't care, why should I? But director Guy Lee Thuys masterfully steers Bram (his Belgian nickname) his family and his paramour's family into the deep waters of race, religion, sexuality and identity. Enumerating these "big themes" doesn't do justice to the excellent cast and script, which leaven the tragedies of everyday life. Here in Silicon Valley, I too often think that a tolerant multiculture is the norm. Mixed Kebab harrowingly and humorously reminds me that Muslim gays and women might think otherwise. (DH) March 4, 4:30pm; March 7, 5pm; March 9, 9:15pm; all at San Jose Rep.
Portrait of a Zombie
(Ireland; 85 min.)
It not easy having fun with zombies—relentless, mindless appetite just isn't that amusing. Writer/director Bing Bailey's feature, however, stands comparison to Shaun of the Dead itself. In a working-class part of Dublin, a low-budget film crew (perhaps hoping to get into Cinequest?) is tracking the sad story of Billy (Patrick Murphy), a young man inflicted with a zombie virus. His harried but supremely loving parents (perfectly pitched performances by Geraldine McAlinden and Rory Mullen) talk with touching sincerity about their son's plight. The empathy quotient runs high until we actually meet Billy, who needs a Hannibal Lecter mask and grappling hooks to keep him from devouring the cameraman. As the local hooligans organize anti-zombie protests and the director romances Billy's sister, Billy's girlfriend reveals that she is pregnant—an announcement that leads to a supreme gross-out scene that should leave Rick Santorum with even more nightmares about prenatal care than he already suffers from. (MSG) March 3, midnight; March 5, 9:30pm; March 10, 4:30pm; all at Camera 12.
Unfinished Spaces
(U.S.; 86 min.)
Not just one of the highlights of this year's festival, but one of the best documentaries on Cuba ever made. Directors Alysa Nahmias and Benjamin Murray chronicle how, in a burst of revolutionary enthusiasm, Fidel Castro's government commissioned a series of art schools on the grounds of a seized country club. The first was completed speedily by architect Ricardo Porro and a group of less-famous associates working with volunteer student labor. The builders overcame the U.S. embargo on building materials by creating a school of breezeways and soaring brick vaults, based on Catalonian models. But pressure from without and within Cuba kept this dream from being completed. First, the project was denounced as too "Pharaonic" for an underdeveloped country. Later, the sexually liberated conduct of the art students aroused the prissy wrath of Che himself, since he and Fidel had embraced the hard-core Philistinism of the U.S.S.R. Gay students were purged, and the architects either were blacklisted or fled Cuba. Abandoned and overgrown, the school was at one point the backdrop for an outer space Planet of the Barbarians–type TV series. The redemption of this "maldita" (cursed) school is the happy part of the story; it has special relevance to Americans who are watching the U.S. underfund its own arts. (RvB) March 2, 1:45pm; March 7, 6:30pm; March 10, 4:15pm; all at Camera 12.