Features & Columns
The Tag Project Honors
Japanese Americans
A multi-gallery exhibition explores the stories of Japanese Americans
forced into internment camps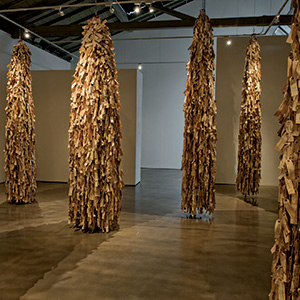 Identification tags tend to hang when they're attached to human beings. A piece of string runs through an eyelet, so that a piece of paper stamped with a number can simply hang off the person's clothing, limbs, luggage or whatever it's tied to.
One usually sees such tags attached to dead corpses in morgues. However, in the case of 120,000 American citizens and resident aliens of Japanese ancestry who were forced to live in internment camps after President Franklin D. Roosevelt signed Executive Order 9066, they were forced to wear identification tags. There was occasionally a "family number" to identify the entire unit, so they wouldn't become separated when forced to relocate.
Now, artist Wendy Maruyama has gathered 120,000 replicas of those tags the detainees wore, replete with the person's name on each tag, and assembled them with the utmost grace into 10 sculptures which hang suspended from the ceiling at the San Jose Institute of Contemporary Art. As soon as I walked into The Tag Project, the word "hang" came to mind, with multiple layers of meaning. In that sense, the show is dark poetry at its finest. The suspended sculptures resemble Christmas trees when still bundled, wrapped up and skinny. The only components missing, perhaps, are shiny ornaments of FDR's face atop each of the trees.
I just had to hang around and grimace at the auras of hatred, race prejudice and xenophobia firsthand, because, hanging on the surrounding walls, as part of The Tag Project, one finds several text panels paying homage to specific humans who were incarcerated in the internment camps. The stories bring to light a variety of experiences related to forced relocation, detention and the harrowing postwar journey back to a paranoid American society that often did not want these people. At each panel, viewers can call a number on their cell phones and listen to corresponding stories and interviews of the individuals portrayed, many of whom have local ties.
But the journey does not begin or end with the San Jose Institute of Contemporary Art. Two other venues, both in Japantown, will also present exhibits in conjunction. In the first case, the Japanese American Museum of San Jose presents its own exhibit, Executive Order 9066: Memories and Artifacts. To show the nitty gritty of what life was like inside the camps, the museum has created a new display with photographs and artifacts which have either been recently acquired or otherwise not previously displayed as part of the museum's permanent exhibits on the forced removal, incarceration and resettlement.
We see a beginning-to-end timeline of what it was like for detainees who were forced to travel to the camps wearing identification tags, then live in the camps, and then finally depart once they were allowed to leave. Many of the photos depict scenarios of guard towers, bathrooms, potato sheds, assembly centers and schools inside the detention centers. One photo, for instance, shows an entire schoolroom of Japanese youth, inside the camps, during graduation, replete with tassels and other adornment—all of which was never recognized by American society outside the camps.
We also see artifacts created inside the camps, including wood sculptures, canes and other pieces of art and jewelry. Diagrams, land maps and other similar paperwork also grace the walls. There's even a shakuhachi (flute) sitting on top of Japanese sheet music that someone inside the camps copied by hand, plus an eagle's head someone carved with his own tools. All in all, one gets a ghoulish inside look into an experience that I certainly never read about in school textbooks.
Right down the street, the Art Object Gallery sits next to a Zen meditation facility and across from a ukulele shop—immediately making it more interesting than almost all of what's in the downtown core, by comparison. But I digress. At the gallery, Maruyama will exhibit a series of wall-mounted cabinets and sculptures enshrining elements of internment camp life. The pieces integrate photo transfers along with materials such as barbed wire, tar paper and domestic objects. For the reception this Friday evening, attendees will be able to hop on shuttles to get from the ICA to the two venues in Japantown, and back again. What a journey. I suggest you hang around.