Features & Columns
Silicon Alleys: SJSU Track Stars Couldn't Outrun Racism in the 1950s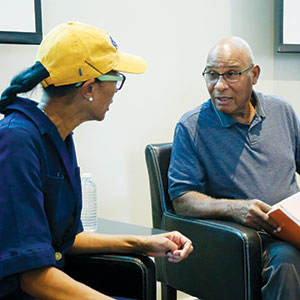 Leave it to the San Jose Museum of Art to trigger forgotten sports history. Turns out, the San Jose of 60 years ago was much more happening that most people realize.
Last week a conversation for the museum's lunchtime lecture series, "Black Athletes and the Speed City Era at San Jose State College," featured local sports historian Urla Hill and sprinter Bob Poynter discussing the renowned track program led by Bud Winter, in particular the late '50s. Speed City: From Civil Rights to Black Power, an exhibit Hill originally curated at History San Jose in 2007, is currently on display at the museum.
Bud Winter's program vaulted San Jose State to worldwide stardom and eventually led to Tommie Smith and John Carlos coming here. This much is well known. But since Smith and Carlos have rightly received an overwhelming amount of attention, it was glorious to see Poynter illuminate everything that happened before those two showed up, including what San Jose life was like for African-American athletes in the still-segregated '50s—a slice of local sports history that never gets mentioned. For example, the athletes weren't even allowed to rent an apartment when they arrived. This led to the famous "Good Brothers House" at Fifth and St. John where many African-American athletes wound up rooming together. Chuck Alexander, who started the house in 1955, even joined Poynter and Hill on stage to share stories. The discussion revealed just how much African-Americans have accomplished as well as how much work still remains to be done.
Of course, sitting there in the mostly vanilla crowd of museum members, I could not help but obsess over another San Jose State runner from that era: Bombay, India, native Maryleela Rao, whose story has likewise been forgotten. So with all massive respect for the accomplishments of Poynter et al, it is Rao's story to which I will now turn.
Rao was one of the first female Olympic athletes from India when she competed in the 1956 Melbourne Games at age 16. She also competed in the 1958 Asian Games in Tokyo.
Maryleela's father was M.K. Rao, a University of Kansas track star who, after returning home to Bombay, raised his daughter to follow in his path. According to an old Spartan Daily article, Winter actually visited the elder Rao in Bombay and was then convinced to bring Maryleela to San Jose State College, as it was then called. After Rao arrived and acclimated to campus life, that same Spartan Daily story described her as feeling "equally at home in her track shorts and multi-colored saree. Though a proven powerhouse of energy, she is charming and extremely feminine."
A March 16, 1959, issue of Sports Illustrated likewise featured Rao, adding, "Maryleela gets up at 5:30am, studies the maximum allowable number of courses, has taken up golf in addition to track and fallen in love with San Francisco."
According to the 1960 San Jose State yearbook, Rao was a member of the Alpha Phi sorority, which also led to her affiliation with a select society, the Black Masques. At the end of their junior year, a dozen women were annually selected to become Black Masque members during their upcoming senior year. The women were chosen for high academic achievement and outstanding leadership in all facets of campus life. They even wore black gowns and black eye masks at all public events.
And during her senior year of 1960-61, Rao apparently finished a degree in—drum roll, please—journalism, and was also vice president of Theta Sigma Phi, a national professional honorary fraternity for women in journalism. As described in the 1961 yearbook, "Members, selected on the basis of their scholastic ability and their interest in journalism, hold varied meetings and teas."