Features & Columns
Silicon Alleys: Face Time
A year into the pandemic, the way people connect is different, but it's not all bad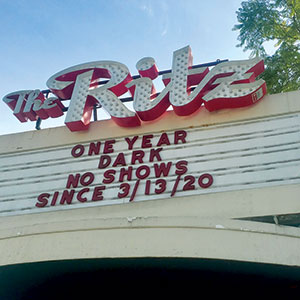 On March 11, 2020, the World Health Organization declared the coronavirus a pandemic and a few days later, Santa Clara County led the charge on the nation's first shelter-in-place orders, thrusting the region into the public eye even more than usual.
With the one-year anniversary now upon us, news outlets across the country are reflecting on the moment. Even in Santa Clara County, where the lockdowns started, few fathomed the empty shelves in every grocery store's toilet paper section for weeks on end as the pandemic unfolded. For months, no one knew how much longer they'd be out of work, or out of school, since huge swaths of the population refused to take the virus seriously.
From the very get-go, people updated their regular, everyday strategies for navigating trauma, stress and uncertainty. At one point, Google reported that terms like mindfulness, meditation and relaxation had surged to top of its list of most-searched words.
Toward the end of March last year, Jon Kabat-Zinn, who founded Mindfulness Based Stress Reduction more than 40 years ago, began hosting his own conversational meditation sessions, for free, every weekday on Zoom. Joined by Soren Gordhammer, founder of the Wisdom 2.0 Conference, Kabat-Zinn's "Mitigation Retreat" started on March 25, 2020 and continued for 13 weeks.
At a time when Zoom was still new for many people, each session with Kabat-Zinn maxed out at 1,000 participants, the overflow spilling onto YouTube. People from all over the world tuned into these sessions. Each session began with a guided meditation, after which Kabat-Zinn answered questions on everything from grief and chronic pain to incorporating mindfulness into one's daily practice. It was like watching live therapy in real time every morning, all achieving a new dimension of global human connection that wouldn't have otherwise occurred.
Those sessions are now archived on the Wisdom 2.0 YouTube channel. Many of the attendees have kept in touch.
At the same time, at least in the circles of people I follow, everyone seemed to be talking about which books to read during a pandemic. The Plague by Camus or Blindness by Jose Saramago were popular options. Several articles revisited Boccaccio's The Decameron, with an entire community of people vowing to read the whole thing.
A 2018 masterpiece, Severance by Ling Ma, vaulted right back up the charts as the Covid-19 era unfolded. It is basically a zombie pandemic novel; imagine Dawn of the Dead grafted onto a millennial-aged Asian American woman's life as she navigates the corporate world during a pandemic in New York. The Center for Literary Arts at San Jose State University even hosted Ling Ma for a virtual event later in the year. The timing was perfect.
It became clear that books are still important to many people, although maybe not the Walmart customer running his tongue across the counter to protest the mask requirements. And don't even get me started on bleach.
As the Covid era evolved, online and virtual events proved to be much more important to the societal fabric than many people understood at first. Instead of a book tour to promote a new release, authors simply did each event from home, while bookstores across the country hosted the "tour" via Zoom events. Many more fans and readers were able to attend as a result.
In another case, an LA-based podcast called the Quarantine Tapes, hosted by Paul Holdengraber on Dublab, rose to prominence. In each episode, he spoke over the phone with authors and intellectuals to see what they were doing or how they were managing during the pandemic. Everyone from Salman Rushdie to Naomi Klein took "a call from Paul" for an illuminating conversation.
On the local front, I was inspired to see operations like Art Boutiki, the Hammer Theatre and the SoFA Street Fair take their gigs online in innovative ways when most venues were unable. Just last Saturday, "One Year Dark" appeared on club marquees statewide, designating a year without live music.
And yet, after all of the ways events and communication changed over the last year, I still felt connected to many more people in ways that wouldn't have previously happened. In the end, human connection is what matters, even if online. We will get through this. We will.