Features & Columns
Silicon Alleys: Counterculture Poet Michael McClure Helped Define a Generation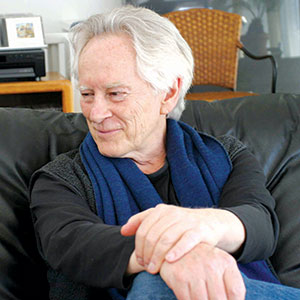 Last week, the Bay Area lost one of its most renowned countercultural heroes when the poet, essayist, lyricist and dapper '60s motorcycle guru Michael McClure passed away at the age of 87.
Over the decades, McClure was everywhere: He went to high school in Kansas with artist/provocateur Bruce Conner. He participated in the notorious 1955 reading at the Six Gallery in San Francisco, the same gig where Allen Ginsberg debuted "Howl"—officially launching the Beat Generation. He performed poetry for lions at the San Francisco Zoo, waxed poetic about peyote and even helped write the Janis Joplin tune, "Mercedes Benz." During the 1978 film, The Last Waltz, documenting The Band's farewell gig, McClure stood there and read from the Canterbury Tales. Actor Dennis Hopper once said, "Without the roar of McClure, there would have been no '60s."
McClure's collaborations with The Doors' Ray Manzarek went on for years, including many gigs at SJSU as recently as the early '90s, thanks to the promotional tag team of Ted Gehrke and Alan Soldofsky. At that time, when Metro first moved into its old location at 550 S. First St., McClure and Allen Ginsberg gave readings to help dedicate the building.
More recently, I can think of two downtown San Jose moments when I was grateful to be in the same room with him. In 2013, he showed up at the San Jose Museum of Art to attend a major Annie Leibovitz exhibit, Pilgrimage, for which I was grateful to write a cover story. I did not speak to him at the reception, but he was there in all his dapper glory, even at 80 years of age. I was so proud of the museum, especially the curators who lobbied to secure that show for San Jose.
Pilgrimage did not include any portraits of celebrities, for which Leibovitz is known, but instead featured photos of artifacts and environments left by famous people after they'd passed on: Georgia O'Keeffe's handmade pastels. Ansel Adams' darkroom. The television Elvis Presley shot a hole in. During the press walk-through, when Leibovitz told me about that last photo, she supplied one of the best quotes I ever placed into a story:
"David Letterman told me Elvis always shot the television whenever Robert Goulet came on," Leibovitz said.
And of course, Leibovitz knew McClure, as did everyone. That night in the museum proved that time no longer existed. My countercultural youth was not misspent, since I could now write a story about all of these characters. I felt nothing but gratitude.
Just down the street a few years later, The San Jose Institute of Contemporary Art staged a museum-quality exhibit of Bruce Conner's printmaking exploits. McClure showed up to the VIP reception, since the show included his legendary 1970 collaboration with Conner, CARDS, a brown fabric-covered box containing 25 "playing cards." Each card featured a Conner psychedelic mandala on one side, while the reverse featured a four-word poem by McClure, with one word along each edge of the card. Throughout the show's run, gallery attendees could dial up via phone to hear recordings of McClure dealing the cards and reading the resulting collage-poems. This poetry via chance operations was so Zen-'60s-John Cagean, it made me cheer. I recall being there, in the gallery, totally blissed out because in San Jose it was rare to experience these threads of art history. No one my age ever cared. I always felt like I was born decades too late.
As such, on that night it felt like every historical thread of the 20th century avant-garde I studied in college came spiraling back to the forefront to remind me I hadn't squandered my degree after all. I was grateful for the opportunity to cover the show for Metro since it seemed like an intergenerational art-provocateur baton was passed on to me, somehow. In college, I had been an overgrown teenage problem student, so in covering the SJICA exhibit I wrote my own story through the lens of Bruce Conner's story, without even realizing what I'd done. And that review was one of the best I ever wrote. Although I never got to meet McClure, I know we would have hit it off. Long live Michael McClure!