Features & Columns
Silicon Alleys: Eddie Gale, a Mainstay In San Jose's Jazz Scene, Played Outside the Box
Eddie Gale became San Jose's official Ambassador of Jazz in 1974, but friends said he stayed humble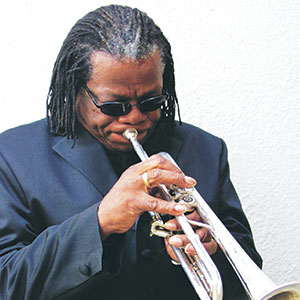 In 1974, Mayor Norm Mineta named Eddie Gale, "San Jose's Ambassador of Jazz." No one deserved that moniker more than Gale.
Gale, who died July 10 at age 78, gigged with Sun Ra, John Coltrane and Cecil Taylor, to name but a few. Originally from Brooklyn, he lived in downtown San Jose for decades, setting up shop on Sixth Street near SJSU, around the corner from Peanut's Cafe.
His wife, Georgette, worked on campus for a long time. Anyone who passed through the jazz programs at SJSU during the last 40 years either knew Gale, played in a band with him, talked shop with him or enjoyed the peacenik vibes of a legendary yet humble performer.
As a jazzman, Eddie was not a wine-and-cheese dude. He was old-school, seasoned, cosmic and gruff in all the best ways—the kind of authentic cat you didn't see around here very much, and won't ever see again.
Hearing him spin yarns and philosophize about jazz, life, creativity, ghettos, cops, the '60s and Sun Ra was like listening to a glorious free improv jam—like Socrates meets Miles meets quantum mechanics. Hanging with Gale was a zonked-out, spiritual ride that straddled numerous trajectories, yet always managed to come back around the lamppost and return to the same zip code. You either kept up or you didn't.
Longtime downtowner Dennis Kyne, a combat veteran, was right at Eddie's side for nearly 20 years, not just musically as a guitarist in Gale's various bands, but also personally. "He was like a stepdad to me," Kyne said.
Gale introduced Kyne to the free improv world in late 2001, when Gale was on a grant to teach at SJSU. He led classes on campus all day, sometimes randomly picking out students and throwing them into a band. Kyne was converted right there and then.
"I immediately was drawn to his improvisation and his free jazz and the way he spaces the place as Sun Ra taught him, because that's how I always was in those [kind of] bands," Kyne said. "I was always getting thrown out of the class when I was a kid because I wouldn't play along with 'one-ie and a two-ie and a three-ie.'"
There was an understanding between the two men, Kyne said.
"He let me be free," he said. "I didn't have to play inside the box anymore when I got with him."
Though some continue to debate whether art can really have any effect at creating true social change, Gale always believed it could. It was a huge part of what he talked about. He never stopped believing that creativity could fuel unity and solidarity and he would talk anyone into joining his bands to help the cause.
As such, in his last few decades, Gale spent much of his energy focusing on youth, music education, social justice and global change. He continued to stage concerts with his Inner Peace Orchestra, gigs he took to numerous venues all over San Jose, from churches to auditoriums, always raising money for the hungry and lifting the spirits of the traumatized and downtrodden.
"Everything he played was about making sure that his music really symbolized something and meant something," Kyne said. "He wasn't chasing the club gig anymore, and not even really chasing the festival much. He had a really, really intense purpose, which was to promote world peace and inner peace to people like me."
That doesn't mean the old jazz legend is made of money. Gale still had to go out and peddle CDs at his gigs, just like the younger folks.
"He ran a merch table, just like we did at the DIY shows," Kyne said, remembering his own youth playing in punk bands. "That's why I was so into him. I'm like, 'Man, you're running a merch table. Your wife's got the merch table and we're on stage.' It was like being a punk rock jazzer."