Features & Columns
Silicon Alleys: No Vacancy
The Fairmont may be temporarily shuttered, but for now its history lives on in reverie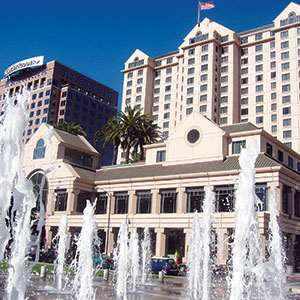 Even before the Fairmont San Jose hotel went bankrupt a few weeks ago, I was already thinking about the memories. For most of my downtown San Jose life, I have either heard stories from the Fairmont or attended events on the property.
I walked by the shuttered building recently, passing signage for the late Ed Mosher's former clothing store. The Grill was open for business, as was Bijan Bakery and Morton's Steakhouse, but with San Jose's first modern-era luxury hotel now kaput until new management takes over, I could not help but conjure up a matrix of experience.
Over the years, the hotel gave me just as many memories as any other structure in downtown San Jose. The property was an integral component to the fabric of neighborhood life, much more than many people realized—and I don't just mean furry conventions.
When the Fairmont opened in 1987, people laughed because downtown San Jose at that time was a total dump, a half-boarded-up wasteland of crumbling retail, empty parking lots, skid row porn shops, neurodivergent street people, meatmarket dance clubs and maybe a few restaurants. Light rail construction was tearing up the neighborhood. You couldn't get anywhere.
At the same time, everyone was arguing about whether or not we deserved to have an indoor sports arena that could host concerts. Many people in the suburbs didn't want it because they thought it would lead to 10,000 Black Sabbath fans trashing Willow Glen.
So why build a luxury hotel? Who would stay there?
The Fairmont proved everyone wrong. Over the years, it hosted two sitting U.S. Presidents, several foreign heads of state and numerous visiting sports teams, plus countless conventions, rock stars and celebrities. Even Allen Ginsberg stayed there.
Whenever I visited another Fairmont while traveling, whether it was British Columbia, Hawaii or Quebec, the front desk or the concierge only seemed to know San Jose because we had a Fairmont. They never knew where San Jose was, often asking if it was near San Francisco or Los Angeles. I talked up the San Jose Fairmont at other Fairmonts all over Canada.
Pre-pandemic, hardly a few months went by without the Fairmont enlightening a part of me, even if I was just freeloading a copy of the New York Times from the front desk, attending a press conference, or writing a story on my laptop in the lounge area, with the Fairmont's own brand of tea at my side.
Cinequest, to cite one example, made tremendous use of the Fairmont over the years. Countless parties, events, interviews, workshops and VIP gatherings happened within the hotel's hallowed walls. I fondly recall talking to Neil Gaiman at a big party in the Main Ballroom. During his onstage interview, he'd mentioned the irascible author Harlan Ellison, so we connected on that mutual influence.
The San Jose Jazz Festival had the same effect on me. I can't even count how many inspiring performances I witnessed in the Regent Room just off the lobby. The lounge area staged rocking events that went into the wee morning hours. I remember Tony Lindsay trying to sing, surrounded by what seemed like a hundred people on the floor. I couldn't even see the dude, but everybody was dancing.
Many anecdotal stories also exist of various bands that played at the Shark Tank then, while staying at the Fairmont, decided to come downstairs and jam in the bar at 3am. Motley Crue comes to mind, for example. I was not there for that one, fortunately or unfortunately.
In 2015, when Manchester United was in town to train and play a friendly match against the San Jose Earthquakes, the whole franchise seemed to be staying at the Fairmont. I recall groups of fans standing out in Paseo de San Antonio all afternoon, pointing up at the windows and scrambling for a glimpse of the players on a day when the whole team was actually golfing out near Morgan Hill somewhere.
The San Jose Fairmont didn't have the storied history of much older hotels, but it was enough. No matter how it gets reflagged, to me it will always be The Fairmont.