Features & Columns
Silicon Alleys: Lost Temples
Fry's has joined a long list of Silicon Valley's shuttered electronics shops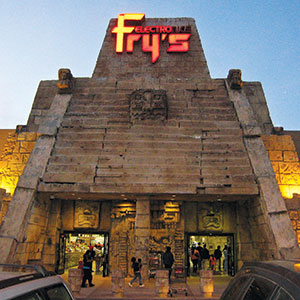 One of the most iconic big-box retail chains in Silicon Valley history called it quits for good last week. Fry's Electronics is no more.
The writing had been on the wall for years. These days, too many people can order online and the candy racks were no longer a draw. One by one, Fry's locations began to fizzle out, with shelves emptying as the months unfolded. The cowgirl mannequins in Palo Alto bit the dust in 2019. Over in Campbell, King Tut and the people movers went under last November. Now the only Mayan temple in San Jose that sells washing machines will join them in the afterlife.
At Fry's, you needed to know what you were looking for, grab it, and then get out. Their business model couldn't accommodate mass amounts of employees knowledgeable in enough areas to answer questions in any helpful fashion.
I guess I come from a different breed. Since I was never into theme parks, the poet in me is still haunted by ghosts of Quement Electronics, JDR Microdevices and the Heathkit store on Bascom Avenue. You know, mom 'n' pop establishments where the employees knew everything—and I mean everything.
What I will miss most is WeirdStuff Warehouse: that vast, venerable temple of discarded computer surplus, that legendary electronics flea market on shelves, a glorious paean to all tech-hobbyist subcultures.
At the risk of descending into nostalgia, WeirdStuff was the real deal.
Although it seems hard to fathom nowadays with smartphones, laptops and tablets dominating the world, there was a time when many people pieced together their desktop PCs from scratch. Swapping out parts was common. Until it succumbed in 2018, WeirdStuff was a beautiful bastion of computer bricolage.
Long before the term "maker culture" existed, you'd see enthusiasts rifling through boxes of transistors, chip boards, homemade electronics, old ham radio gear or piles of servo motors at the old warehouse. There was something for everyone at WeirdStuff, from young techie nerds and grizzled old cranks, to teenage inventors and cantankerous old UNIX sys-admins.
On one visit, you'd see outlaw electronics tinkerers nosing through piles of military grade robotics surplus that some defunct Silicon Valley company had offloaded. Next time, you'd encounter the engineer who probably designed the stuff. Depending on the moment, you'd see floppy drives, boxes of VGA cables or user manuals 30 years old, all just a few aisles down from stacks of used network servers.
WeirdStuff provided the stomping ground for mad scientists to realize their dreams, but with a "Grocery Outlet for Electronics" vibe. There were customers building satellites, televisions or even their own music instruments from scratch. If an office went out of business and donated five crumbling Epson printers, then some wacko, somewhere, would find a use for them.
At WeirdStuff, it was all about memory, and I don't mean computer memory, although sometimes they had piles of that too.
I mean memories of the past uploaded into the present moment for anyone else to recycle and create something new all over again. It was about the continuous retransformation of everyday life. If you needed a used relay box to control a quartet of amplified shopping carts on stage, you went to WeirdStuff. The entire cavernous place was an outcast's paradise.
Fortunately or unfortunately, I never felt that way at Fry's. In my bent view, Fry's became a faux-Vegas outlet with walls of televisions and shiny new laser printers.
Don't get me wrong. I am not disparaging Fry's or its customers. Over the decades, it provided tons of memories for families and nerds alike. Many people will indeed miss the goofy gargantuan catch-all experience.
But the first place I ever spent time browsing the adapter section was the Radio Shack at Blossom Hill and Harwood, probably about age nine. By age 12, I could tell you how terrible a TRS-80 computer was. Twenty years later, I think I saw one at WeirdStuff.
So to those lamenting the loss of Fry's, I know your pain.
While I will always prefer WeirdStuff, I can empathize with those who felt at home among the potato chips and the PS2 consoles. And believe me, empathy will get you through a lot these days. Long live King Tut and the cowgirls!