Features & Columns
Silicon Alleys: East of Wrath
John Steinbeck IV's journey of the spirit, intertwined with legacy and booze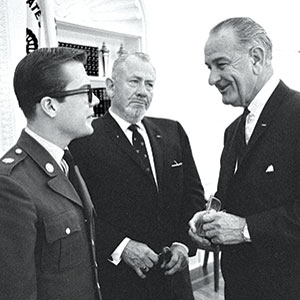 What if the ghost of John Steinbeck IV lurked somewhere in the shadows of a San Jose Vietnamese Buddhist church?
John Steinbeck IV was the younger son of the more-famous Steinbeck, the one who wrote The Grapes of Wrath while living in Los Gatos. Despite passing away in 1991 at the young age of 44, John Steinbeck IV had an amazing life story. The tale involves an esoteric Vietnamese yogi known as the Coconut Monk.
Since Covid-19 has stymied the brick-and-mortar library-research process and also driven people to escapist fantasies, I followed the lead of legendary city columnists such as Herb Caen and Jimmy Breslin, who thrived by tapping secret local sources whenever they needed to prowl for scoops and philosophize about their cities. The "what ifs" are often the most intriguing stories, so this columnist, otherwise known as Venerable Herb Caen Rinpoche of The Alameda, recently busted in on a secret Buddhist source near the Shasta-Hanchett neighborhood to ponder if John Steinbeck IV ever made it to San Jose.
As you read this, we're still pondering. But Steinbeck IV was born in New York City in 1946 and then drafted into the army in 1965. His service in Vietnam gave him his first book, In Touch, after which he returned to Vietnam as a journalist during the initial days of the Dispatch News Service, the first organization to report the My Lai massacre.
Already fluent in street Vietnamese and a student of Eastern spirituality, John became a Buddhist—under the tutelage of Dao Dua, aka the Coconut Monk—while living on Phoenix Island in the Mekong Delta. A silent, tree-dwelling guru who taught a bizarre syncretism of Buddhism, Catholicism and global metaphysics, Dao Dua left a huge impression on John, who went native in the process, despite growing battles with alcohol and drugs.
After leaving Vietnam, John wound up in Boulder, Colorado, in the mid-1970s to follow the Venerable Chogyam Trungpa at Naropa University, where John wrote a notable piece for Naropa's journal, Loka, about his previous experiences on Phoenix Island, a refuge in the middle of war-torn Vietnam: "Many evenings I used to sit eating pineapple under my thatched hut in the moonlight, watching both banks of the river rage at each other with howitzer shells and tracer bullets whistling back and forth over my head, while the colored lights of Dao Dua's prayer circle embraced the sadness and the huge bells of Phoenix Island slammed, exchanging and diffusing the suffering."
All was not peachy keen in Boulder, however. Trungpa settled in Colorado to start the Vajradhatu organization, advocating a flavor of Buddhism that later became engulfed in notorious scandals. Despite his massive contributions in bringing Tibetan Buddhism to the West, for which he is still venerated and studied to this day, he was also an alcoholic who drank himself to death in 1987. John distanced himself from the Vajradhatu organization soon thereafter, relocating to Southern California in the late 1980s, after which he finally got sober.
When John suddenly died in 1991, the San Diego Reader published a story documenting parts of his life, including his booze battles and how he crashed at a Vietnamese Buddhist temple in Los Angeles when drifting through town. After moving to San Diego, John filed for multiple bankruptcies while still processing emotional wreckage from being the son of a famous, boozing novelist. After getting sober, he lived a simple life while working on his memoir, The Other Side of Eden, remaining deeply connected to the Buddhist lineages he first discovered in Vietnam.
In this column exactly a year ago, Herb Caen Rinpoche wrote highly of San Jose's Vietnamese Buddhist temples, some of which were established by refugees who came here decades ago. Since I share some of John's predicament, I wonder what he would have become, had he lived longer. Would he have drifted through San Jose to explore his father's history here? After learning John's story, it feels like we were already friends. Or long-lost cousins. In any event, since ghosts play many roles in Vietnamese culture, maybe we will someday meet the interdimensional spirit of John Steinbeck IV in the temples or the streets of San Jose.