Features & Columns
Silicon Alleys: Kronos Quartet Opens Musical Borders with New Show
Kronos Quartet takes on Trump with new concert, Music for Change: The Banned Countries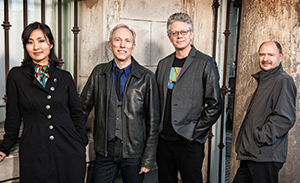 More than any other contemporary ensemble, Kronos Quartet—David Harrington (violin), John Sherba (violin), Hank Dutt (viola), and Sunny Yang (cello)—pursues and performs music from every corner of the planet.
So last year when Donald Trump decided to implement a travel ban targeting people from specific Muslim-majority countries, the quartet responded by researching, commissioning and now presenting a program of music from those parts of the world. This Saturday, "Music for Change: The Banned Countries," takes place in Stanford's Bing Concert Hall. While the program is not limited to the countries on Trump's original list, music from Egypt, Syria, Iran, Lebanon, Azerbaijan and other countries in or near the Middle East will be emphasized.
Harrington remembers when the White House announced the travel ban. It came right before the Kronos Festival in San Francisco, when the quartet was already performing music from several of the banned countries. As a result, Harrington felt like this music, and music itself, was under attack. A logical response by the quartet would be to increase its already rich worldly repertoire by introducing American audiences even more to music from places they might not ever get a chance to visit. This became a responsibility.
"Musicians thrive, and music thrives, when we get to hear as much as we can from as many corners of the world as we can, and from as many different types of instruments and voices and viewpoints," Harrington said. "That is the strength of music. And so, at that moment, during that concert I remember thinking, 'We've got to try to counteract this kind of small thinking.'"
The program includes a few world premieres, plus works that Kronos has performed for over 20 years, and many that fall in between. Opening the program will be the haunting piece, Mugam Sayagi, by Azerbaijani composer Franghiz Ali-Zadeh. She first wrote it for Kronos in the early '90s. Ali-Zadeh's music combines the Persian, Turkic, Arab and Russian heritage of her home region, but with additional inspiration from 20th century avant-gardists like George Crumb and Olivier Messiaen. Harrington says the piece is a great way to open a concert. Later in the program, Iranian composer Aftab Darvishi will premiere a piece called Winds from South. Born in 1987, Darvishi graduated from Tehran University before getting her master's degree in the Netherlands. In another case, keyboardist Islam Chipsy, who helped Electro Chaabi music explode out of the Cairo slums, wrote a tune called Zaghlala which was then transcribed and arranged for string quartet by Jacob Garchik.
"Our idea is to take the listener through this kind of vast experience of musical variety and possibilities, and encourage more listening, and wider listening," Harrington said. "That's what I'm hoping this concert will do. It will kind of open some windows and some doors, and allow more music in."
Other pieces include Wa Habibi (Beloved), a solemn Easter-time hymn that Kronos first discovered while gigging in Lebanon. The tune is often performed in Lebanese Christian churches, but over the years Kronos discovered that the tune might have originated in France. Another tune, Yetzav Ha-El, was inspired by early 20th-century Cantorial music usually performed in Turkish synagogues. Also on the bill is a world premiere string quartet version of a legendary Afghan folk tune, Bia Ke Berem Ba Mazar, arranged by Milad Yousufi.
All of which exemplifies what now after 45 years has become the Kronos life journey: a relentless endeavor to open up the world's music for everyone. If the conventional assemblage of two violins, viola and cello can be expanded by transcribing sounds from Middle Eastern instruments or Asian tunings, listeners will develop a much richer musical perspective. There are no border fences between various forms of music.
"This is the kind of thing that musicians have been doing forever," Harrington says. "If you hear something that magnetizes you, you want to incorporate that into the world that you're working in. And I think that's what we're finding—that there are many, many sounds we want to bring into our world. We feel it makes us stronger. It gives us a larger palate. And as a reflection of what a really well functioning society might be, this seems to me to be a good direction."