Features & Columns
Silicon Alleys: Holy Diver
Cocktail lounges have come and gone in San Jose, but some locales are forever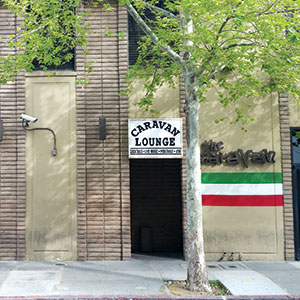 Thanks to the Library of Congress website, the 1963 San Jose phone book has been digitized, revealing the original address for the Caravan Lounge at 58 S. Almaden, when the bar was still located inside the Greyhound Station.
I have revealed the secret history of the Caravan in this space multiple times before, but last week I randomly chose to flip through the 1963 phone book instead of all the others offered. Finding the original Caravan was like discovering the Dead Sea Scrolls. My inner archaeologist went wild. I'm glad my mom raised me in libraries.
By sheer coincidence, the Caravan officially opened again last week to the general public, plexiglass barriers and rotating pizza holders included. I shuffled in at 2pm, opening time, for a slice and some company. The bar no longer opens at 6am, so I didn't have to get up early this time. The Giants were on and Johnny Cueto was on the mound against the Reds. Freddy Fender was blasting over the house system.
The pizza was fresh, but the absurdity was not lost on anyone. Twenty-two years after ABC's fictional Sheriff Roscoe P. Coltrane harassed the Cactus Club for not selling enough pizza, a global pandemic forced the Caravan to hawk pepperoni and cheese slices. Some things in this town just never change.
Now, the shuttered Greyhound Station, the block of potholes on Almaden and the sun-cracked parking lots may not exactly resemble the ruins of Qumran where the Dead Sea Scrolls were found, but they sure come close.
At least three generations of real estate syndicates have tried to smash that whole block for their own interests, but it still hasn't happened. What's more, the politicians here tend to equate dive bars with pornography, so they've spent years, if not decades, trying to wish them all away. The Caravan is one of a handful of veteran bars still left in San Jose.
The old phone book harkened back to better days, not just for the Greyhound Station, but for cocktail lounges in general. A whopping 128 of them were listed in the 1963 yellow pages. Some of these were hotel bars or separate bar areas inside restaurants, but as the town sprawled and cannibalized the orchards, plenty of neighborhood bars came along with it.
Downtown was no exception. Back then, 150 E. Santa Clara St., right where Fourth Street Pizza now sits, was the home of Dick's 150 Club, owned by Richard Russo. Stumbling distance away, Duffy's Tavern occupied 172 E. Santa Clara St., pretty much right where City Hall is now. Directly across the street was the notorious Lenny's Cocktails at 171 E. Santa Clara St., a place that survived until about 2001.
Some still exist. In 1963, Jack's Bar was located right where it still sits at 167 E. Taylor St. The same goes for Alex's 49er Inn, although it was listed as "Forty-Nine Inn." Others in 1963 that lasted until not very long ago include Bascom Avenue holes like Murray's and Club 4, as well as the Derby at 13th and Washington streets.
That same year, Henry's Hi-Life was either just moving or had just moved into the iconic building we all know today, although West St. John Street was called San Augustine at the time. Right above "Hi-Life" in the phone book, one sees Henry's Bar-B-Q Steaks at 649 S. First St., the original location, a building it had to vacate because Highway 280 was about to get built. Both were included in the Cocktail Lounges section of the 1963 phone book, as were Angelo's Steakhouse at 72 W. Santa Clara St., Farrell's at 97 N. First St. and Janko's Hofbrau at 19 N. Market St.
So much was revealed in that holy book. I took away a better understanding of old San Jose. This belongs on the History Channel immediately following a rerun of the Dead Sea Scrolls documentary. It's safe to say that 1963—in the words of Frank Sinatra—was a very good year.
Long before smartphones, laptops and Google, people actually looked up phone numbers and street addresses. It was archaic as hell, but we did it. And long after Google transforms pieces of downtown San Jose, the Caravan will still be there. It will never die.