Features & Columns
Silicon Alleys: BART Finally Extends Its Line to the Capital of Silicon Valley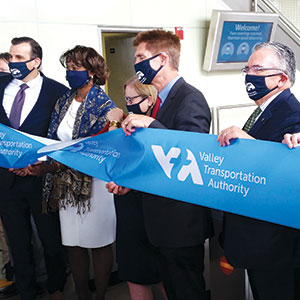 After 40 years of arguing, BART finally arrived in San Jose last Saturday. Two stations now exist in Santa Clara County: Milpitas and Berryessa.
For many, the previous day's press conference felt like a city-hall reunion of sorts, with previous mayors, county supes, transportation hotshots, councilmembers and state assemblymen from multiple cities all participating in a strange masked ball, with everyone trying to ID everyone else. VTA even provided piles of commemorative masks just for the occasion. Unlike some cities, San Jose actually practices social distancing, so all chairs remained six feet apart, meaning the dozens in attendance were spread out over quite a range. Some occupied seats while many others stood in the background or on the periphery. Everyone seemed to put aside previous political spats to celebrate what was a milestone event.
The morning unfolded in two segments. First, everyone gathered at the Berryessa Station, where numerous speakers took the podium before the ribbon-cutting ceremony. Then attendees boarded an inaugural, 10-car BART train—brand new and squeaky clean just for the occasion—which took us to the Milpitas Station, where another press conference featured even more speakers and another ribbon cutting. Then we returned to Berryessa.
Over the course of the morning, many people delivered remarks, which led to the event carrying on much longer than scheduled. That's not a complaint—there was much to celebrate. Everyone needed to tell stories from their own perspective about how this whole thing came together over the decades, since many people and partnerships all contributed, with many people lobbying behind the scenes for years.
"When I was 8 years old, I saw the BART train for the first time at the Fremont BART station and I remember being awestruck," said Santa Clara County Supervisor and VTA chair Cindy Chavez. "I never imagined that BART would play such a big role in my life." Former San Jose mayor Ron Gonzales, a persistent BART advocate years before he ever became mayor, likewise brought up memories from his youth.
"I feel today like the first time I visited Disneyland and I'm about to board the monorail to Tomorrowland," Gonzales said, adding that his first trip to a San Francisco Giants game felt the same way.
Throughout the morning, people repeatedly thanked Gonzales for his early dedication to the cause. One of those thanking him was Alameda County Supervisor and Metropolitan Transportation commission chair Scott Haggerty, who once again brought the agenda from the now-legendary 1999 meeting he attended with Gonzales. Waving a gray folder with the words, "Do you know the way to San Jose" printed on the front, Haggerty told the story of that first meeting, which took place in the Fremont Main Library. Haggerty recalled bringing a "very large boom box" to the meeting so he could play the Dionne Warwick song while everyone else arrived.
At that meeting, the group began to craft strategies for bringing BART to Warm Springs and then into Milpitas and San Jose. As the years went by, Haggerty stood with Santa Clara County at every turn, becoming a major ally in the quest to bring BART across county lines.
After the second ribbon-cutting ceremony at the Milpitas Station, we all then boarded a return train back to Berryessa to complete the morning's events. Many attendees were riding BART for the very first time.
Like several others, though, I was inspired to revisit the past. When my friends and I were teenagers driving an ice chest of beer up 880 to the Fremont BART station, and then riding with it all the way to a Day on the Green at the Oakland Coliseum to see Metallica and Cliff Burton, we never fathomed a day when BART would exist in Santa Clara County. Now, thanks to decades of lobbying, anyone can leave San Jose much easier than ever before.
Metallica's first Day on the Green was not my first trip on BART, and I forget what happened to the ice chest, but that gig was way better than Disneyland. Or my first Giants game. Hooray for Milpitas and Berryessa!