Features & Columns
Illuminating Downtown
A new San Jose initiative seeks to turn cold underpasses into eye-catching light shows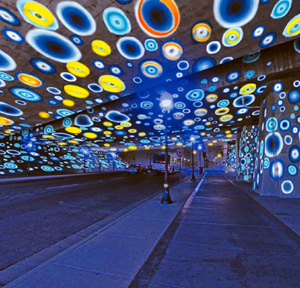 In true Silicon Valley fashion, various entities are collaborating to transform a hideous concrete underpass along Santa Clara Street into a colorful interactive zone. Just about anyone who's walked under Highway 87, going between downtown and the Shark Tank, has experienced the cold, ugly, uninviting and just plain bleak underpass—yet another textbook San Jose result of decades of political vanity, botched urban planning and a City Hall filled with people who know nothing about art.
Now, things are different. After a limited competition to design an interactive zone, artist Dan Corson's conceptual proposal for the underpass includes "halos" of LED lights that change color in response to the passage of people on the sidewalks.
Within seconds of the mock-up image appearing on Facebook, hundreds of folks shared it every which direction throughout the cyberuniverse. The project is part of "Illuminating Downtown," a pilot program that will, through the use of various technologies, illuminate specific nodal points of the neighborhood, including public spaces, underpasses, tops of buildings and more.
When the arena was built, nobody designed anything with pedestrians in mind, so they didn't pay any attention to what the streetscape actually looked like. Enter the San Jose Downtown Association and especially the Property-Based Improvement District (PBID), whose job it is, partly, to brainstorm ways of dealing with the unsightly landscape they've been given. They deserve credit for initially conspiring to beautify the underpass and illuminate the zone as folks walk to and from the arena.
Enter another component of the scenario: Barbara Goldstein, director of the city's public art program. She has already been instrumental in so many different areas, especially all the art projects that have transformed the new airport. As she presented the whole package last week at the San Jose Museum of Art's regular noontime lecture series, it was refreshing to hear someone from City Hall actually talk about the importance of art and its role in urban planning, pedestrian friendliness, way-finding and creative place-making.
Goldstein clearly understands that if an urban environment is to succeed, if people will want to live there, it has to prioritize pedestrian friendliness and feature a wide variety of streetscapes, public spaces and passageways for people to move from area to area—and not uglify itself with surface parking lots and blank facades. Art, of course, is a major part of all this, whether it's interactive street-level projects or lighting the top of a new high-rise that would otherwise look boring.
During the lecture, Goldstein mentioned that a $600,000 grant from ArtPlace America partly helped make the pilot program happen. Philips Lumileds donated all the LEDs required to make the program work. This is important—the project is not entirely dependent on public money. A lot of folks are collaborating to find alternative ways to help fund these things.
In addition to the Santa Clara Street corridor between the Shark Tank and downtown, another corridor, San Fernando Street, as it travels underneath its stretch of Highway 87, is also targeted for illumination. A previous art initiative, Robin Lasser's Floating World project, incorporated clusters of colored minitents along the handrails and served as a test case for that area.
Now Corson, along with the city's public art program and the downtown PBID, are scheming for new ways to activate and illuminate that space, which would include the Guadalupe Riverbed area, usually a spooky and forbidding place at night. Carson is proposing a wealth of possibilities, one of which might be interactive LED programming on the underpass, triggered by the bridge vibration, as well as pedestrian and car movement. Another option might be embedding LED solar flashers into various light poles along the riverbed trail, in order to activate the trail with multicolored displays, similarly triggered by motion sensing.
All of this is pure Silicon Valley and a great example of what can happen when neighborhood stakeholders, urban designers, architects, arts professionals, lighting designers and an LED manufacturer can all bring their respective skill sets to the table in order to make something interesting from the hideous urban mess they've all been given. I feel illuminated already.