Features & Columns
Raise Your Cup
San Jose Patients Group nabs cannabis cup award for Indica entry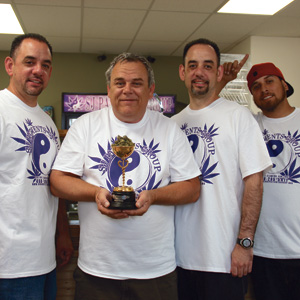 A year and a half ago, the Santa Clara County Special Enforcement Team (SET) raided San Jose Patients Group collective. Agents with search warrants confiscated cash, cannabis, computers and staff cell phones. The dispensary fought back in the courts, and a year later the charges were dropped and the collective's belongings were finally returned.
It was just another example of the ridiculous, taxpayer-funded war on medical marijuana dispensaries that abide by state law.
But last weekend, at the High Times Medical Cannabis Cup in Richmond, the collective got a little redemption when Bee Genovese mentioned the raid as SJ Patients Group accepted an award for first place in the Indica category. The SJ Patients Group employee sympathized with other collectives that have recently been targeted by federal authorities.
"We were unjustly raided," Genovese said. "We went from ground zero to here."
Cordero Kush Platinum brought SJ Patients Group's Indica recognition in the most sought after category. It's a pure OG Kush with trichomes that practically shimmer on the buds, giving the strain its "platinum" title. Cordero refers to the name of its grower.
The heavy Indica is ideal for relieving pain and insomnia, which is why people who truly need cannabis to treat their ailments consider the Cannabis Cup title especially prestigious.
Genovese is excited to be the first dispensary in San Jose to take first place in any category.
"It's like winning the Super Bowl," he said.
Elemental Wellness, Buddy's Cannabis and Harborside Health Center also placed in the competition.
Bud Bill Update
Assemblyman Tom Ammiano pulled AB 2312 last Monday, before it could be voted on by the state Senate. According to Ammiano's senior legislative aide, Curtis Notisseh, the decision to pull the bill was made to buy more time to flesh out the details of a bill that would create a regulatory system for California's massive medical marijuana industry. Ammiano plans to return to the bill after the legislative session adjourns in August.
After narrowly passing through the Assembly in early June, the bill was sent to the Senate's Businesses, Professions and Economic Committee. "We couldn't identify enough support in that committee to move the bill forward," Notisseh said of the decision to drop the bill. Ammiano asked the chair for more time after the committee noted a lack of detail in the bill's language.
Beginning this fall, the bill will go through what is called the sunrise process to identify, among other things, the appropriate form of regulation and which agency should be overseeing the new regulatory system.