Features
Stage Listings
Silicon Valley's Culture Calendar for the Coming Season
Intro | Arts | Music | Stage | Classical | Lit | Film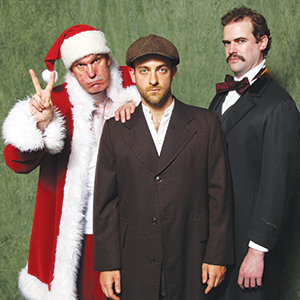 Broadway San Jose
San Jose
"The Phantom Of The Opera"
Cameron Mackintosh's new production of Andrew Lloyd Webber's iconic musical is now on tour across North America after sold-out United Kingdom performances. With a cast and orchestra of 52, this is the largest "Phantom" production on tour. Sep 15-Oct 2.
"The Sound of Music"
Directed by three-time Tony Award winner Jack O'Brien, the beloved Rodgers and Hammerstein's musical comes to the San Jose Center for Performing Arts. Songs like "My Favorite Things," "Do-Re-Mi," and "Edelweiss" will all be performed. Nov 8-13.
Los Altos Stage Company
Los Altos
"Assassins"
Hear the stories of the infamous assassins who tried and succeeded to kill the president. The music and lyrics of Stephen Sondheim blend with a panoramic story of our nation's culture of celebrity and the violent means some will use to obtain it. Sep 1-25.
"Circle Mirror Transformation"
The theater games soon create real-life drama when a group of different people sign up for Marty's "Adult Creative Drama" class. This comedy landed on Top Ten lists of The New York Times and The New Yorker for 2010. Nov 17-Dec 11.
Palo Alto Players
Palo Alto
"The Little Mermaid"
Adapted from the beloved fairy tale by Hans Christian Andersen into one of Disney's most popular animated films, the story of a young mermaid who yearns to walk and play with humans takes over the stage at the Lucie Stern Theater. The musical includes the award-winning score by Alan Menken with songs including "Part of Your World," "Under the Sea," and "Kiss the Girl." Sep 16-Oct 2.
"The Diary Of Anne Frank"
Based on Anne Frank: The Diary of a Young Girl, this new impassioned drama about the lives of eight people hiding from the Nazis in a concealed storage attic captures the claustrophobic realities of their daily existence. Nov 5-20.
Pear Theater
Mountain View
"The Guys"
The real-life relationship between a New York City fire chief and a journalist who helps him prepare eulogies for men his firehouse lost on 9/11 is chronicled in "The Guys." The play examines how creating and telling the story of grief helps ease the pain but also how those who report devastating news often feel powerless in the face of those events. Aug 26-Sep 18.
"Veils"
Two Muslim women pursue different things: one, an African American born in the U.S. who seeks to be less of an outsider by taking her college studies to Egypt, the other an Egyptian-born woman who craves the freedom and adventure she associates with Americans.  Aug 26-Sep 18.
"Major Barbara"
George Bernard Shaw's witty and thought-provoking look at human nature, morality, religion and social engineering asks some large questions directly relevant to our time, such as: which is a greater danger, the decline of morality and virtue or rampant poverty, sickness and deprivation?  Oct 28-Nov 20.
"Geeks vs. Zombies"
Packed with action, gore and raunchy humor, this break from standard Christmas fare tells the story of four geeks who survive the zombie apocalypse by means of their video game skills and encyclopedic knowledge of zombie movies. Dec 1-18.
TheatreWorks Silicon Valley
  Mountain View
"The Life Of The Party"
A musical revue in celebration of songs by renowned Tony Award-nominated composer Andrew Lippa that have appeared in Broadway hits like "The Addams Family," "Big Fish" and "The Wild Party." Aug 24-Sep 18.
"Outside Mullingar"
Family feuds and rustic fences have kept two eccentric, lovelorn neighbors apart since childhood, but in this passionate, compassionate Broadway hit it's never too late to take a chance on love. Oct. 5-30.
"Daddy Long Legs"
Set in suffragette-era New England, a spirited orphan girl is sent to a prestigious college by a mysterious benefactor. Her heartwarming journey to independence, education and romance is chronicled in a wealth of letters and songs. Nov 30-Dec 31.
The Tabard Theater Company
San Jose
"Memphis"
The Tony Award winner musical follows the story of a white 1950s DJ who wants to change the world and an up-and-coming black singer ready for her big break. Music and lyrics are by Bon Jovi's David Bryan. Sep  23-Oct 16.
"Edith Stein"
German Jewish intellectual Edith Stein converted to Roman Catholicism after WWI, and after a deepening of her faith she decided to join a Cloistered Carmelite Convent in 1933. In 1942, she died in the Auschwitz concentration camp. Her journey is told in flashback scenes that bring to life the courageous choices she made. Oct 28-Nov 20.
"A Dickens Of A Christmas Mashup"
A modern re-telling of "A Christmas Carol" told through the eyes, imagination and references of 21st century youth. Dec 2-Dec 16.
City Lights Theater Company
San Jose
"Other Desert Cities"
The Wyeth's family holiday reunion takes a turn for the worst when daughter Brooke announces she is publishing a memoir that brings up a tragic event from the family's past. Sep 22-Oct 23.
"Calendar Girls"
To raise money for a new couch in a local hospital waiting room, two close friends gather a group of women to pose for a nude calendar featuring themselves doing ordinary chores.  Based on a true story and the hit 2003 film. Nov 17-Dec 18.
Shoreline Amphitheatre
Mountain View
Oddball Comedy & Curiosity Festival
Funny or Die brings some of today's biggest names in comedy to the Bay Area. Headlining this year is comedian and actor Dane Cook, whose 2006 comedy album Retaliation went platinum. He also co-starred alongside Jessica Simpson in the film Employee of the Month. Sebastian Maniscalco was one of four comedians featured in Vince Vaughn's  Wild West Comedy Show: 30 Days & 30 Nights—Hollywood To The Heartland. Also appearing this year is Nick Swardson, known for his recurring role as Terry Bernadino in the comedy series Reno 911!  Sep 30.
Stage 1 Theater Community Theater
Newark
"The Addams Family"
The creepy and kooky, mysterious and spooky Addams family is about to change when Wednesday Addams falls in love with a "normal" young man. Oct 1-16.
Sunnyvale Theater
Sunnyvale
"Spring Awakening"
The journey from adolescence to adulthood is explored with the help of a pop-rock score.  "Spring Awakening" is a powerful celebration of youth, rebellion and teenage self-discovery. Sep 24-Oct 16.
"Bloody Bloody Andrew Jackson"
The life of America's seventh president is followed from his early days as a child on the wild frontier to his controversial reign in the White House. With the country divided into the rich and poor, Jackson begins his steady climb from military strategist to populist rabble-rouser to president of the United States. Nov 5-20.
West Bay Opera
Palo Alto
"Le Nozze Di Figaro"
Figaro and Susanna are engaged to be married but when Count Almaviva attempts to delay their marriage by using his "feudal right" on Susanna, Figaro along with the Countess and Susanna conspire to teach the skirt-chasing Count a lesson. Oct 14-23.
West Valley Light Opera
Los Gatos
"In The Heights"
Set in modern day New York, a vibrant community demonstrates the traditions it protects and the ones it leaves behind. Nov-Dec.
Stanford University TAPS
Stanford University
"Democratically Speaking"
The voices of prominent thinkers and leaders on the meaning of democracy will come to life in this staged reading. Characters from the ancient philosophers Aeschylus and Plato, to Enlightenment thinker Jean-Jacques Rousseau, to American statesmen Frederick Douglass and Abraham Lincoln, to modern leaders Nelson Mandela and Noam Chomsky—all will meditate on the meaning of "people power"—the idea at the root of democracy. Oct 20-22, 8pm.
"Spring Awakening, the Musical"
This pop-rock musical based on Frank Wedekind's 1891 play tracks a group of teens grappling with sexuality, morality and adulthood. Winner of eight Tony Awards, the coming-of-age musical's book and lyrics were written by Steven Sater and the music by Duncan Sheik. Oct 27-29, Nov 3-5, 8pm; Oct 30, 2pm.
South Bay Musical Theater
Saratoga
"City of Angels"
A creative combination of film noir detective story and a writer's all-too-real battle for his integrity, both set to Cy Coleman's jazzy score. Winner of three Tony Awards including Best Musical, Best Book and Best Score. Sep 17, 23, 24, 30, Oct 1, 6-7, 8pm; Sep 18, 25, Oct 2, 2:30pm.
"Always...Patsy Cline"
Based on a true story about Cline's relationship with a devotee from Houston named Louise Seger includes dozens of Patsy's unforgettable hits such as "Crazy," "I Fall to Pieces," "Sweet Dreams," and "Walking After Midnight."  Sep 25, 7:30pm; Oct 1, 2:30pm.  
Children's Musical Theater
San Jose
"A Christmas Carol"
The classic Charles Dickens tale of ill-tempered Ebenezer Scrooge and his dramatic transformation after the visitation of the Ghosts of Christmas Past, Present and Future are recreated on stage just in time for the holidays. Nov 11-20.
"Hairspray"
When teenager Tracy Turnblad's dream of dancing on The Corny Collins Show comes true, she becomes an instant celebrity and launches a campaign to integrate the show. Based on the 1988 John Waters film, "Hairspray" won eight Tony Awards including one for Best Musical in 2003. Dec 2-11.
Montalvo Arts Center
Saratoga
"Romeo and Juliet"
Shakespeare's most famous play transforms into an interactive experience when the We Players take the audience throughout Montalvo's landscape as the tragic love story unfolds. Oct 6-7,13, 5pm; Oct 9,16, noon & 5pm.
sjDANCEco
San Jose
"Goddesses and..."
A choreographic collaboration between sjDANCEco artistic director Maria Basile, longtime Ballet San Jose principal dancer Karen Gabay and artistic associate Rasika Kumar of Abhinaya Dance Company of San Jose. Each choreographer creates movement motifs and thematic material that is shared with the other choreographers to create a fusion of three techniques while maintaining the integrity of each dance form. Oct 14-15, 8pm.
San Jose Musical Theater
San Jose
"S'Wonderful"
The fundraising concert and gala celebrates the works of American composer and pianist George Gershwin with performances by some of the most talented entertainers in the Bay Area, as well as auctions and raffles. Sep 11, 7pm.