Features & Columns
Video Game Symphony: Zelda
Video-game orchestral concerts strike a chord with the nongaming crowd
A few years ago, when I first met my former roommate, I eyed his three video-game consoles and 42-inch flat-screen TV and asked, "You a gamer?"
"Nah, not really anymore. Got too much schoolwork to do," he replied.
Within weeks, I found myself arriving home at 10pm to find him hunched over his game controller, eyes glazed and barking loudly into his headset to his girlfriend about "arrowburn" and what Final Fantasy "camp" he was in—and realizing that he'd been at this since breakfast.
I gritted my teeth and closed my bedroom door for a few days, scheming about how I could put a match to his entire game collection without anyone suspecting arson. When it looked like he was determined to mold a permanent groove in the sofa in order to complete every side quest, I broached the subject of roommate etiquette.
"Hey. Is there any way you can not play video games late at night, when I'm trying to get some sleep?"
"Uhh. Why can't you just go in your room? I'm a gamer, that's what I do!"
I moved out shortly after.
Beyond Obsession
While I played my fair share of Super Mario Brothers and Duck Hunt in elementary school, like pretty much every person born after 1975, I never understood the chat-room-trolling, camp-out-in-Target-parking-lot fervor of those caught up in the netherworlds of Halo, World of Warcraft and other blockbuster games.
I might be in the minority. With the rise of smartphone apps, ubiquitous hip-hop game samples and the addition of Wii to daily exercise routines, gaming has gone from the realm of obsessive teenagers role-playing in their basements to a widely accessible entertainment genre.
Aside from the fact that this digital-media niche yields close to $25 billion a year in revenue, according to the Entertainment Software Association (ESA), the influence of video games on popular art and culture today is undeniable.
The gaming experience—whether a person played Donkey Kong on a game console, Oregon Trail on a Dell 3000 or Angry Birds on an iPhone—is a nearly universal childhood phenomenon that doesn't dissipate as you move through later stages of life. ESA reports that the average gamer is 30 years old and has been playing for 12 years.
"Game players go through phases," says Craig Hobbs, assistant professor of digital-media art at San Jose State University, who serves on the SJSU Learning and Games Initiative. "At times games dominate their lives, and at other times, games are usurped by school, work and relationships."
While electronic game companies have generated large profits, games have had a harder time being recognized for their artistic merits. Video-game concerts aim to change that subtle form of cultural discrimination.
"The Legend of Zelda: Symphony of the Goddesses" is part of this movement to draw in audiences that may have previously dismissed video games and appreciate them as a legitimate art form. Set to take place on Dec. 14 at the San Jose Civic, "Symphony of the Goddesses" is an orchestral concert based on the music to the video game; it is modeled after the wildly successful Japanese productions that began touring in the early '90s.
The show's producer, San Francisco native and former Tokyo resident Jason Michael Paul, originally brought the pop-culture/classical-music fusion shows to the United States with the Final Fantasy ode, "Dear Friends," which debuted in Las Vegas in 2004. People snatched up tickets in a matter of days, which prompted him to turn the show into a series.
Paul has straddled video games and classical music his whole career, having done a stint in the electronic-game industry and worked with Luciano Pavarotti and the Three Tenors. "I just had this wild idea to combine the two," he explains.
Paul's next endeavor, "PLAY! A Video Game Symphony," was a catalog of music from blockbuster franchises such as Mario, Zelda and Final Fantasy. The 2006 Chicago premiere featured performances by soundtrack legends Koji Kondo (Mario, Zelda), Angela Aki (Final Fantasy) and Akira Yamaoka (Silent Hill), lifting Paul to the next level as a top player in the video-game concert world. Meeting and collaborating with those composers, he tells me, "was pretty special. They're gods, they've been doing this for over 30 years, but they are humble and gracious. Working with them makes me motivated."
To celebrate the 25th anniversary of the iconic Nintendo exploratory adventure franchise The Legend of Zelda, Paul teamed up with two friends, producer and showrunner Jeron Moore and musical director Chad Seiter to create "Symphony of the Goddesses."
Their first show opened in January, beginning a 30-show run, including Madison Square Garden in New York City this past November. The production itself "is basically a retelling of Zelda through music," Paul explains. "We have special lighting that syncs with the music. We have some neat aspects that make it unique."
"We created the show so that anyone with a healthy love of orchestral concerts would enjoy it," Seiter adds. "Originally, we wanted to do something great for the fans, but [we] broadened it so that standard ticket holders and legacy ticket holders would say, 'Wow.'"
The trio took suggestions from audiences and tweaked subsequent shows, fashioning the full symphonic program that will be on display in San Jose.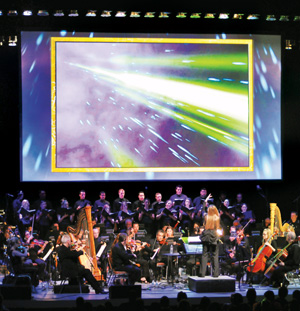 Quest for Respect
Since orchestral video-game concerts first emerged in Japan in the early 1990s, they have multiplied like Metroid Space Pirates. Various orchestras have performed Thomas Becker's renowned Symphonische Spielemusikkonzerte (Symphonic Game Music Concerts) in Germany, and productions like Video Games Live, National Symphony Orchestra's Final Fantasy commemorative "Distant Worlds" and Gamer Symphony Orchestra have spread in the United States.
And yet, it has taken decades for video games to even be considered in the same territory as an Academy Award-nominated picture or a Grammy-winning album.
Ed Palumbo, 32, is an Irvine-based entrepreneur and lifelong Nintendo fan, who did "two tours" working at GameStop in the early 'aughts and has attended E3 (Electronic Entertainment Expo, the premier conference in the video-game industry) for the past seven years.
"Many people might think, 'Why would I want to see a video-game concert? It seems silly,'" he said. "But a lot goes into a video game, just like a movie. You need digital effects, audio engineering, storytelling. What bothered me growing up was that, while movie makers and musicians were getting all these awards, people discounted the quality of video-game audio, and they can't think of video games as having a story. I guess it's because they think of the bleeps and bloops from when video games first came out. But just like video-game images have evolved from pixelated characters to HD, so has the music."
Professor Hobbs agrees. "Contemporary video-game compositions rival great symphonies of the past," he asserts. "Video-game composers provide the emotional texture of a game, while sound designers create detail and immersive depth." Opera singer and "girl gamer" Alayna Rakes notes that some people play specifically for the beauty of the game, depth of story and melodic compositions, prompting developers to create more artistic games.
"A game like Braid, for example, borders on a performance piece," Rakes says. "For years, we have had games with wonderful narratives, recognizable musical themes, and well-designed characters. Zelda was one of the first games to fully incorporate those elements. It is hard to argue that video games don't have artistic merit, even if MoMA isn't recognizing them as worthy of display as design achievements."
Palumbo pointed out that, unlike movies released on screens across the country, popular music pumped into commuters' cars via radio or television shows blasted into everyone's living room, "The only people who appreciate video-game music are gamers."
In order to hear the music, a player must engage with a game, move through different levels and interact with different characters. And even then, they might be so absorbed by the task at hand that they can't detect the soft flutter of strings depicting a meadow scene or a rumbling bass forewarning an enemy approaching.
What a video-game concert does is take the music out of the game and put it in front of an audience primed for a performance, which includes not just the gamer but also their brothers, sisters, parents and kids. This audience may already perceive operas and symphonies as art, and they will have a chance to watch the same musicians with the same instruments perform complex musical arrangements that tell a story—a Nintendo story. In the theater, producers such as Paul dim the lights on the video-game aspect, emphasizing the art.
"The reason why Nintendo encourages these touring shows is because they have always considered the music to be important," says Palumbo. In order to immerse a user in the game, developers exploited all of the technology available to them at the time, including audio, to great effect.
Nintendo theme music portrays a distinct, instantly recognizable personality for each franchise. Mario is fun and melodic, Zelda is adventurous and the science-fiction Metroid invokes creepy exploration. They all have a heritage, one that can appeal to hardcore gamers and noobs alike.
Musical director Seiter sums up the experience: After one of the Zelda 25th Anniversary shows, a 6-year-old approached Seiter and told him it was his first classical music concert, and he loved it. His grandmother, who had brought him, added that she thought it was "spectacular!"
While I'm not going to dress up as Princess Zelda for the "Symphony of the Goddesses" show in San Jose, I do plan to attend. It's possible I'll even see my ex-roommate there. If I do, maybe I can now have a conversation with him about the cultural significance of video games, although it might be stretching it to ask me to create an avatar and role-play together. For now, I'll just listen to the music.