January 10-16, 2006
home | metro silicon valley index | features | silicon valley | feature story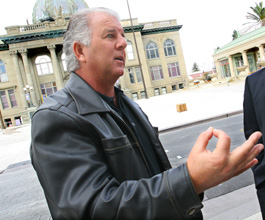 Photographs by Felipe Buitrago
Extreme Home Makeover: John Anagnostou has been the driving force behind the rebirth of Redwood City.
No More Deadwood
How one ambitious real-estate-developer- turned-club-owner transformed Redwood City's downtown
By Mike Connor
'NOW," says John Anagnostou, "do you see the wedding cake?" The Redwood City real estate developer is talking about the historic Fox Theatre, located in the heart of downtown. And indeed, the 1928 Art Deco theater does look like a giant, tiered wedding cake.
The reason you can see it now is that it's no longer obscured by the south annex of the old San Mateo County Courthouse. When Anagnostou bought the Fox in October of 1998, he couldn't help but notice that it was impossible to get a good look at it.
"You could never see the Fox Theatre because you could only stand a few feet away from it," he says.
Eight years later, the building was razed. In its place is a piazza-style town square in front of a restored courthouse, which now serves as a museum and event center. The newly built grand steps leading up to the rebuilt entrance portico afford a stunning, wide-angle view of Anagnostou's partially restored 1,400-seat theater.
It was just the first and most visible of many big changes for the suburb once dubbed "Deadwood City" by locals with a liking for meaningful puns, It's a revitalization that's been driven by Anagnostou's ambitious, singular vision.
Now, dressed in a leather jacket and trendily cut, faded jeans, he surveys the impressive view of his theater with a satisfied smile and a twinkle in his intensely blue eyes.
"You can say I'm the founder of helping tear down that courthouse square," says Anagnostou, "but this is not about my ego. This is about I spent a lot of time making sure we're going on the right path. There's a lot of details I'm involved with, a lot of meetings I attend to make sure that we stay the course." As it turns out, that course was based on one simple question.
"I don't come from a music background, I don't come from a bar background—I'm a real estate guy and an entrepreneur," says Anagnostou, who also owns and operates the Little Fox Theatre next door. "So I said, 'I wanna grow a vibrant downtown, so I wanna grow a vibrant music scene. How do I make this club better than anybody else's club?'"
Easy—make the town around it better. Redwood City was once known mostly as the home of Electronic Arts, creators of "Sim City" and its many spinoffs. It's not often that one man gets to live his own real-world version. Obviously, cities are complex dynamical systems that evolve and shift according to innumerable internal and external variables—which is to say they change, and not according to the whim of any one person. But there's no underestimating Anagnostou's impact.
And judging from his success with Redwood City 2.0, here are 10 steps for potential visionaries looking to create their own city of dreams.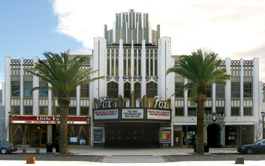 'Now do you see the wedding cake?' The front of Anagnostou's Fox Theatre became visible after the south annex of Redwood City's courthouse was torn down.
Step 1: Don't rent—buy.
"You gotta understand," says Anagnostou, explaining how his quest began: "it was the Fox Theatre that I went after. This was my dream, to buy this building. It wasn't for sale, I went after it. I wanted this building. I knew I was the guy that could wake this up. It took me eight years to get where I'm at right now, and only now, I'm really gonna tip it. I'm gonna take this thing to another level."
On the face of it, his plan is simple: create a music scene where there was none by buying up buildings to be used as venues. Already, Anagnostou and his partner own almost the entire city block occupied by the Fox Theatre. They converted the bookstore next to the Fox into an intimate microvenue and bar, the Little Fox Theatre. With his brothers, Anagnostou also owns the historic 110-year-old Alhambra Theatre, as well as the old Forrester's Hall, built in 1913.
"So that's four major live entertainment venues right here in Redwood City," says Anagnostou, "and I got control of them. So you understand what I'm talking about here when I say, 'I want to build a world-class music scene.'"
Anagnostou's Monopoly-style approach to growing a music scene affords him additional advantages not available to renters. His tenancy is secure, enabling him to make long-term game plans. He's made improvements to his venues, going so far as to build an elaborate pump system at the Little Fox that keeps all noise and vibration outside, so those pin-drop moments of a riveting concert are not disturbed by the machinations of a soda gun or rumbling ventilation system.
But perhaps more importantly, as a property owner, Anagnostou was able to bend the ears of city planning officials.
Step 2: Befriend your friendly neighborhood redevelopment agency.
The Redwood City Redevelopment Agency's recent activity is visibly obvious. Next door to the Fox complex, the RDA used its power of eminent domain to buy a parcel, on which it built a new underground parking garage. It also sold the air rights above the garage to a Sausalito-based developer, who built a state-of-the-art 20-screen cinema project called "On Broadway" and 85,000 square feet of retail and restaurant space on the ground floor. As a result, foot traffic in the area has increased dramatically.
All around the Fox, the sidewalks, streetlamps, trees and streetscape were redone by the RDA to be more attractive and pedestrian-friendly.
Across the street from the Fox, the city is putting the finishing touches on its $8 million project to demolish of the San Mateo Courthouse's south annex, replace it with an elaborate town square replete with pavilions and fountains, and renovate the courthouse facade. The courthouse is now a museum and event facility; the town square in front is, according to the RDA's Downtown Development coordinator Dan Zack, the city's "living room," where major civic celebrations are held—all just outside the Fox's front door.
As a community service, Anagnostou hosts an urban planning lecture forum organized by the city at the Little Fox, to which urban planning theorists and professionals are invited to expound on topics like pedestrian-friendly streetscapes and economic development.
Step 3: Ask for precisely what you want.
Through sheer force of will, Anagnostou seems to have made his agenda part of the city's fundamental plans for future development. A document called the Downtown Precise Plan, still being revised, is an exhaustively detailed blueprint for the downtown area which will control what property owners can and can't do, and also fast-track projects that comply with all of its requirements.
"What this document will do is completely rezone the whole downtown and create all new land use development," says Zack. "It's very specific, so what this will do is make sure that everything that comes in that's new is just as pretty as the old stuff and fits in."
Another thing it does, right up front in section 1.1, is specifically mention two of Anagnostou's businesses in a short list of activities you'll be able to do downtown, thus: "Enjoy a famous big band, a local folksinger, a holiday dance performance, or an author lecture at the "Little Fox" or Fox Theater."
This is not to imply some kind of undue influence—in fact, almost none of the work done by the RDA was done solely at Anagnostou's behest. But it's a powerful example of the mark he's made on Redwood City's revitalization.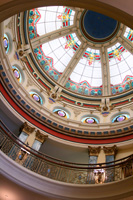 A dome of their own: The inside of Redwood City's renovated courthouse
Step 4: Go local.
By some magical alchemy of historical simplification, pop sociology, a little dabbling in economic development and urban planning and some good old fashioned storytelling skills, Anagnostou has cobbled together a doozy of a philosophy, one that helps explain what's behind his drive to revitalize Redwood City.
It starts in 1928. Up until then, as Anagnostou sees it, entrepreneurial individuals owned America. They cared about what they built, which is why buildings used to be so beautifully ornate. Then the Great Depression hit and by 1939, all the wealth had shifted to the "banks, insurance companies and institutions," and they "just ripped the hearts out of downtowns across America."
This country has been homogenized and shackled by chain stores, but now, he says, it's coming back around.
"You and I are getting older, and we don't like it. Are you gonna go to a club in a shopping mall? I don't think so," he says. "Toys "R" Us is what banks funded for 50 years ... until they filed bankruptcy, and it sent a message to all the bankers across America." ... So what's happening is, America is changing, and I've studied this stuff, and I'm really focused on growing a world-class downtown."
Anagnostou thinks he has a better way to grow a world-class downtown.
"I wanna grow a music scene," he says. "Where do we live, why do we live here in Silicon Valley? This is the home of Apple Computer, Oracle, Electronic Arts, Hewlett-Packard, you name it, they're here. Where's the culture? Where is the scene? So I'm into growing the scene, and I'm going to recruit all these corporations to make them realize that it's all about diversity, collaboration, coming together. It's one thing to say great we're making billions of dollars and shareholders are making lots of money, but how are the people that work for you, how are they unwinding? Listening to an iPod all by themselves and not talking to nobody? Is that the future? Is that what you guys are selling? So my goal is to get everybody together on, you know, here's the way we should be living."
Step 5: Know your audience.
Anagnostou uses Richard Florida's bestselling book, The Rise of the Creative Class, as a sort of shorthand to explain the economic development angle of his live music panacea.
"Just jump to the center on community," says Anagnostou, "forget all the technical research and all that. Richard Florida says what we want is real buildings with real people, with real history, and a real music scene. Not generic Hard Rock Cafés and Planet Hollywoods and Starbucks and Noah's Bagels and all that, we don't like generic. We hate it, as a matter of fact."
In general, he believes, the creative class in this area wants a better experience all-around.
"It's so often you go someplace, let's say you go to the Fillmore or the Warfield, it's all about, I wanna go there to see that artist. But everything about it is no good. You know, hurry up, get home from work, we gotta drive, it's gonna take us an hour and a half to get there, traffic jam. That's a bunch of bullshit, right? On the street, you feel edgy. That's why I'm excited about growing a place, that it's cool, it's fun, it feels like all this stuff is happening."
Step 6: Brand, brand, brand.
Anagnostou's company has gone so far as to create a new logo for Redwood City: "There's our downtown logo, and by the way, we have a sign program that's gonna blow away every city, OK? We're gonna do this like Walt Disney, OK? So my team, we donated the logo to the city. 'Here city, you're gonna brand us? Here it is.' We went into a competition and we won the competition. Free, we're handing it to you, for free. As soon as you come off that freeway, there's gonna be a 3-foot circle that's our logo, and another thing, we're gonna guide people off the state highways. As you come into the core, you're going to come into a way-finding program, done in different colors like Disneyland. Like Disneyland!"
Step 7: Hold on tight.
He may be the Wizard of Redwood City now, but 13 years ago, Anagnostou was bankrupt.
"I lost 4 or 5 million dollars," he says. "I was spread so thin, my ambition brought the wrong people into my circle, and those people took me down. My signature got me into a lot of trouble, and I lost everything. I couldn't rub two nickels together. But I'm an ambitious guy, I'm a hard working guy, and I've just built my empire again."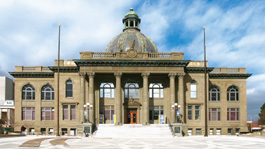 Local History: The Redwood City courthouse has been renovated and turned into a museum and event center.
Step 8: Never accept mediocre.
Redwood City was where Anagnostou had his epiphany: "I showed up here 12 years ago and what I realized is this—and here's a quote, OK? That live entertainment and musicians are the soul of a city. If you don't have a vibrant music scene, you don't have a vibrant city. You can do all the fancy fountains, do all the fancy theaters, do the malls, do all whatever you do, but if there's no music scene, there's no culture You ain't got a cool city. You got mediocre."
That, of course, won't do. The city is backing his vision of a downtown built around live music, and he wants to make sure that doesn't get lost as it sometimes does when cultural pursuits smack up against other interests.
"So we've created an entertainment district," says Anagnostou, "and that way guys like me are saying 'Hey, you wanna build 10-to-11-story condos? God bless you and I wanna help you, but guess what? We were here first. You're not gonna kill this. You only put in single-pane glass? You should have put in triple-pane glass, you should have built it with concrete, and your homeowners association better tell people, hey, we're going into a nightlife vibrant downtown, if you wanna live here, don't be yelling out your windows at 1:30am that it's too noisy.'"
Step 9: Don't think big, think ginormous.
"When I got the idea to tear [the annex] down," he says, "I had these visions about growing what San Francisco has, what New York has."
Anagnostou is so ambitious he's already planning for what happens when months and even years down the line, when a continually expanding and improving Redwood City is—theoretically—a massive success.
"The wealthy can help do a lot of great things, that's the capitalistic market," he says. "The biggest money in the world is raised around philanthropy. For example, Bill Gates and Warren Buffett just decided to raise a billion dollars to go help the world. Well once you make it, it's all about giving back."
Step 10: Be inevitable.
"What's happening," says Anagnostou, "is that Redwood City is positioned to awaken as a world-class, vibrant cultural nightlife downtown, because ... it just is. It just is."
Send a letter to the editor about this story.