March 29-April 4, 2006
home | metro silicon valley index | silicon valley restaurants | review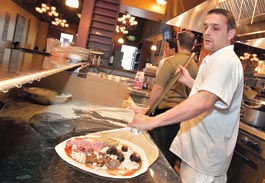 Photograph by Felipe Buitrago
Will the Circle Be Unbroken: At La Pizzeria, they don't slice the pie; it's all part of keeping it real.
How Pie I Am
You think you know what real pizza's about? La Pizzeria will school ya good.
By Stett Holbrook
ITALY takes its pizza very seriously, and so does Campbell's La Pizzeria. In 2004, Italy's Ministry of Agriculture issued a set of strict rules to govern the sacred art of pizza making. According to these guidelines, true Napoletana pizza (from Naples, the mecca of Italian pizza) must be round, no more than 14 inches in diameter, no thicker than .11 inches in the middle and with a crust no thicker than 0.8 inches. The pizzas must be cooked in a wood-fired oven that reaches 900 degrees. Furthermore, the rules state that there are only three true types of pizza—margherita (basil, tomato sauce and buffalo mozzarella cheese, marinara (tomato sauce, garlic and oregano) and extra-margherita (fresh tomatoes, basil and mozzarella cheese). Anything else is just tarted up flat bread. Deep dish? Stuffed crust? Pineapple and Thai chicken? Definitely against the rules.
The guidelines also state what the final product should look like. For a margherita pizza, the mozzarella should be browned all over and the basil darkened from cooking.
"The consistency should be soft, elastic, and bendable," proclaim the rules. "The pizza, as it emerges from the oven, delivers the characteristic aroma, perfumed and fragrant."
This kind of thin-crust, wood-fired pizza is enjoying a boom in the Bay Area. Pizza Antica in Santana Row makes a great pie that would win approval in Naples. Oakland's Pizzaiolo has a line to get in even before it opens. San Francisco's Delfina has opened a pizza shop next door that's just as hard to get in to. And now there's Campbell's cleverly named La Pizzeria.
Pino Spanu, owner of Campbell's A'Bellagio, opened the restaurant with his wife, Hongyu Gui, and his brother Giovanni Spanu, who learned the pizza craft from a master in Naples. The 2-month-old restaurant doesn't follow all the pizza rules (they serve 24 kinds of pizza instead of the prescribed three), but everything else is by the book. The Spanu brothers are pizza purists but also businessmen; limiting the selection to just the three approved types of pizza probably would have been a hard sell.
At first I mocked the plain name of the restaurant, but after eating there three times, the name fits. The restaurant specializes in simple pizzas that stand on the strength of a few high-quality ingredients, expertly prepared. A simple product deserves a simple name.
While I didn't get out my calipers, the pizzas appeared to be regulation size. I could smell the wood-burning (oak and maple) oven before I saw the glowing brick hearth. The cooks work the thin dough with their hands before sliding the raw pie into the oven with a peel, a long-handled pizza paddle. Less than two minutes later, the pizza is ready. With temperatures that top 900 degrees, it takes a quick hand to keep the pizzas from burning. (The oven can also make dining at nearby tables uncomfortably warm.)
The pizzas arrive beautifully blistered on the edges and just thick enough to support the toppings. The crust is springy and light, but a little crisper than I like. I tried several different pizzas. My favorite was the Tirolese ($7.50): tomato sauce, mozzarella, speck (smoked ham), onion and blue cheese. However, the Romana ($7.50), with tomato sauce, mozzarella cheese, anchovies, black olives and oregano, suffered from inferior-quality, tinny-tasting black olives and overly salty anchovies. But it was still eminently eatable.
As is common in Italy, the pizzas arrive unsliced. You simply carve your pie into quarters and roll it up and eat it. Unlike the often leaden, cheese and topping-heavy American pizza, Pino Spanu prides himself of the lightness of his pizzas. "You can eat it and go to sleep," he says.
Panini, like the pizzas, are straightforward. The bread, which is made in the pizza oven, is soft and light with a toasty exterior. My favorite was the carciofi ($6.50): artichokes, salami, Parmesan cheese, mayo and a swipe of pesto sauce. They also make two kinds of calzone ($7-$7.75), but I didn't try them.
Salads like the Cesare ($3.95), mixta ($3.50) and insalata di riso ($4.50) are all made with crisp, fresh greens and vegetables but all suffered from a lackluster vinaigrette. This would be easy to remedy with an extra splash of vinegar or lemon juice.
The restaurant has a well chosen wine list of Italian wines, many available by the glass. I enjoyed a hearty Nero D'Avola, a Sicilian grape varietal not often found on reasonably priced wine lists.
Spanu says he often has to refuse requests for more elaborate toppings. Americans are used to toppings applied in large quantities. But La Pizzeria is a refreshing taste of the real thing and the food truism that less is often more. By following the rules, La Pizzeria is sure to convert many to pizza in its pure form.
---
La Pizzeria
Address: 373 E. Campbell Ave., Campbell.
Phone: 408.370.0826.
Hours: 11:30am-2pm and 5-11pm Mon-Fri, 5pm-11pm Sat and Sun 11:30am-11pm.
Price Range: $6-$8.50.
Send a letter to the editor about this story.