March 29-April 4, 2006
home | metro silicon valley index | columns | live feed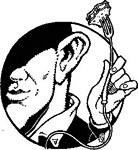 Live Feed
A Different Kind Of Pick-Me-Up
By Stett Holbrook
IN ADDITION to espresso, chai latte, sandwiches and vodka-spiked Russian pastries, San Jose's Coffee Bug offers something unique for a Silicon Valley cafe: a matchmaking service. Cafe owner Josephine Shteynberg has long enjoyed playing matchmaker for friends.
"It's an old Jewish tradition," says Shteynberg, who immigrated from Moldavia 16 years ago. After several customers told her they were searching for mates, she set a few of them up. When more customers said they were looking for Mr. or Mrs. Right, she decided to formalize her matchmaking skills. She created a bulletin board where lonely hearts can post their personal profiles. People leave an email address or a phone number with Shteynberg. After reading the postings, she'll arrange a meeting for prospective couples if she feels they'd make a good match. Because most people who post their profiles live in the area (the cafe is on Saratoga Avenue near Moorpark Avenue), it makes setting people up easy, she says.
Shteynberg says her service is better than online matchmaking services because she can vouch for the non-ax murderer status of those looking for a mate and make suggestions about which people she thinks would hit it off.
"I guess they trust me," she says. "Here they know it's real people. Online you don't know who you're talking to."
She also keeps a private book of profiles for those who don't want to post their information on the bulletin board. Her book contains the personal information of 29 people. The bulletin board currently has 14 guys looking for love and nine women.
In the few months she's been running her low-tech matchmaking service, she's paired up four couples.
Beer and Food: Wine and food pairing are standard fare but Santana Row's Citrus Restaurant is offering a series of beer and food dinners featuring Stella Artois beers. The evenings begin with an educational tasting session on Stella Artois and then diners sit down to a four-course meal built around brew. You also get a free beer glass and a goodie bag. The event costs $45 and will be held April 10, May 8, June 12 and Aug. 14. Call 408.551.0010 for more information.
Speaking of beer, Campbell's Rock Bottom Restaurant and Brewery has launched its 10th annual Fire Chief Ale celebration. The specially brewed Fire Chief Ale is produced as a fundraiser for the Santa Clara County Fire Department and the Alisa Ann Ruch Burn Foundation. The event is projected to reach the $1 million mark this year. The restaurant and brewery is at 1875 S. Bascom Ave. in the Pruneyard Shopping Center.
Send a letter to the editor about this story.