March 29-April 4, 2006
home | metro silicon valley index | music & nightlife | band review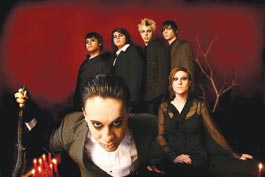 Click Drag: Steven Juliano formed I Am Ghost with help from MySpace.
Looks That Kill
Epitaph's I Am Ghost is more than mascara
By Yoshi Kato
IMAGE may not be everything, but it can certainly get one to the airport or press conference in style. Santa Cruz native and one-time Hollywood graphic designer Steven Juliano founded the fledgling O.C. goth-punk sextet I Am Ghost with a distinct image in mind.
"I quit my previous band, the Silence, while we were touring Florida," he recalls. "I was flying home and was just so unhappy with the songwriting and how everything was going. I was just, like, 'Man, I would love to be in a band that was dark and brooding but beautiful at the same time.'"
Paralleling the time when ABC played the Edge in Palo Alto with a stylishly dressed Martin Fry and a backing band of hired hands essentially in their street clothes, Juliano goes on to recount shows with his former band where he would "dress all dark onstage, and the guitarist would be wearing red Dickies shorts and a baseball cap. It just didn't make sense.
"So on my way home from Florida, I started drawing sketches of images I thought of when I'd be onstage with a new band. It was more just for fucking around," he admits. "But it just came out to be" a template for the visual and conceptual sides of I Am Ghost.
"I sat everyone in the band down when they all tried out and said, 'Look, this is what I Am Ghost is about. This is what we look like. This is what we are,'" he says by phone from a sound check at the House of Blues in Anaheim. "'If you don't like this, you're not 100 percent, then the door's right there. If you want to do it, you've got to promise me right now that this is the way it's going to be.' They all did, and it's been perfect."
Perfect pretty much sums up I Am Ghost's track record so far. At its 1-year anniversary, the band had only played around a dozen shows, all in Southern California. Yet it signed a deal with Epitaph, which is run by former Bad Religion guitarist Brett Gurewitz after only its fourth shows amid interest from other labels. The much-respected indie label released its debut album, We Are Always Searching, last October.
"Everything's been kind of a weird, storybook creation for this band," marvels Juliano, who recruited the other members via MySpace. "I mean, I've been in bands before this one, and we could never get signed. We tried so hard and sent our demos to anybody and everybody."
By partnering a dark, much-considered look with a sound that can be cinematically dramatic or hard and loud, I Am Ghost's twin guitar and violin-draped music presents a ready-made miniworld like those found in the comic books Juliano read and drew in high school. And it translates both sonically and visually.
"We do a lot of theatrics, a lot of makeup, a lot of smoke when we perform," he says. "Kids come see us and definitely walk away going, 'Whoa! That was a great show!' We really plan on everything—the setlist, the music intros."
I Am Ghost will be in the Bay Area for two dates as part of its first-ever tour. It opens a show on Wednesday at the Fillmore for the Take Action tour headlined by Matchbook Romance and then plays the Saratoga Community Center on Friday as part of 5606's CD-release concert.
Like a comic book character's origin story, I Am Ghost's rapidly rising first year is an impressive tale. But Juliano is interested in his group's future recordings and performances and its potential legacy.
"We're not just an image band. The music has to speak for itself, which it has," he says. "If it didn't, we wouldn't be selling out our shows, and Epitaph and all these labels wouldn't want to sign us.
"Image can only get you so far."
I Am Ghost plays Friday, March 31, at the Saratoga Community Center, 19655 Allendale Road, Saratoga. 5606, Aquabox, My Own Victory and My Former Self also perform. Tickets are $10 and the show begins at 6pm.
Send a letter to the editor about this story.