March 29-April 4, 2006
home | metro silicon valley index | the arts | stage | review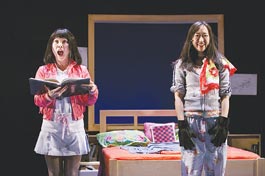 Photograph by Owen Cary
Robot Sibling: Jennifer Marcus (Sue Jean Kim) invents an alter ego in 'The Intelligent Design of Jenny Chow.'
Raising Jenny
A recluse genius designs a robot to show the world in San Jose Rep's 'Intelligent Design of Jenny Chow'
By Marianne Messina
HOLD ON TO your brainpans, humans; the beginning of The Intelligent Design of Jenny Chow is going to make you long for a site map or a detailed schematic. This Rolin Jones play at San Jose Repertory Theatre starts at the end of things, with Jennifer Marcus (Sue Jean Kim) talking at her computer. As she slams off heated IMs, she introduces us to a confusion of characters: a mentor professor named Yakunin, a Mormon friend with whom she exchanges cybersex for information (all the cyberworld characters are dazzlingly played by Kevin Rich).
Framed by a "Dear Bounty Hunter" email, the play unfolds as Jennifer explains to a bounty hunter why she needs him to track down her missing robotic brainchild, Jenny Chow (Ka-Ling Cheung). Jennifer's genius soon becomes obvious, and yet she's too agoraphobic to go out her front door. So she invents her alter ego, robotic Jenny, who will go into the world and allow Jennifer to see through her eyes.
As the play explores the many kinds of absentee parenting—from the biological mother in China who gave Jennifer up at birth to the withdrawn father to the workaholic mom who projects her own desires and failures onto her child—Jenny is in a real sense Jennifer's child. The pace goes from giddy to frantic, and the hysterical tone cracks and breaks into a tense and powerful ending. Kim's Jennifer is so engaging, she draws us through the opening data overload, so that even before the plot starts to solidify we're with her through her emotional ups and downs. She is also just obsessive enough to bypass "contrived quirky" and hit on something more genuine. The balance between her and Ka-Ling Cheung's Jenny Chow is magnificent. Jenny absorbs where Jennifer spits out in a spray; Jennifer is cluttered with emotional caveats; Jenny is an empath, taking on emotion for which she has no processing system.
Practicing her yoga or speaking Jennifer's words to her biological mother, Cheung's strong, totally receptive Jenny brings into shocking clarity what a vulnerable sponge is a child. Both Jennifer and Jenny Chow embody the wonderful sense of potential that parents or inventors feel at the birth of offspring. And this extremely unified production reinforces that excitement, starting with Matthew Suttor's energetic, eighth-note music that wells up when Jennifer is multi-IMing or successfully inventing. G.W. Mercier's scenic design is not only youthful and bright, but an ingenious vehicle for lighting.
The background in Mercier's design has a cutaway space between earth (familiar brown hills) and sky, adding depth to the lighting shifts and rendering sudden, uplifting lightscapes. Rather than call attention to its clever self, the scene-change machinery, where the door (Jennifer's final frontier) shoots up out of the floor, adds to a certain Alice in Wonderland aura. The stage business also accents lightheartedness, especially the flight sequences. When Jenny is flying from Jennifer's California gated community to her birth-mom's home in China, a doll on a stick is seen coursing through the sky or past the window. At one point a large Jenny doll even soars out across the audience. These bright touches by director Kim Rubinstein maintain a light, airy sense of surprise in Jones' potentially viscous script.
Superlative acting in this production includes Valerie Stevens as Jennifer's overworked Type-A mom; Tim True as her kind, but dropped-out, couch potato dad; and Craig W. Marker as Jennifer's lovable Cali-nerd flesh-and-blood friend. Of course, the crowd pleaser is Kevin Rich's Dr. Yakunin, with his white, tousled, mad-professor hair, foul mouth and constant bitching about the ignominies of a teaching post in "fucking Palo Alto!" (a line Yakunin delivers seated on a toilet, wrestling with the toilet paper).
But the play is really carried to its torturous climax by the twin leads. Kim delivers what has to be an exhausting performance—she was still wringing out leftover emotion at curtain call—and Ka-Ling Cheung, as the robot, is beautifully unforgettable.
The Intelligent Design of Jenny Chow, a San Jose Repertory Theatre presentation, plays Tuesday-Friday at 8pm, Saturday at 3 and 8pm and Sunday at 2 and/or 7pm through April 16 at the Rep, 101 Paseo de San Antonio, San Jose. Tickets are $22-$55. (408.367.7255)
Send a letter to the editor about this story.