April 12-18, 2006
home | metro silicon valley index | music & nightlife | band review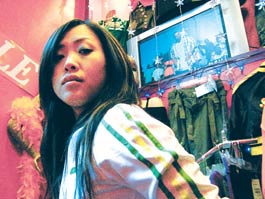 Funkero Soul Sister: Tigarah learned about baile funk through Japan's small but visible Brazilian community.
Ghetto Jam
A Japanese MC finds her calling within Rio's explosive baile funk movement
By Todd Inoue
BRAZIL'S baile funk (or funk carioca) is a style of music that is raw, sexual and primal. It's the rebel beat of Rio's favelas, or shantytowns, looked down upon by the government and mainstream musicians. Its immediate descendant is Miami Bass, in lyrical content and beat foundation, as well as electro. With crude rhymes about sexual and territorial dominance spit in Portuguese and Afro-Brazilian rhythms woven into the fabric, it's an intoxicating rush of mystery, defiance and power.
The music sounds esoteric to the average listener, but it's not without accessible toeholds. Artists and sound systems like Bonde do Tigrão, Furacão 2000 and MC Serginho often take pop castoffs (Eon's "Spice," the Outfield's "Your Love" and Baha Men's "Who Let the Dogs Out?"), throw in a janky keyboard synth and let the beat ride. Like crunk is to the South, hyphy is to Oakland and B-More Club is to D.C., baile funk is an indigenous style manifested by the street for the street.
Baile funk was introduced worldwide through messengers like Essay Recordings' popular compilation Rio Baile Funk Favela Booty Beats, DJ Diplo's Favela on Blast, Favela Strikes Back and his collaboration with M.I.A., Piracy Funds Terrorism. In the next step of baile funk's global reach, a Japanese MC named Tigarah has taken to the style. Her single "Girl Fight" is a heater, all air-horn synth blasts and percussion rolls, with her chanting in Japanese and English. Like Lady Sovereign and M.I.A. before her, Tigarah is a sponge soaking up influences—baile funk, hip-hop, grime, crunk—then flipping it her way, taking aggressive ownership.
Tigarah learned of baile funk through Brazilian friends in Japan. She made trips to São Paolo and Rio to learn more. All this cultural immersion is paying off; "Girl Fight" was positively reviewed this month in Blender, and the 24-year-old Tokyo resident is in Los Angeles for two months working on her full-length with producer/co-conspirator Mr. D. and scraping up live gigs. I caught up with Tigarah by email a day after she landed in L.A.
METRO: How does a Tokyo resident get exposed to baile funk music? What did you like about it?
TIGARAH: When I went to school, I used to hang out a lot with Brazilian immigrants. Most people don't know that many Brazilians are living in Japan. Even Japanese people don't know about this. Because of that, I would meet baile funk! I was at some house party with my Brazilian friends and a baile funk song played. It was the moment that I got the biggest shock. I was like, "What the fuck is that?" I LOVE that flow!" It makes me dance and dance and dance.
How popular is baile funk music in Japan?
When I started to listen to baile funk, nobody knew about it except Brazilian friends. I couldn't find anyone who knows it in Japan or the States, until about 2003. These days it's getting known but it's still a little underground.
When did you go to São Paolo and Rio? What was the purpose of the trip?
I started to go there four years ago. At first, I just wanted to feel Brazilian culture in their country. I was planning to move there and make music. People said it's crazy, though. I met some label people, producers, local artists and journalists. What I wrote was kind of pop, and Brazilian people basically like their traditional music. The audience who could listen to some kind of pop music is only young generation of middle class. So, I found that Brazil isn't the place to start.
What was the experience like?
It was a great experience. Brazil is a really awesome place. I love the beaches. I think that people in Brazil know how to have fun. They eat lots, drink lots, speak lots and laugh lots. And, they also love family and friends and take care of them. I think that's the base to be happy. You know, there are lots of things to learn from a different culture.
How were you accepted in Brazil?
I was accepted really nice, but in the music field, it wasn't so good, because songs that I wrote are in Japanese and English. Brazilian people listen to music in Portuguese, so it wasn't easy.
Did you go into any of the favelas?
I couldn't go into the favelas, that's way too dangerous. But I went to some dirty big club in Rio, which is located close to beaches and looks like the club in the movie City of God. It was crazy! People were dancing baile funk dance, which is pretty dirty. I love to dance baile funk style a lot, but it was pretty dangerous in Brazil. It was good to learn their culture.
What do you rap about? And how does baile funk help you communicate these ideas?
My message doesn't relate much with typical baile funk lyrics. I don't talk about sex for fun and dirty topics, like what baile funk normally talk about. What I rap about is mainly social topics: egos in capitalism and culture clash in globalization, different angles and approaches that everyone can relate to.
What were your ambitions before Tigarah? Were you trying to rap, sing, dance?
I used to plan to be a politician or an ambassador until I entered my university. But as much as I studied about the politics and the society, I lost my interest about it. I had never dreamed or thought of being a singer. And I'm doing what I want to do and what I should do as my mission in this life.
What should Americans know about Tigarah? And what does 'Tigarah' mean?
Tigarah means "girl like a tiger," which is strong and inspires power. I wanted make it something like Brazilian girl's name. Then, I got this idea "Tigarah." I think Tigarah is like an ambassador of "real Tokyo culture." I grew up there and I lived there all my life. The media in the world often try to categorize or figure out what Tokyo culture is, and they usually get stuck with a lot of stereotypes like anime, comics, sushi, kimonos, etc. People often want to see the Japanese traditional culture. Most of young people in Japan don't know how to wear kimono and don't know much about geisha or that kind of stuff and don't watch anime or cartoons too much, and we don't sleep on the floor on tatami mat. There is already a new generation in Japan that is very international. Tigarah is pretty much the expression of real Tokyo culture—a new generation, new music and a new independent artist.
Check Tigarah's steez at www.tigarah.net and www.myspace.com/tigarah.
Send a letter to the editor about this story.