April 26-May 2, 2006
home | metro silicon valley index | movies | current reviews | film review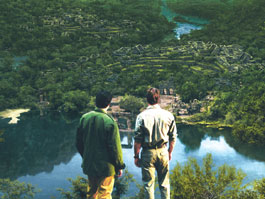 We'll Always Have Peru: John Woodson (Matthew Settle) and Wil (Thomas Kretschmann) bond in the jungle in 'The Celestine Prophecy.'
New Age Blur
'The Celestine Prophecy': Because there's a seeker born every minute
By Richard von Busack
FIND OUT the will of God? You might as well ask your cat what her plans are for tomorrow evening. You'd have to be a James Redfield to guess at the amazing destiny of the human race—or even to hint at it in The Celestine Prophecy. For those who avoided the book, the film crosses Indiana Jones and Norman Vincent Peale. In Peru, a group of saintly anthropologists discover 10 scrolls written in Aramaic; these documents predict a coming change in the human race. The prophecy was hidden during the reign of Celestine V. The Columbia Encyclopedia judges that pope "an easy prey for opportunists" and such could be said of Redfield's audience.
Director Armand Mastroianni tries to scoff-proof this overproduced, shot-in-Costa Rica religious fable: "Look not with the mind but with the soul," or words to that affect. John (Matthew Settle), one of those seekers born every minute, is a newly unemployed youth basketball coach. Settle expresses his yearning by standing at lakeside and gazing at flying waterfowl. One evening, a former student (Robyn Cohen) calls John. She tells him of the amazing archeological find, which she dares not sum up in words. Here's the conclusive evidence: "The prophecy says it will occur during the first years of the century." "That's now!" John exclaims, and he jets to Peru.
There he meets two people already evolved by what they've learned. The first is Wil (Thomas Kretschmann), who hauls John into the mountains to a spiritual retreat that looks just like a five-star resort. John meets Marjorie (Sarah Wayne Callies), who, to paraphrase songwriter Mark Graham, can see John's aura, and it's ugly. Thanks to digital animation, we can see auras, too. This is a gaudily tinted film, in which the tropical paradise is a blend of Thomas Kinkade and Maxfield Parrish. And pollenlike golden halos rise off of philodendrons, as if the plants were auditioning for an Allegra commercial. The question is posed: "Who will open John up?" I'd have bet on Wil, since when men beam at each other with spiritual passion onscreen, it looks like they're about to kiss. The movie also introduces soldiers, anti-government rebels and Jensen (Jürgen Prochnow), a sinister Yank representing secular humanism, the CIA and Wal-Mart. As the Belloq in the picture, Prochnow is the color of week-old hamburger, so he doesn't need an ugly aura.
John gets closer to the truth of the matter, as enunciated by kindly Father Sanchez (Joaquim de Almeida), who has been busily translating the scrolls. It turns out that the shocking truth that governments of the world and the princes of the Catholic church are ready to kill for can be summed up as "You have to look for the silver lining. That way you can go with the flow." The prophecies are spelled out at the end-title crawl: a 12-step program with three steps missing. Who could object to the Celestine cultists' dissatisfaction with strife and accumulation? But there is a problem with boiling down centuries-old disciplines into mush. Frequently, New Age texts provide excuses for indolence and ignorance. Harmless as The Celestine Prophecy is, its underlying intellectual laziness is intolerable, no longer how blissful that ignorance is.

The Celestine Prophecy (PG; 99 min.), directed by Armand Mastroianni, written by James Redfield, Barnet Bain and Dan Gordon, photographed by R. Michael Givens and starring Matthew Settle, plays at selected theaters.
Send a letter to the editor about this story.