April 26-May 2, 2006
home | metro silicon valley index | music & nightlife | preview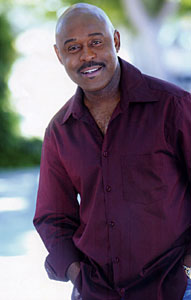 Super Natural: You've got an open invitation to see Tony Lindsay on May 30.
Club Life
Santana Row Summer Jazz Series
Address: Park Valencia; 400 S. Winchester Blvd, San Jose; 408.998.3600; Tuesday nights from May 2 through Sept. 29. All shows are free and begin at 6pm.
By Todd Inoue
TUESDAY EVENINGS are notoriously slow—hence the opportunities for pizza places to offer 2-for-1 specials. Tha Row gives a reason to stiff the Domino's guy and enjoy the extra hour of sunlight as they host a regular Tuesday night jazz series. Sponsored by the San Jose Jazz Society, the series has some local names like Tony Lindsay, Barry Finnerty and Jennifer Lee posting up with more youthful up and coming groups like Times 4, the LeBoeuf Brothers Quintet and Orquesta d'Soul.
May 2: Pascal Boker
May 9: John Worley and Worlview
May 16: Times 4
May 22: Mike Vax Sextet
May 30: Tony Lindsay
Jun 6: Barry Finnerty
Jun 13: Octobop
Jun 20: Kat Parra's Latin Jazz Quintet
Jun 27: San Jose Jazz Society: Jazz Goes to College
Jul 4: Joint Chiefs Band
Jul 11: Kristen Strom
Jul 18: Jennifer Lee Quartet
Jul 25: Orqusta d'Soul
Aug 1: Primary Colors w/ Nate Pruitt
Aug 8: Dave Gregoric Project
Aug 15: Le Boeuf Brothers Quintet
Aug 22: Wally Schnalle
Aug 29: Ed Johnson and Novo Tempo
Sep 5: Mark Russo and Classy Cats
Sep 12: Jamie Davis
Sep 19: Soul Sauce
Sep 29: Jeff Massanari
Send a letter to the editor about this story.