April 26-May 2, 2006
home | metro silicon valley index | silicon valley restaurants | review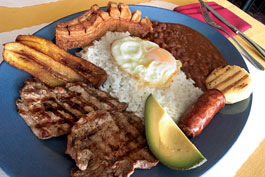 Photograph by Felipe Buitrago
Atypical Típica: Bandeja típica is one of many dishes you can only find at Rinconcito Colombiano.
Southern Expedition
Columbia is the gateway to South America, and Rinconcito Colombiano is Silicon Valley's gateway to Colombia
By Stett Holbrook
RINCONCITO Colombiano is the best Colombian restaurant in San Jose. Nay, it's the best in Silicon Valley.
OK, it's also the only Colombian restaurant in these parts, but it's definitely got the jump on any other Colombian restaurant planning to open in the area.
Rinconcito Colombiano is a good-looking restaurant hidden in a little corner (in fact, rinconcito means "little corner") of the Almaden Plaza mall between the Almaden Cinema and a jewelry store. The restaurant has been open for six years, but has undergone several ownership changes. Marco and Dorian San Clemente took over 2 1/2 years ago. The couple are from Cali, Colombia, but they serve food from all over the country. I didn't get a chance to eat at the restaurant before the San Clementes took over, but word on the street is the new owners have improved the quality of the food.
"It's 100 percent authentic Colombian," says Marco San Clemente.
With the Colombian folk art, tourist posters and old photographs on the walls, and the soccer game that's invariably playing on the television in the bar, Rinconcito Colombiano feels as much like a restaurant as like a Colombian cultural center for Colombian expats. Spanish is the language of choice here.
You might think that because Colombia is south of the border the food is spicy like Mexican food, but it's not. It's simple but hearty, and big on beef and pork (mainly grilled or pan-fried). Entrees are served with plenty of starch, like white rice, fried, skin-on potatoes and yucca.
Arepas ($1.75) are probably the most well-known Colombian dish and also the most simple. They look and taste like a thick corn tortilla, but have a richer, almost buttery flavor. They're also a good place to start your meal at Rinconcito. Served hot right off the griddle with blistered edges, they're delicious, especially with the traditional accompaniment of queso fresco, a mild cow's milk cheese. Even better and more substantial are the empanadas ($4), four corn meal turnovers fried the color of a corn dog. The dough is crispy outside and steamy and moist inside. The empanadas are stuffed with well-seasoned ground beef and purČed potatoes. They're especially good with the accompanying spicy/vinegary salsa, the only piquant element I encountered during my two visits.
For a sample of all things Colombian, try the bandeja tĚpica ($11.50). This heaping plate comes with grilled beef, chorizo, a crispy fried egg, a thick piece of chicharron, an arepa, sliced avocado, rice and some great, soupy, ham-hock-flavored beans. Another classic dish is lengua en salsa ($10.95). Yes, lengua is tongue, but you need to get over that. It's very good, more tender than any steak will ever be and just as flavorful. What makes this dish for me is the salsa criolla, the tomato and onion sauce served over it.
While this same stewlike sauce is poured over a grilled flank steak in the sobrebarriga ($10.95), the beef is tough and stringy.
I'm convinced arroz con pollo is a dish best served at home and made from leftover chicken and whatever vegetables you have around. At Rinconcito, the dish ($9.45) is OK, and the chicken tender and flavorful, but the presumably thawed peas and carrots make it taste like you're eating someone else's leftovers.
Rinconcito serves a number of entree-size soups. Ajiaco de pollo ($9.95) is a beloved garlic-accented Colombian soup and it's quite good here. The creamy soup is served with capers, avocado and a thin sour cream on the side. The idea is to mix in the condiments to your liking, enlivening the rich chicken and potato soup.
For dessert, I was looking forward to the arroz con leche ($3.50), but they were out. Instead, I went for the breves con arequipe y queso ($4.99). It's a simple, classic dessert of stewed figs served with a thick mound of caramel and a slice of queso fresco. The figs are sweet, but not overly so, and make for a refreshing dessert when eaten with the caramel and cheese.
Good too are Rinconcito's fruit juices ($3.65), puréed tropical fruit drinks that go well beyond orange and apple juice. My all-time favorite fruit is guanabana, a custardy fruit that tastes like a cross between banana, coconut and pineapple. Here, they blend it up and serve it like a milkshake. Mora (blackberry) is another winner.
For Colombians looking for a taste of home and newcomers looking to explore a new cuisine, Rinconcito offers a little corner of Colombia in San Jose.
---
Rinconcito Colombiano
Address: 2306 Almaden Road, San Jose (in the Almaden Plaza mall at Curtner Avenue).
Phone: 408.265.8894.
Hours: 11am-3pm and 5-9pm Wed-Sat and noon-8pm Sun.
Price Range: $7.95-$15.
Send a letter to the editor about this story.