April 26-May 2, 2006
home | metro silicon valley index | music & nightlife | preview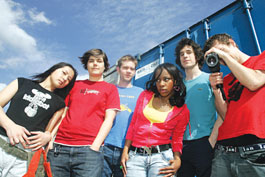 Strike Force: The Go! Team counts Dennis Hopper as a fan.
Digital Display
The Go! Team resurrects the sampler
By Todd Inoue
ON the Go! Team's debut album Thunder, Lightning, Strike, the sampler makes a comeback worthy of Lance Armstrong. Multi-instrumentalist Ian Parton slavishly assembled pop detritus spanning multiple decades, stitched them together and added skronky guitar, two drummers and a female rapper. It was divinely constructed pop music—with generous melodica and giddy breaks—that hopscotched genre lines like a kid on a steady diet of Jolt and Pop Rocks. It was his master plan to unite cliques under one banner, one sound, one team.
What Parton didn't plan was for Thunder, Lightning, Strike to earn a coveted Mercury prize and ensue a major label bidding war for the American release (won by Sony). With pricey lawyers and artists with their palms out, Parton had to dissect each song sample by sample—not an easy task as some had over 12 samples running through them. Songs like "Ladyflash" and "The Power Is On" are built on the snippets of Davy DMX, the Supremes and the documentaries Black Magic and Wild Style, so it took them almost a year before the album could be released October 2005 stateside.
But like the most sensitive and secretive crate raider, Parton admits he didn't give up all the samples (though he adds he'll be a little more judicious on the next album). "Morally, I'm happy about it all because I feel I haven't stolen anything," Parton says from Edinburgh, where the band is opening for the Flaming Lips. "Everything is changed in some way. The final context of the song is completely different from its source. That's crucial for me."
Just as the Go! Team brought the sampler back to the forefront, they too resurrected other forgotten archetypes: the female British rapper, the ethnic and gender diverse lineup and dueling drummers—the latter not seen within a pop context since Adam and the Ants, Bow Wow Wow and .38 Special.
"Two drummers fulfill two things. It's a visual thing—it looks pretty cool when both people are nailing the beat at the same time. I think we can use it a lot more to complement each other. Two, it makes a fucking big sound. On some songs, you kind of miss it when the other kit isn't in there because you're used to it."
Parton started the Go! Team as a way to bridge the musical divides he saw while attending university in '90s Brighton. "There was a gulf between the raver, hip-hop and indie kids," he says. "I was frustrated that an indie band had an image of what an indie band should be like. I always thought there was a wealth of other stuff out there that could slammed up against thrashy indie guitar. I've always liked quite cheeky Sesame Street easy listening as much as the Jackson 5, early hip-hop or car chase-y-type stuff. That was my idea; sampling was a way of taking a choppy thing and making it schizophrenic. That's what I'm trying to do now more than anything else."
The new album is in early stages of production—three new tracks have made the set list ("Brave Aphrodite," "Titanic Vandalism" and "Doing it Right"). They are just snippets of ideas right now, Parton says; there are seven songs with starting points that have a missing verse or missing chorus. But he is focused on the end product. "I want it to be action-packed, with a Blaxploitation-meets-punk element but with more vocal melodies. That's always hard. It's easy to put a rap or chant over it, but to get something that sticks in your head—and is pretty aggro—is still exciting. That's the quest."
Fans of the band include Thurston Moore, the Lips and Mike Watt. My Bloody Valentine's Kevin Shields offered to record and play live with the band. Tony Blair asked to use "Ladyflash" for a promotional spot for the Labour Party—he was turned down.
One of the more bizarre fans tipped as a big Go! Team supporter is Dennis Hopper. Parton is tickled at name-dropping Shields, telling Tony Blair "no" and the thought of Hopper sucking nitrous and singing Go! Team songs in the shower. All the attention hasn't affected him—Parton's the same guy that can't wait to get offstage so he can sop up the next symphony leaking from his brain. "I'm not super ambitious like a lot of other bands out there," Parton says. "I want to keep us a nice little band that people have a soft spot for."
The Go! Team plays Thursday, April 27, at the Great American Music Hall. The show is sold out.
Send a letter to the editor about this story.