April 26-May 2, 2006
home | metro silicon valley index | features | silicon valley | recreation article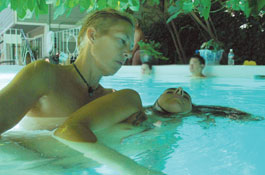 Hope Floats: Actually, everyone floats in the hot springs pools at Harbin.
Harbining Fugitives
Harbin Hot Springs is one of the wine country's more offbeat attractions, and a total escape for getaway seekers
By Vrinda Normand
THERE'S something about Harbin Hot Springs that makes it easy to imagine you're in the Garden of Eden. Maybe it's the giant fig tree looming over the warm mineral pool. Or the naked people frolicking free of fashion and self-consciousness. Or the startlingly fresh air and untainted nature surrounding this Northern California retreat.
My weekend trip to Harbin Hot Springs took me far away from the concrete jungle and corporate culture of the Silicon Valley. The three-hour drive from San Jose to Middletown (just north of Calistoga) wound through scenic countryside roads once I escaped the Bay Area's freeway madness. Note to the determined relaxation seeker: do not attempt this journey during peak traffic times. The treacherously windy Highway 29 into Middletown also made me wish I had stayed an extra day or two to let my back muscles fully recover.
My overnight stay, however, gave me a pleasant taste of Harbin's magic. As I rolled up to the woodsy complex dotted with modest Victorian buildings, I passed a sign prohibiting alcohol, drugs, pets and cell phones. Yes, you read that correctly: turn cell phones off, and keep them out of sight (lest anyone be reminded of the outside world).
Life at Harbin, for most of us city folk, is a culture shock. Guests cook in a communal vegetarian kitchen, share a co-ed dressing room, and bathe in clothing-optional pools fed by iron and sulfur hot springs. Although most patrons choose the option of not wearing a swimsuit, Harbin managers insist the place isn't a nudist colony.
"You can be whatever you are, and you can feel free not to wear clothes," says director Elke Murphy, "but nudity is not required." In fact, guests must cover up in the public buildings and anywhere visible from the county roads. For those hot spring enthusiasts who are unsure about joining bare-skinned bathers, Murphy suggests coming on weekdays or during the winter when it's less crowded.
On a recent Sunday in April, a handful of people relax in the shoulder-deep warm pool under a cloudy sky and budding fig tree. As I step in; the comfortably tepid water glides over my skin. I give in to the weightlessness and let my tension begin to unravel. I could float here for hours, gazing at the lush mountainside or zoning out. Except for a few whispers and birds chirping overhead, the pool is generally silent.
After my soothing soak, I venture over to the adjacent hot pool, which is housed in a small wooden hut. A few candles illuminate the darkness, and the steamy air is filled with the sounds of a gurgling stream and the sighs of bathers sinking into the scalding water. It takes me several deep breaths and a few minutes to get all the way in. Once I let the water rise to my neck, I feel it infusing my body with heat.
I can only stand it for about five minutes. The warmth lingers on my wet skin as I step outside, shielding me from the chilly spring air. Some guests are brave enough to follow the hot pool with a dip in the cold plunge, but that's an invigorating experience I'll save for warmer weather.
About two hours of this hydrotherapy leaves my skin smooth, my muscles softer and my mind calm. I sleep like a baby that night in my quaint room, decorated with lace curtains and hand-painted lilacs. When I awake to sunlight streaming in through the windows, I wonder how I can leave. I must have fallen under Harbin's spell.
Harbin Hot Springs offers private cottages, rooms and camping rates. For more information, visit www.harbin.org.
Send a letter to the editor about this story.