April 26-May 2, 2006
home | metro silicon valley index | features | silicon valley | sports preview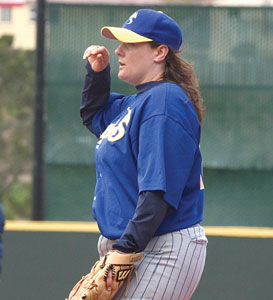 Photograph by Felipe Buitrago
Overhand It to Her: Not only did Melanie Laspina start the California Women's Baseball League, she's also the pitcher for the San Jose Spitfires, whose name is a tribute to the former local women's team.
Fastball Women
By Felipe Buitrago
SURELY YOU remember A League of Their Own, Penny Marshall's movie about women in the 1940s playing baseball while their husbands were away at war? But do you remember the San Jose Spitfires? Or how about the LLB, the Ladies League Baseball? Melanie Laspina does. Laspina has been active in the women's baseball community since 1997, when she was drafted to play for the San Jose Spitfires and won the '97 pro women's baseball championships. But a year later, in 1998, the LLB came to a close. For the next four years Laspina, after finding there was no women-based league, decided to create the CBWL, the California Women's Baseball League, the first of its kind in the Bay Area. The four-team league not only offers a structured and competitive environment, it gives local women room to pursue the American pastime. These ladies can play hardball, and they aren't afraid to slide. Right now Laspina and company are building the league, slowly but surely. Right now they're in their regular-season schedule, playing on weekends and Fridays at several parks in the Bay Area, one of them being San Jose's Municipal Stadium. Weather permitting, the championships will be played in May at Mission College in Santa Clara and there will be a fundraiser at San Jose Giants Stadium shortly after.
Send a letter to the editor about this story.