April 26-May 2, 2006
home | metro silicon valley index | the arts | stage | preview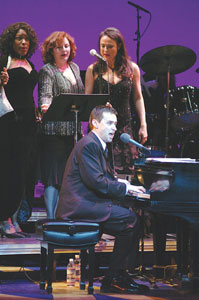 Photograph by David Allen
Piano Man: Andre Lippa, the music man behind 'Asphalt Beach,' works out at TheatreWorks.
See How They Work
Playwrights fly trial balloons at TheatreWorks' New Works Festival
By Marianne Messina
THIS YEAR in an expanded two-week format, TheatreWorks' New Works Festival, April 26-May 7, gives art-hungry theatergoers more chance than ever to share in the artistic process. Each of the seven scheduled plays will have from two to four stagings, depending on its needs. "In all cases, they wouldn't be here if the creators didn't feel they needed more work," says New Works director Kent Nicholson.
John Jiler's musical Big Red Sun (April 29-30), with music by Georgia Stitt, falls into the two-performance category. According to Nicholson, "They're writing it as they go," and its two performances will help the team to "sit down and reassess it." Big Red Sun is set in the rapidly evolving culture of post-World War II with music that, according to Jiler, "captures this whole idiom, everything from klezmer music right on through jazz and rock."
Jiler was delighted to find Stitt because of her willingness to take musical risks and break with convention. "Why can't the first act end with a whisper instead of a big number?" Jiler asks. And his young hero seems to echo this questioning as he leaves his perfect suburban home to track down the music and the truth of his father's life and wartime death. Following the boy's quest, Jiler has taken Big Red Sun to dark places, and he's counting on audiences to let him know if it works, particularly in the case of one scene, which he calls "controversial." In fact, Jiler is considering taking the scene out for one performance and leaving it in for the other.
Like Jiler, most playwrights come to the New Works Festival in the spirit of experimentation and learning. "I do quite a bit of work on my feet," says Michele Lowe, who is fine-tuning her play Mezzulah, 1946. "After each rehearsal, I'll go home and come back with new pages," she says. Mezzulah 1946's three performances will be spread out over the two weeks (April 28, May 2 and 6). "Oh my God, that's such a gift!" Lowe exclaims. "To have that kind of time to work on the play, hear it and then go back in—and not have the readings on top of each other but rather have time to work in between."
Also set just after World War II, Lowe's play is about a girl who loves her wartime job at the Boeing plant and doesn't want to give it up—as women were expected to do—after the war. Intrigued by the taste of power these jobs gave the women of the day, Lowe focused her action around the women and the Boeing plant. But after a reading of the play in Pittsburgh, Lowe decided that she wanted to explore her main character more deeply, through life outside the factory as well. And so she added a new character. This character, a supportive college boy (a.k.a. love interest) will be trying his wings for the first time at the festival, and Lowe will be all ears (and note pad) to see how he works out.
Among the festival's four musicals, Asphalt Beach (April 30 and May 4), written by T.C. Smith and Peter Spears, with music and lyrics by Andrew Lippa, walks on a satirical, high-comedy edge that reminds Nicholson of Urinetown. "There's a line that you walk between it's funny or it's just distasteful," says Nicholson as he anticipates what he calls "negotiation" between New Works audiences and the show's creators. "Between one performance and the next, they might pull back off of that line or they might push the line further."
Nicholson also finds fascinating the structural questions posed by Something's Wrong With Amandine (May 6-7), with music and lyrics by Lance Horne and book and lyrics by Winter Miller. In this gender-bending, fact-based story of a boy who was raised a girl (in a 19th-century convent no less), the time line will progress backward. "They need to hear it, and they need to be working with actors on it," Nicholson says. Whether a playwright wants a simple up-or-down vote on a specific change or intends to write frantically from one performance to the next, TheatreWorks New Works Festival is probably the closest thing to interactive play writing an audience will find, off the internet.
The Fifth Annual New Works Festival, presented by TheatreWorks, runs April 25-May 7 at the Mountain View Center for the Performing Arts. Tickets are $10/$15. (650.903.6000)
Send a letter to the editor about this story.